We're in the dog days of summer right now.  August is typically the hottest time of the year, and I don't know about you, but we're really feeling it. The days are really hot, and at night, we're not getting much relief.   It's a constant struggle to keep the house comfortable, maintain your budget, and beat the summer heat.  Running the air conditioning all day, every day can put a serious dent in your monthly finances.   No one wants $400 or $500 electric bills.  One time my electric bill was $800.  I just about DIED.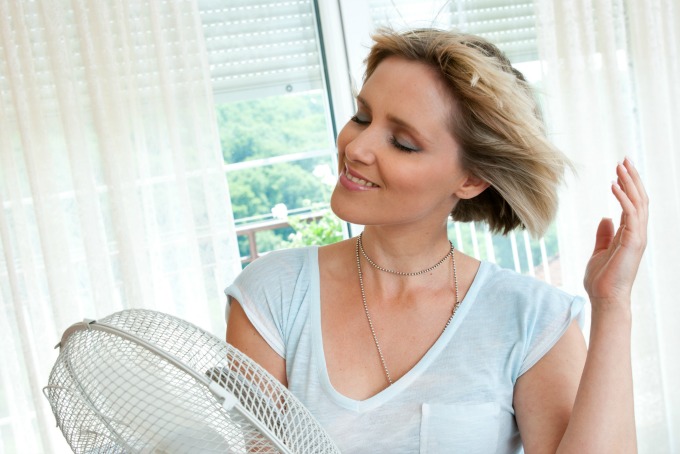 Combatting the summer sun doesn't have to be difficult.  A few simple steps and a change or two in your outlook can easily help you stay cool.  Here are five great tips for some easy ways to keep your home a little cooler during these warm summer months.
5 Easy Ways to Beat the Summer Heat and Stay Cool
Keep the sun out.
The sun shining into your home can raise the temperature inside by as much as forty percent.  By closing the blinds or curtains on the south and west facing windows, you can drastically reduce the temperature in those rooms and beat the summer heat.  If you don't have window coverings installed yet, consider something heavy, with a light colored backing to reflect the heat.  Keep them closed as long as the sun is shining into the rooms.
Close the vents in rooms not being used.
If you have a room that isn't used daily, close the air conditioning vent in that room; open it only when the room is occupied.  There's no sense in cooling space that isn't being used, and when you are ready to use the space, just open the vent for a few minutes beforehand.  Consider bedrooms, studies, laundry rooms, sewing rooms, and even bathrooms that are only used occasionally.  Force that cool air back into the occupied living spaces. If a room like a bedroom or home office has multiple vents, consider keeping one closed. The room will still be cooled, but it will help push the air into other rooms as well.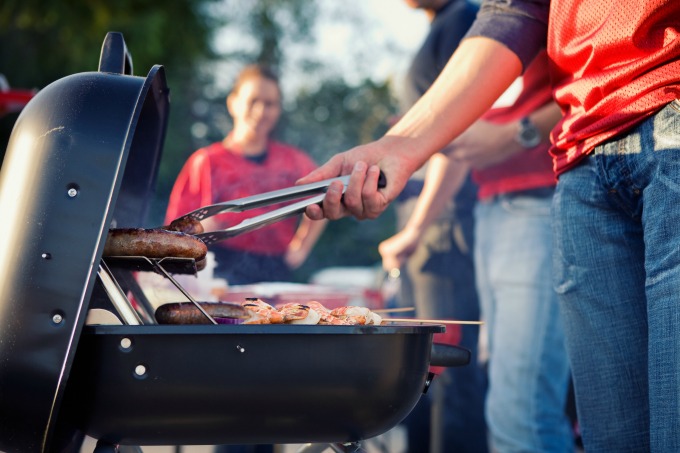 Move your cooking to the outside – or not at all.
Grills are a wonderful thing, especially when they move the cooking outside, and your oven isn't raising the temperature inside your home and contributing to the summer heat.  Take it a step further – when you're grilling tonight's dinner, cook an extra chicken or steak for tomorrow night, and have a salad.  Produce is so tasty at this time of the year, and the farmer's market is overflowing with great ideas.  This will not only keep the house cooler, but will save preparation time, too.
Utilize your ceiling fans.
If you haven't installed ceiling fans yet, now is a good time to do it.  There should be one in each bedroom, as well as in your main living spaces.  Air movement plays a big role in making you feel more comfortable in warm weather, allowing the room temperature to be a few degrees warmer, yet still pleasant.  I work from home, and my office gets really hot. A ceiling fan makes it feel a good 5-8 degrees cooler, which is a HUGE difference. You'll also want to make sure that your fan blades are set to run counter-clockwise, as this forces the air down into the room, and makes you feel cooler.
Make sure your Air Conditioning system is in perfect running order – before the hot weather begins.
Keep your vents clean and clear, change your filters regularly, and call for service prior to the hot weather season.  If there is a problem, you can fix it and rest assured that your summer days will be cool and care-free.  There is nothing worse than having your air conditioning go out on one of those 100-plus degree days, only to find out that your serviceman is so busy he can't get to you for a day or two. Been there, done that.  It's miserable.
With a few tweaks of your daily routine, it is possible to maintain a comfortable home and stay within your budget.  You might even save a little cash along the way.
What are your favorite ways to combat the rising temperatures and beat the summer heat?
photo credit: Air via (license)