Soup seems to be a mainstay in everyone's recipe repertoire. But what do you do when summer rolls around? It's too hot to spend all day slaving over a big pot of soup, and no one wants something that's hot.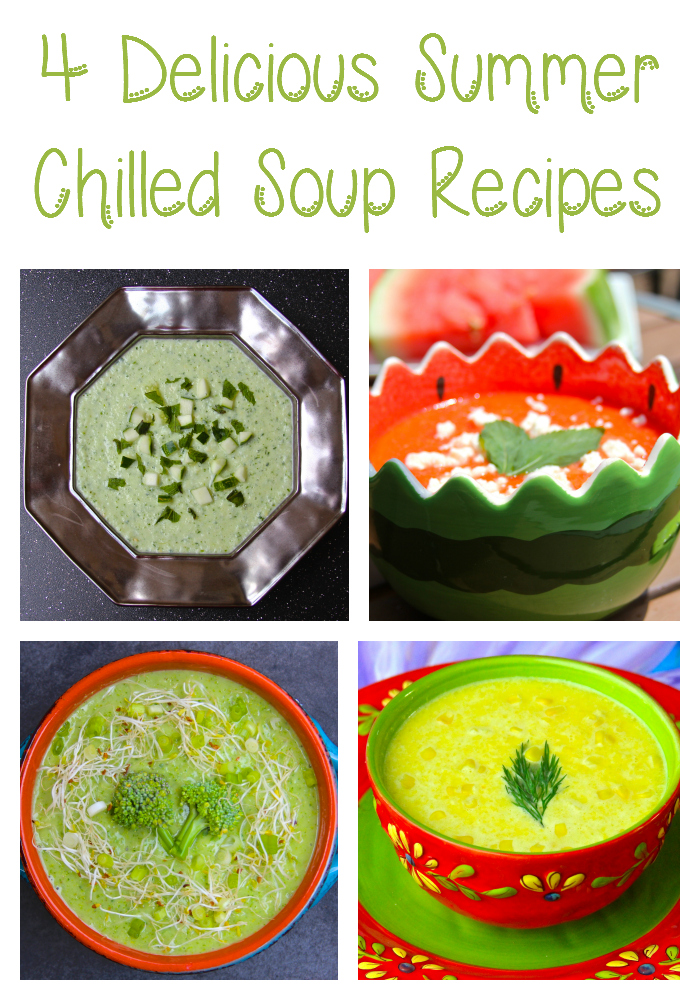 Enter chilled soups. Comprised of a variety of fresh seasonal ingredients, these soups are a perfect starter for any backyard barbecue, picnic in the park, or beach bash.  Simply prepare them at home, throw them in the cooler, and serve them up in small disposable cups when you're ready to eat!
Here are Four Recipes for Delicious Chilled Soups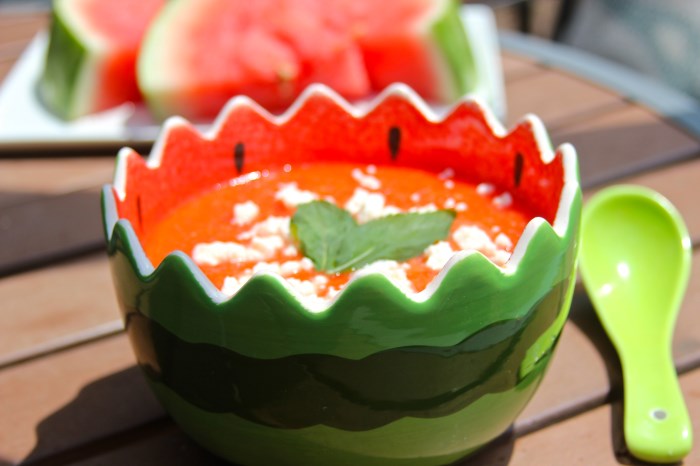 Watermelon Gazpacho
If the idea of a melon soup seems like too much for you, you haven't tried this easy watermelon gazpacho. It's easy to prepare, and you don't need to use the stovetop. Gazpacho is one of the traditional chilled soups.
Ingredients
 2 cups cubed watermelon
1 nice summer tomato
1 small onion
A clove of garlic
Olive oil
Fresh mint or basil for garnish
Crumbled feta cheese for garnish
Directions:
Add all of the ingredients to your blender.
Puree until smooth and drizzle in a tablespoon or two of good quality olive oil. Thin it out with water if necessary (although it will thicken up when chilled) and season with salt and pepper. Put it in the fridge for a few hours until nice and cold.
Serve it topped with some fresh chopped basil or mint leaves, and some crumbled feta cheese.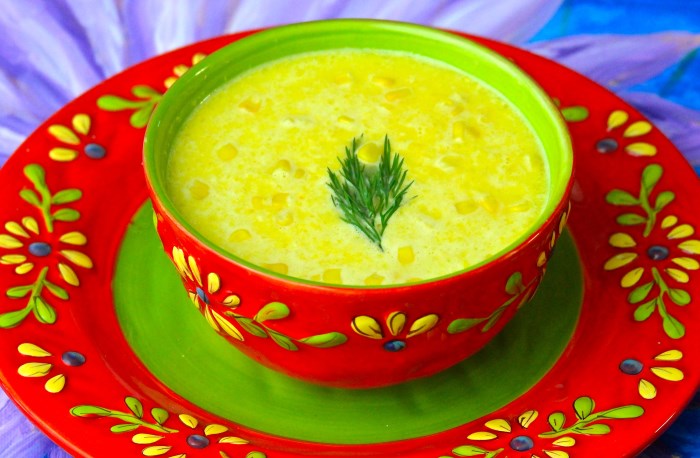 Creamy Corn Soup
Nothing beats summer sweet corn and this creamy chilled soup really showcases its full flavor.
Ingredients
3 ears of corn
1 small onion
1 yellow bell pepper
1 clove of garlic
Small bunch of dill
1 Tablespoon Olive Oil
Salt and Pepper to taste
Directions
Take the 3 ears of corn and cut the kernels off with a knife. Make sure to scrape down the cob so you get all the juice. Put about half of it in a blender with all of the other ingredients. Add about a tablespoon of olive oil and a little water. Blend until smooth and season with salt and pepper. Transfer to a bowl and stir in the remaining corn kernels. Chill for a few hours. Serve topped with more dill.
Avocado and Raw Broccoli Soup
The avocado gives this chilled soup its creaminess, and raw broccoli gives it just the right crunch.
Ingredients:
 1 medium stalk of Broccoli
½ of an Avocado
Juice of one Lemon
Small Bunch of Green Onions
One clove of Garlic
1 cup of Water
2 Tablespoons Olive Oil
Garnish:
 Broccoli Florets
Alfalfa Sprouts
Chopped Green Onions
Directions:
Take all of the ingredients, except the olive oil, and blend them in a blender. Puree, season with salt and pepper and stir in 2 tablespoons of olive oil. Chill for several hours, and serve topped with a few finely chopped broccoli florets, some sprouts, and chopped green onions. You'll be amazed at the difference in flavor of this soup.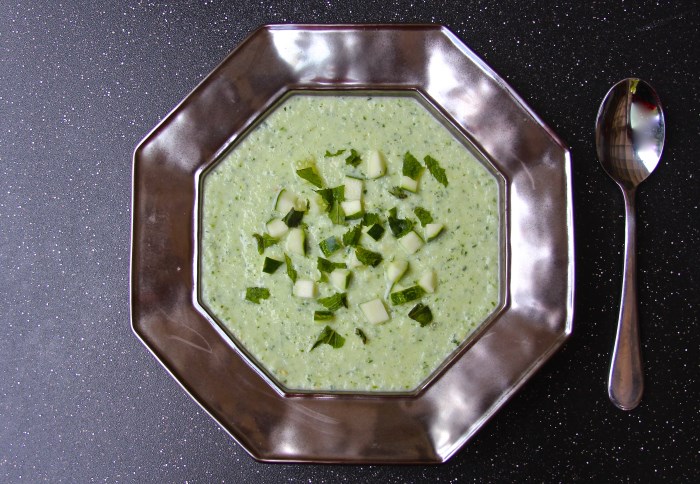 Chilled Cucumber Mint Soup
This is one of the most refreshing chilled soups you'll eat, and it's perfect as a summer starter on the back patio.
Ingredients:
2 Cucumbers
½ cup plain yogurt
Juice of one Lemon
½ small onion, rouhly chopped
1 Garlic Clove
Small bunch of mint
 ¼ Water
1 Tablespoon Olive Oil
Garnish:
Diced cucumber
Chopped Mint Leaves
 Directions
In your blender carafe, add 2 cucumbers, ½ cup of plain yogurt, juice of 1 lemon, ½ a small onion roughly chopped, one clove of garlic, and a small bunch of mint and blend. Add 1/4 cup of water and a tablespoon of olive oil. Blend until smooth. Season with salt and pepper. Chill for a few hours, and serve topped with additional chopped cucumbers and chopped mint leaves. This one will definitely become a summer favorite.
 Will you be trying any of these delicious chilled soups?
Special thanks to Chef Works for sharing these great recipes for chilled soups with us!