Sparkle makes everything better. These glittered wine glasses are no different.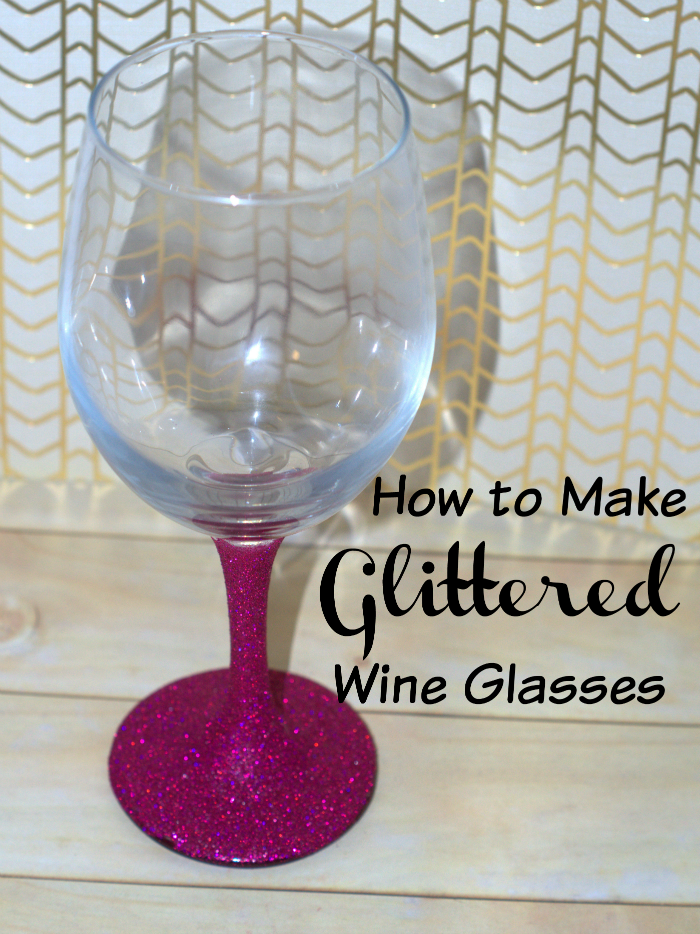 As we all know, glitter makes everything better. A lot of people refer to glitter as the herpes of craft projects, but I don't feel that way. Nope. You just have to treat glitter right, and it will make you happy beyond measure. I mean, I love glitter craft projects like Resin Glitter Pendants, Lacy Glitter Frames, and Glittered Light Switches.
Lately, I've been seeing these glitter wine glasses all over the place. Since I do love glitter, I decided that I needed these glittered wine glasses in my life. However, the prices were a bit steep. I've seen these glitter wine glasses going for $10 to as much as $22 a piece. Oh no. I figured if everyone has these, they can't be that hard to make a glitter wine glass.
How to Make Glitter Wine Glasses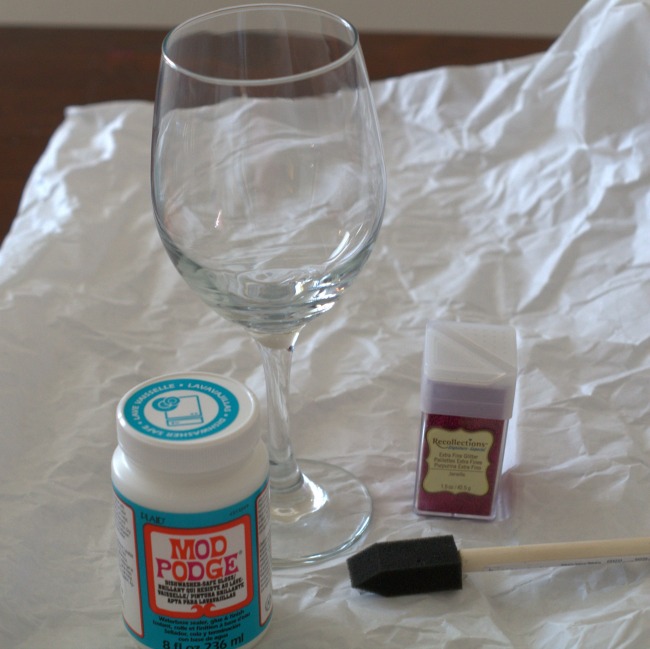 Supplies
Wine glass – I got mine at the dollar store.
Glitter – I am using ultrafine glitter. It just sticks better and is smoother.
Mod Podge. I'm using dishwasher safe Mod Podge. Who knew there was such a thing?!?! Is it really dishwasher safe? I haven't tested it myself, so I can't tell ya.
Scrap paper, like butcher paper or newspaper.
8 ½ x 11 paper
Glittered Wine Glasses Directions
Clean your wine glasses with warm soapy water, and dry well. You want to remove whatever dirt, grime, or grease may be on the glass.
Decide where you want the glitter to go, and tape off the rest of the glass. You just need to run a row of tape around here, so you get a clean line.
Place paper down on your workspace. This will contain your glitter and your glue. Place your 8 ½ x 11 paper down on this, as this is where you'll work.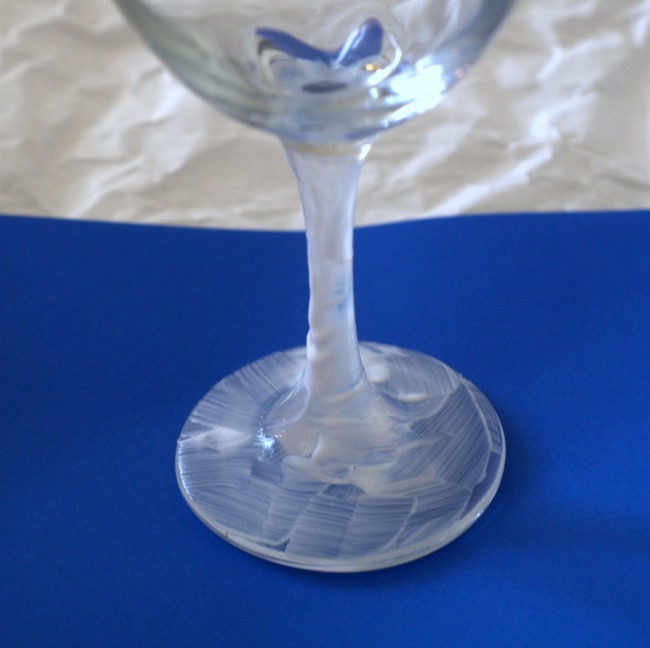 Brush on your dishwasher safe Mod Podge in a thin, even coat wherever you want glitter. Sprinkle your glitter on, liberally. The more glitter, the better. Turn the glass slowly to make sure you get glitter everywhere. Tap off excess glitter and let dry for an hour or so.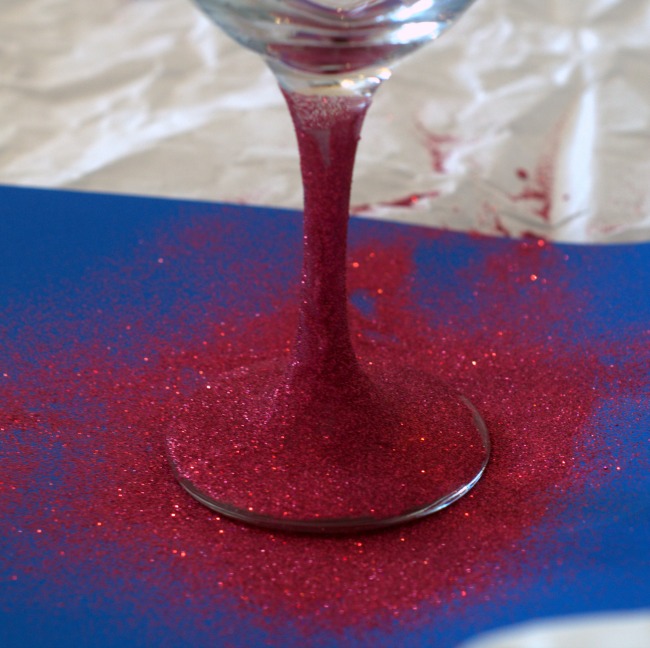 Return the glitter to the container. Rinse out your brush.
Repeat the Mod Podge and glitter layer. Take care to get glitter on any place you missed the first go round. Tap off excess and set glass aside to dry. Let this one dry really well. I let my glitter wine glasses sit for about 3 or 4 hours while I did other things.
Finally, top the glitter layers with a final coat of Mod Podge. This will seal the glitter, so it doesn't come off on your hands, the table, your shirt, etc.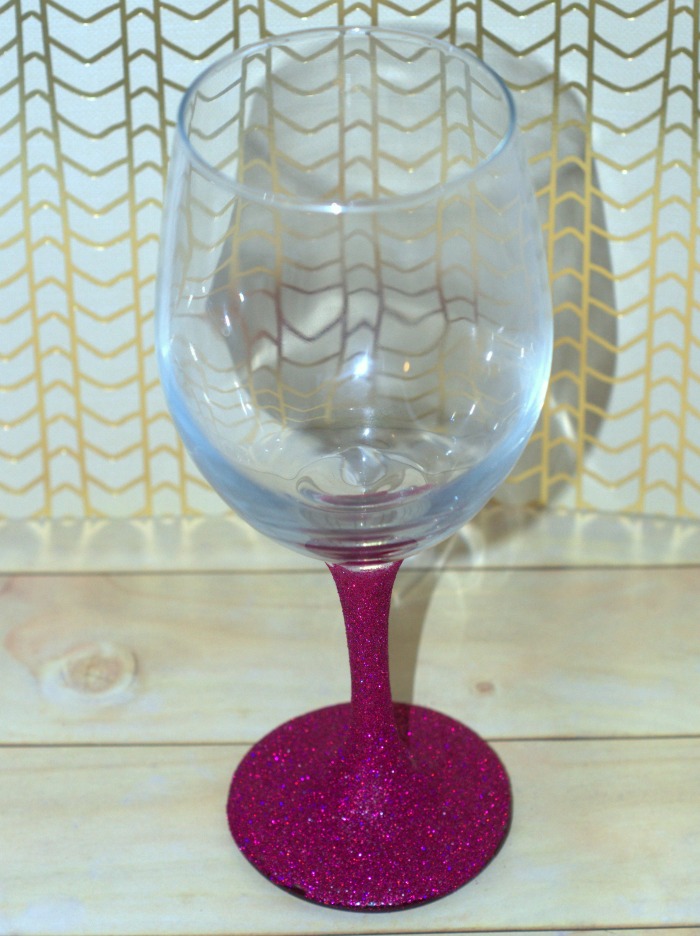 Voila! You have now successfully made Glitter Wine Glasses.
Will you be making Glittered Wine Glasses for anyone special?
If you're looking for other ideas to make your Valentine's Day a little bit more special, I'm sharing a few ideas from my favorite bloggers.
Now for the Glittered Wine Glasses cost + time breakdown:
Total Cost: $1.75-ish each.
Wine glass: $1.25 each
Mod Podge: $20, for enough to make probably 50-60 wine glasses. $0.35 each glass.
Glitter: $4.95 for a jar that has enough glitter to make 30-ish wine glasses. $0.16 each glass.
Total time: About 8 hours, including drying time. About 10 minutes active time. Make these glitter wine glasses in a batch to cut down on the time.