Our family has always been big campers, and we had a ton of camping gear. Of course, we needed a variety of stuff, depending on whether we were going to a cabin, trekking up to the trailer we kept in the Sierra Nevada mountains, or going closer to home.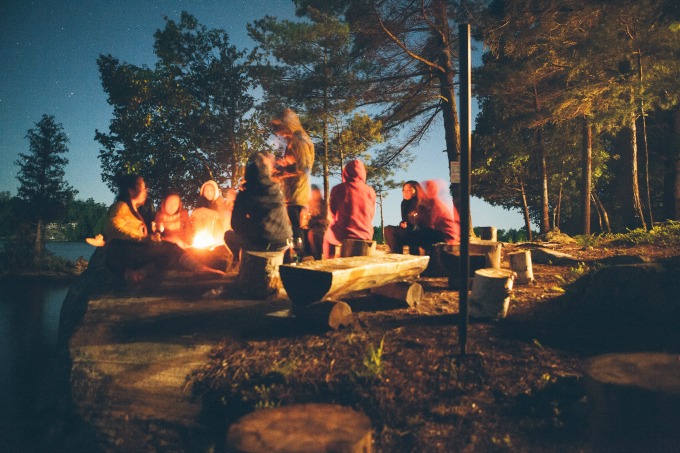 The camping equipment you need for a week at the beach isn't necessarily the same stuff you bring on a fishing trip. There are some serious crossover items that are basic camping essentials.
Camping and the great outdoors can be loads of fun. It can also be miserable if you haven't prepared with the right camping gear. We've rounded up some of our favorite camping items that make camping better.
Even better, they're all available on Amazon, and most have Prime shipping available. Awww yeah! That's perfect for those last minute planners.


Camping Gear Essentials You Can't Live Without
Links may be commissioned. Thanks for supporting our site by shopping through them, at no additional cost to you.

Shelter & Furniture
1 OmniCore Folding Loveseat – It's two folding camp chairs with a little space in between them. It's GREAT! Perfect for a larger person or a few kids.
2 Toogh 3 Person Popup Tent – Easy up, easy down, and the perfect size for two adults. Y'know, so you don't have to touch constantly.
3 Coleman 10 x 10 Sun Shelter – You want somewhere to get out of the elements. The sun is hot, even on a mild day, and having an open air shelter is nice. This is also nice for garage sales or if you're selling at outdoor festivals.
4 Coleman Queen Airbed Cot – Let's face it – an airbed makes sleeping while camping a whole lot better. This one keeps you off the ground, and can support two adults. It also has its own pump.
5 ALPS Mountaineering Eclipse Table – This has effectively two table surfaces – the top one, and the lower one where 4 beverage holders are. It also has side pockets for organization.

Comfort Items
1 Led Lantern with Fan – It's a battery powered lantern that has a fan attached. GENIUS! Hang your lantern, and you have a ceiling fan. And it's cheap! You're gonna want to pick up a couple.
2 Portable Outdoor Shower/Privacy Room – Sometimes you just wanna stand up to change your clothes or strip your swimsuit off. This allows you to do so, modestly.
3 Abco Tech Sleeping Bag with Compression Sleeve – We all know how bulky sleeping bags can be. Eliminate that issue with this one, that compresses down to save space when packing.
4 Portable Propane Heater -This is great if you want more warmth than the campfire and your sleeping bag, or are staying in a cabin. I wouldn't sleep with it on, but it's great for knocking the chill off the air.
5 Solar Power Bank – You're gonna need your phone, right?? Charge it up with a solar powered power bank, and keep it with your camping equipment. Get an extra solar power bank to keep in your emergency supplies, too.

Cooking
1 Coleman Triton+ Camping Stove – A good camping stove is a must. This one is a workhorse, and based off one of the all-time classics. Everyone should have a camping stove in their essential camping gear.
2 7 Piece Cast Iron Cookware Set – Everything tastes better in cast iron. This is a fab set if you can park by your campsite. And ya might want to get an extra set for your kitchen at home.
3 9 Piece Portable Kitchen Utensil Set – Kitchen utensils are must have camping essentials that people always seem to forget about. Get a set and keep them with your camping gear. Because no one wants to have to try to turn over their freshly caught fish with a stick. True story.
4 Mess Kit for Two – This set is great for hikers and backpackers. It has your mess kit, and a couple pans to cook. Plus, it's lightweight and completely self-contained for portability.
5 Coleman Packaway Portable Kitchen – Experienced campers know there isn't always a table available for meal prep. This portable kitchen makes campsite cooking so much easier. There's even a spot for your cooking utensils and your portable stove.

Fun & Games
Believe it or not, games are one of my top camping gear must haves. If you're just camping for a couple days, boredom doesn't usually set in. But, much longer than that, and at some point people are going to want to do something. That's why I keep a couple decks of cards in my camping essentials.
1 Uno Wilderness – The classic Uno game with a bit of a twist.
2 GoSports Portable Cornhole – This is fun for all ages. Plus, it's lightweight and breaks down easily.
3 Champion Sports Rubber Horseshoes – Burn off some of that energy, without going too far.
4 GoFindIt Outdoor Nature Scavenger Hunt – Scavenger hunts are so fun. This one is a great way to experience your surroundings.
5 Marshmallow Roasting Sticks – If you don't make s'mores, did you even go camping?
Peruse this list of camping gear, and you'll definitely find a couple of items that'll make your next camping trip even more epic.