**Sponsored**
If you've looked around at all lately, you're bound to have noticed the Boho trend that's happening. The Boho style is more than just flowery dresses, sheer materials, fringed handbags, and ethnic patterns. It's an aesthetic rooted in a specific philosophy and worldview. The worlds of fashion and interior design greatly influence one another.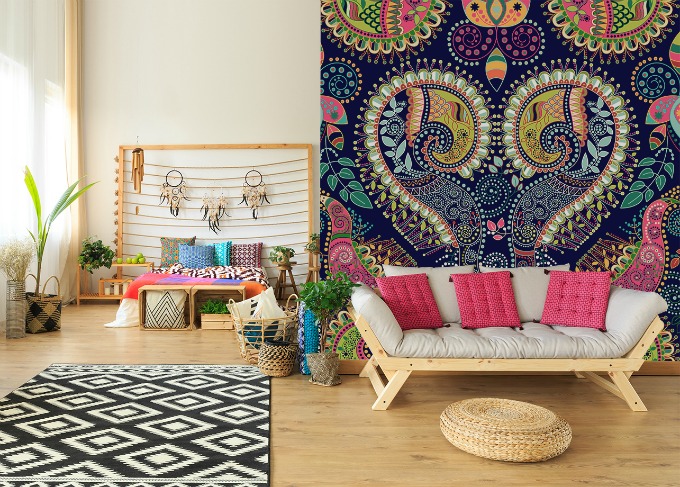 The Boho aesthetic is all about freedom, light-heartedness, and life without social restraints. These ideas might seem grandiose, but how are they used in practice? In order to understand that, we need to travel a few decades back in time.
The History of Bohemian Style
The Boho style has its roots in late 19th century Paris, which at that time was conquered by bohemianism. Painters and artists of the time created art that spoke to them, and hoped that others appreciated it as well. Their ateliers, or private studios, usually located in unfinished attics or garrets, were eclectic mishmashes full of whatever items the artist was attracted to. Many artists found inspiration in folk and exotic art. This helps explain the multitude of ethnic motifs and references in Boho style. By breaking away from the carefully organized, bourgeois lifestyle, they saw freedom and unlimited possibilities. These are the two main elements that lie at the center of the Boho aesthetic.
Bohemian, or Boho, is a style that knows no restrictions, nor does it have rules. It cherishes colors, freedom, the honesty of folk art, and anything else that's natural and true. The Boho aesthetic allows you to combine seemingly mismatched elements from various styles and cultures. This fusion, like a patchwork, allows you to create unique arrangements, perfectly suitable for your personal style. We put together our favorite floral motifs, traditional Slavic depictions of cockerels, and patterns inspired by African tribal art. This seemingly explosive mix will result in a breathtaking, awe-inspiring interior design that is sure to be envied. One caveat – make sure that any cultural pieces you use are treated with respect, and not simply appropriated.
Images via https://myloview.com/
3xR – eco-style interior design
Before we get into specific ideas on how to decorate your home in the Boho style, we have to mention one of the main philosophies of the style – 3xR. It stands for "reduce, reuse, recycle" and it's all about rejuvenating old, antique, or even slightly damaged furniture and objects and giving them a new life. Some people call it "upcycling." This attitude towards interior design is a great example of creativity and resourcefulness, but also an expression of green thinking. Eco friendly styles never become outdated, and are always intriguing. Think of the juxtaposition of contemporary design with a 19th century dresser, or modern materials such as plexiglass and steel with hand-woven tapestry and sewn patchwork. This is a great way to enjoy several different aesthetics within one interior. You can create this type of look with various objects and unique prints and patterns.
Patterns from floor to ceiling
There's a concept in art known as "horror vacui" which, directly translated, means the fear of empty spaces. In interior design, it's a concept that interiors or objects should be fully covered with ornamentation. The Boho style often uses this aesthetic by combining bold patterns and colors. It fills the interior with whimsical combinations of these, dotted by accessories from cultures around the world.
Indian traditions like elephants, lotus flowers, exotic birds like peacocks, or entangled vines of plants are often used in the Boho aesthetic. Other interesting sources of inspiration include symmetrical and geometric compositions from Mexican cultures, as well as elements of Slavic folklore such as the colorful Kashubian or Silesian nature-inspired designs. Butterflies are also a great decorative choice, that gives a sense of freshness and vibrancy. Paintings or murals are a great way to change the mood of any interior. For a more interesting effect, consider patterns which imitate hand-woven materials, whether it be grasscloth or a textile.
Hammock, patchwork and wicker
Now that you've gotten to know the Boho atmosphere and its most popular themes, we'll discuss some of the most popular decorative elements. You can't go wrong with colorful patchworks. These can be used to decorate a sofa in the living room or serve as a bedspread. Have one that's a little tattered? No problem. Make it into a throw pillow or frame a section of it.
Other excellent ideas include ethno-style tapestry, lace tray cloths, and eye-catching curtains. In more spacious rooms, or an open concept, use Indian, plant-inspired designs following the rules of horror vacui. This is particularly effective for a focal wall, as it's a bit overwhelming for a whole room. If you want to give your room a quick makeover, you might consider wall murals. You can also make the space into a comfortable relaxation area by adding wicker chairs and baskets, soft poufs, or even a hammock. Put some wooden bowls on the table, a multicolored, ceramic vase on the floor, and hang some butterfly paintings on the wall. Let your interior become a place for your personal style to run wild.
Boho-style decor is a great way to inject some joy and sunshine into your day, regardless of the weather outside. Whether you like patterned textiles, murals or colorful paintings, butterflies, Indian elephants, or Mexican designs – there's a place for them in the Boho aesthetic. The more expressive, eye-catching elements are (as long as they fit your personality) the more spectacular the final effect of the look is.