I've never been a big breakfast for breakfast person. That's why Huevos Rancheros are such a great option for those that like something a little more savory to kick off their day. And this easy huevos rancheros recipe is perfect for a crowd, or just a great meal at home.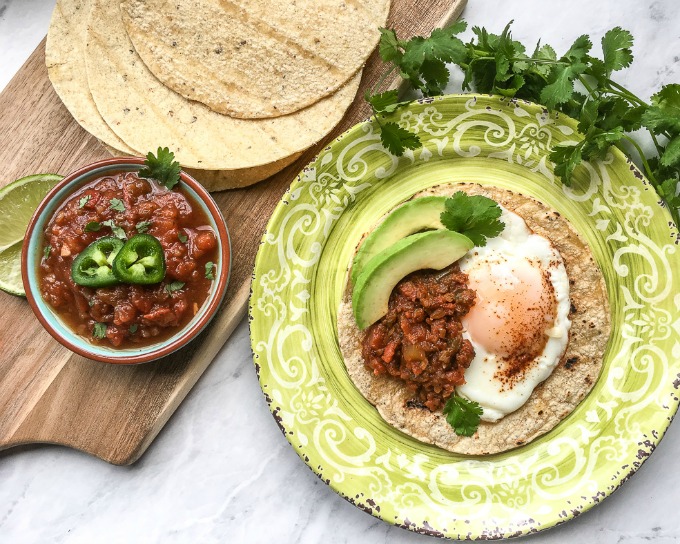 Don't get me wrong. I absolutely adore pancakes and waffles. I, personally, need something with more protein and less carbs and sugar to kick off my day. Unless I have a hearty side of sausage with them, I find myself hungry again quickly.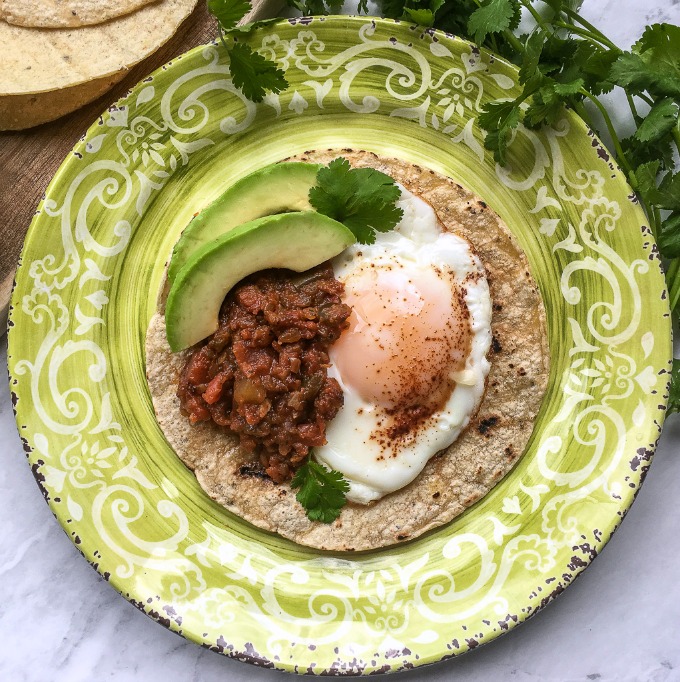 Most people are familiar with huevos rancheros, but if you're not, they're a great traditional Mexican breakfast dish that's oh so tasty. It's basically fried eggs on corn tortillas that are topped with your favorite garnishes. Some people like their eggs runny, but I like mine fried hard. It's totally a personal preference. Some even use poached eggs for their Huevos Rancheros.
You can top your easy huevos rancheros with anything you want, from refried beans to a spicy salsa or a garden fresh salsa to guacamole or avocado slices. While store bought tortillas are more than fine for this simple recipe, if you can get, or want to make, homemade tortillas, that kicks this up a couple notches.
Easy Huevos Rancheros Recipe
Yield: 4
Huevos Rancheros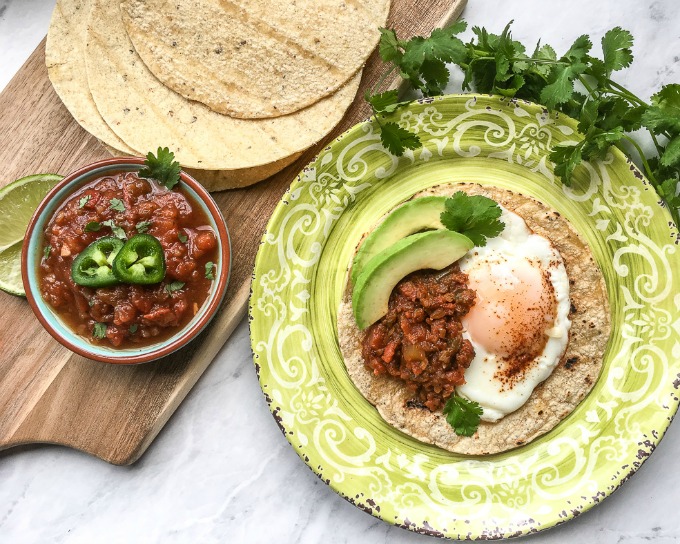 Simple and easy egg dish that's great for breakfast, or to mix up breakfast for dinner.
Ingredients
3 T. extra virgin olive oil
4 corn tortillas
4 large eggs
Chipotle powder, to taste
Sea salt, to taste
Optional
1 large avocado, sliced
½ c. fresh cilantro, finely chopped
4 oz. Monterey-Jack cheese, shredded
Instructions
1. Heat olive oil in a large skillet over medium-high heat. Add corn tortillas, one at a time, to the skillet and fry for 15-20 seconds on each side, just until the tortillas begin to crisp around the edges. Transfer to a plate and blot off excess oil with paper towels. Repeat with remaining tortillas and set aside.
2. Reduce heat to medium-low and fry the eggs to your liking in the leftover oil. If you like sunny side up, as Huevos Rancheros are traditionally served, this is just until the whites are set and the yolks are still runny. Season with chipotle powder and sea salt, to taste, and remove from heat.
Top each tortilla with an egg and serve immediately with choice of avocado, fresh cilantro, shredded Monterey-Jack cheese, refried beans, and/or salsa on the side. Enjoy!
Nutrition Information:
Yield:
4
Serving Size:
1
Amount Per Serving:
Calories:

376
Total Fat:

29g
Saturated Fat:

9g
Trans Fat:

0g
Unsaturated Fat:

18g
Cholesterol:

211mg
Sodium:

401mg
Carbohydrates:

14g
Fiber:

4g
Sugar:

1g
Protein:

15g
This information is provided as a convenience.
Isn't that simple and easy? This would make a great addition to a brunch, or even an alternative to your normal Brinner, or breakfast for dinner, menu. If you like this recipe, don't forget to share on social media, or pin it for later.