I love guacamole, especially a good chunky guacamole. I love guacamole so much I would marry it. I have to say, that's some pretty serious devotion I have there.
Even though I have a slight avocado allergy, it doesn't stop me from eating a really great homemade guacamole recipe like this one. This is perfect for any time you want that authentic taste at home.
We're majorly into Cinco de Mayo, as well as Mexican food in general, here. Perhaps it's the SoCal upbringing, but it feels like Cinco de Mayo is a day to be celebrated, along with our other holidays and occasions.
To that point, we're bringing you a number of great Mexican food recipes to help celebrate and put on a feast. These recipes include:
Whew! That's quite the spread of authentic Mexican food!
Homemade Chunky Guacamole Recipe
Links may be commissioned
There aren't a whole lot of tools that you need to make guacamole. The most important thing is really good, ripe avocados. You need a knife to cut open the avocados, and dice up your other ingredients. An avocado slicer can make the job easier, if you love kitchen gadgets. And a citrus squeezer for your fresh lime juice.
Yield: 1 Cup
Homemade Chunky Guacamole Recipe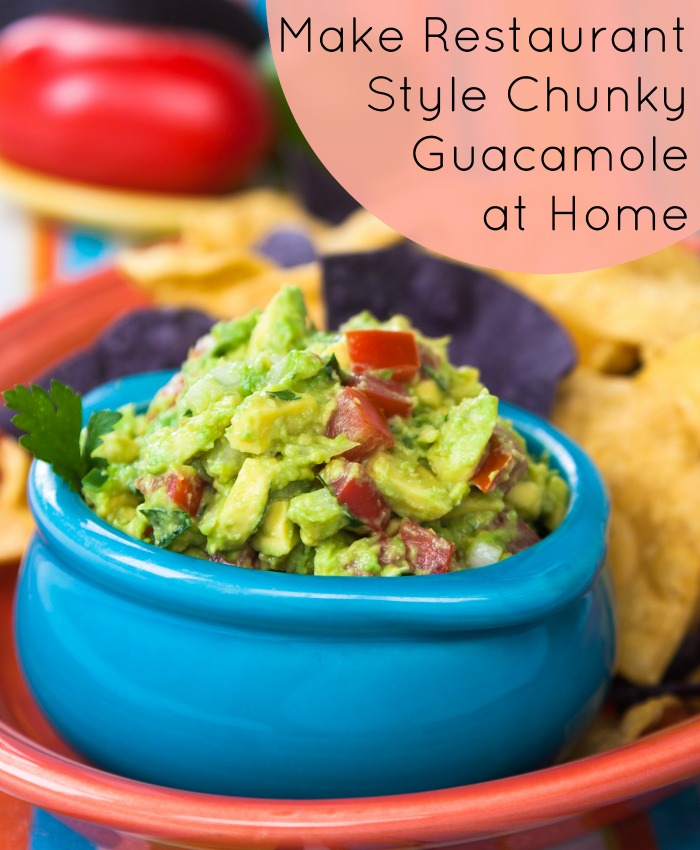 A truly authentic chunky guacamole, just like you'd find in a great Mexican restaurant.

Prep Time 5 minutes

Cook Time 5 minutes

Total Time 10 minutes
Ingredients
2 ripe Haas Avocados
1 ripe fresh tomato, seeded and diced
1 large clove fresh garlic, finely minced
1 fresh lime, juiced
1-2 diced jalapenos, to taste. (optional)
1 tablespoon (+ extra for garnish) fresh cilantro leaves, stems removed and finely chopped
Salt and pepper, to taste
Instructions
With a sharp knife, slice the avocado from top to bottom, cutting all the way around the fruit. Place the avocado in the palm of your non-dominant hand and gently the top half clockwise until it easily separates into two pieces.
To remove the seed, "whack" the seed with your sharp knife so the blade sticks into it. Gently turn the knife until the seed pops out.
To dice, score the avocado while still in its skin but cutting equally sized slices from top to bottom. Then, rotate 90 degrees and do the same thing going side to side. This combination of horizontal and vertical cuts will give you equal sized chunks of diced avocado.
To remove from skin, take a spoon and gently scrape all on the bottom of the flesh (where it meets the skin) until all your diced chunks are removed.
Place diced avocado in bowl. Add diced tomato, garlic, lime juice, diced jalapeno, and fresh cilantro to bowl and combine with a fork. Season with salt, pepper and additional lime juice, if desired.
Serve with favorite Mexican entrees or on its own with crunchy tortilla chips.
Nutrition Information:
Yield:
4
Serving Size:
1/4 c
Amount Per Serving: Calories: 126Total Fat: 11gSaturated Fat: 1gTrans Fat: 0gUnsaturated Fat: 8gCholesterol: 0mgSodium: 83mgCarbohydrates: 9gFiber: 5gSugar: 1gProtein: 2g

If you can't get Haas avocados, another great option is the giant tropical avocados, or aguacate avocados. When they're ripe, they have a great buttery texture, aren't stringy or watery, and are extremely similar to Hass.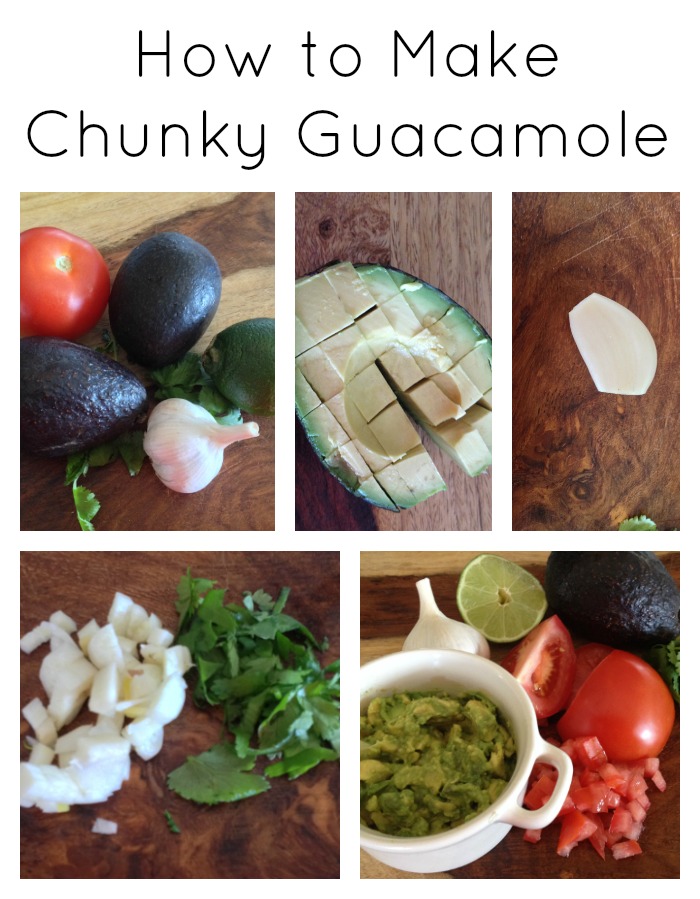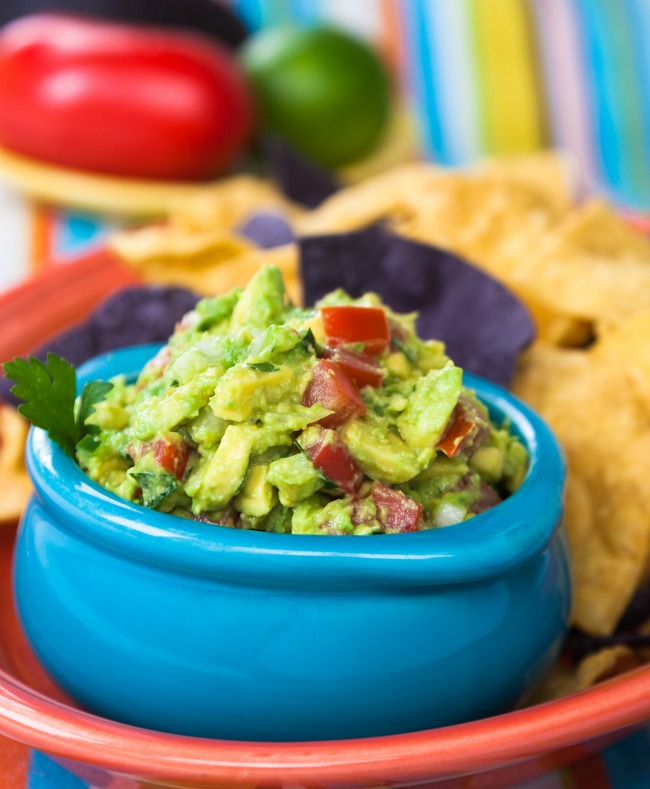 Will you be adding this chunky guacamole to your repertoire?