This instant pot pork carnitas recipe, or Mexican pulled pork, are amazing, and oh so easy to make.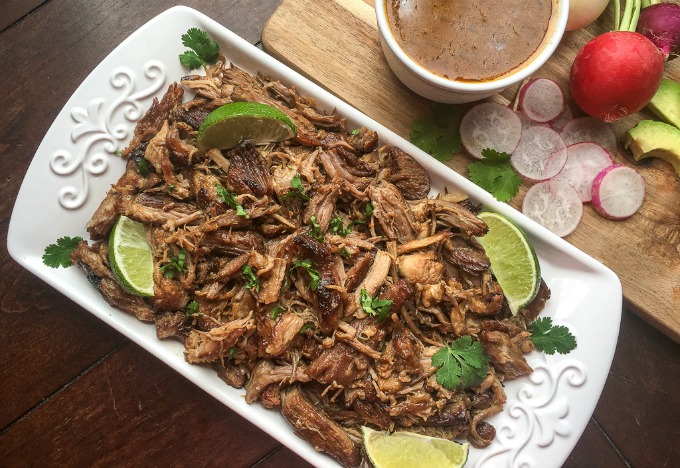 I am a huge fan of carnitas, and love to make it at home. When I have a ton of time, that is. You see, while traditional pork carnitas isn't all that difficult to make, it does take a long time. It's that slow and low cooking method that makes this Mexican pulled pork dish so delicious.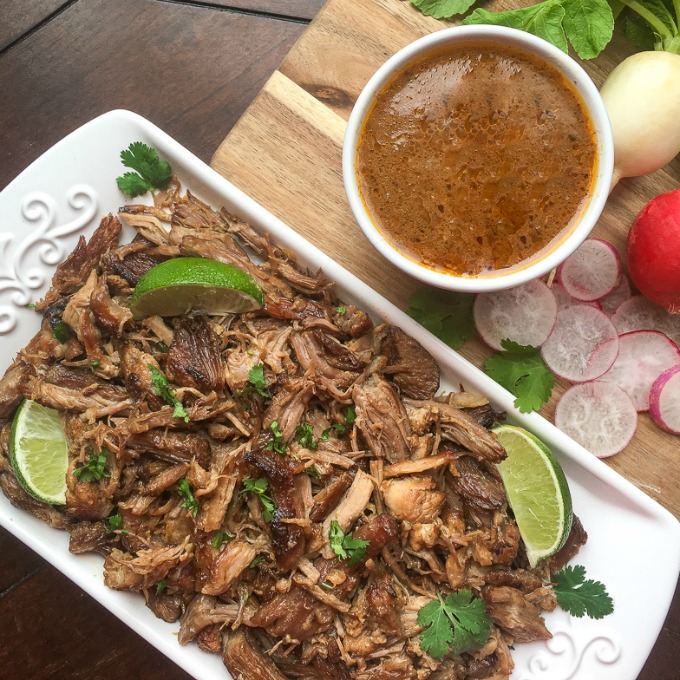 Well, the instant pot is changing all of that. This nifty little kitchen gadget is cutting the time to make pork carnitas by at least half. And these instant pot carnitas are just as good as the oven made kind.
The pork dish is so versatile, too. You can use it in burritos or tacos. It's really delicious in lettuce wraps as well. Or, you can just serve up the meat with some rice and beans, some garden fresh salsa and chunky guacamole and go to town. Personally, that's my favorite way to have instant pot carnitas.
Can you freeze carnitas?
The good news is that this recipe makes a ton. I think it's even better as leftovers. But, if you don't want to eat Mexican pulled pork for days on end, or you don't have a big family, you can freeze the leftovers. Just put it in a ziptop bag that's designed for the freezer, or a storage container, and put the carnitas in there. It'll keep for a couple months with no issues.
And when you're ready to have carnitas again, simply take the frozen leftovers out, and heat it up in a skillet. Yes, you can have instant pot pork carnitas from frozen. WHOA! Add a little bit of water, and steam the pork. It will probably absorb the water, and then you can toast the frozen carnitas leftovers in the skillet with a little oil to get that great crust. Sometimes, depending, I also add a little more garlic powder and some salt to the reheated leftovers as I'm sauteeing it.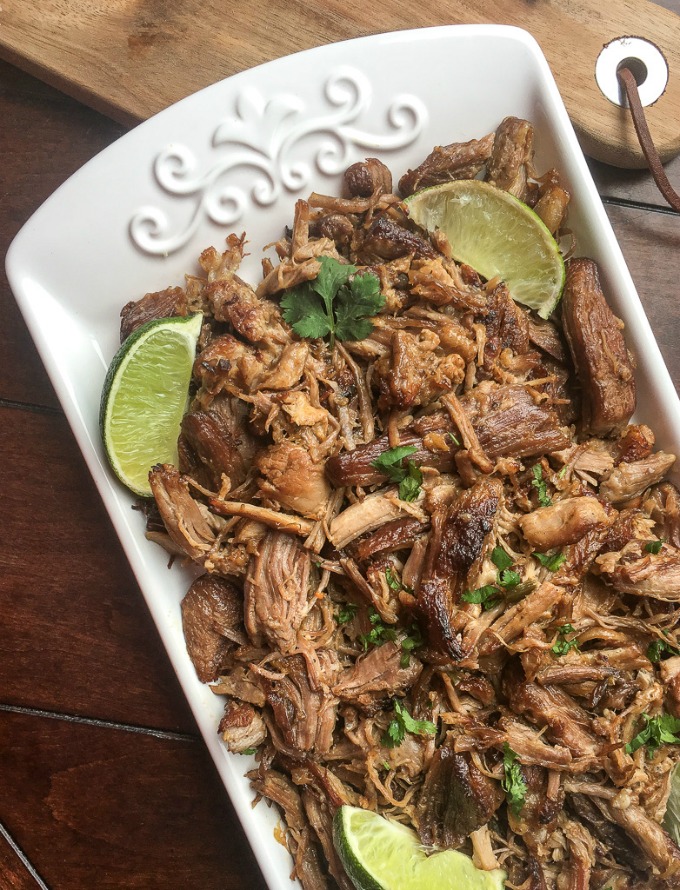 Instant Pot Carnitas Recipe
Links may be commissioned.
There are a few things that will assist you in making this instant pot carnitas. The first is, of course, an instant pot. This is a great one that will be in constant use in your kitchen. You'll also need a way to shred the pork. You can use two forks, or let it cool down and use your hands. Or you can get these meat claws. I thought they were silly at first, but you'll seriously use them so much more than you ever expected. If you're having company, you'll also want a great platter to serve your carnitas on. I'm kind of loving these geometric platters for something different.
Yield: 6
Instant Pot Carnitas Recipe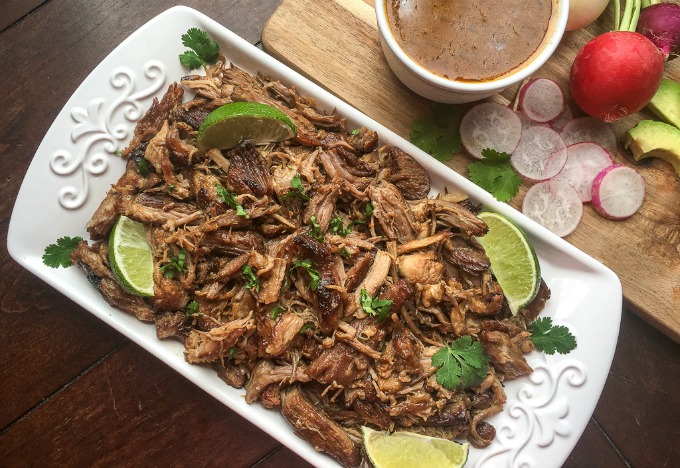 A quicker version of the classic Mexican pulled pork dish. This is made in an Instant Pot, and cuts the time down by at least half.
Cook Time
1 hour
15 minutes
Total Time
1 hour
30 minutes
Ingredients
¾ c. chicken broth, preferably organic
¾ c. fresh orange juice (approximately 2 large oranges)
3 T. lime juice
1 T. chili powder
½ t. smoked paprika
1 t. dried Mexican oregano
1 t. ground cumin
Sea salt and black pepper, to taste
2-3 T. extra virgin olive oil, divided
3½ - 4 lbs. pork shoulder roast, trimmed and cut into 6-8 chunks
1 medium red onion, diced
1 medium jalapeno, diced
2-3 cloves fresh garlic, peeled and chopped
Instructions
In a medium bowl, whisk together chicken broth, fresh orange juice, and lime juice with the chili powder, smoked paprika, Mexican oregano, and ground cumin. Season with salt and black pepper, to taste, and set aside.
Push the "Sauté" button on Instant Pot. Once the display reads "On," add 1 tablespoon olive oil and half the pork shoulder pieces to the container. Season with salt and black pepper, to taste, and cook until pork is browned on all sides, approximately 1-2 minutes per side.
Note: DO NOT use lid while using the "Sauté" function on an Instant Pot!
Once browned, transfer seared pork to a plate and repeat this process with additional olive oil and the rest of pork. Remove browned pork from the Instant Pot and set aside.
Add remaining tablespoon olive oil to the instant pot, along with red onion, jalapeno, and fresh garlic. Sauté, stirring occasionally, until soft and translucent, approximately 3-4 minutes. This is optional, but really helps build the flavor.
Add browned pork back to the pot and pour chicken broth/orange juice mixture over top. Add lid and seal, making sure the steam release handle is positioned toward "Sealing."
Press the "Manual" button and set the time to 30 minutes at high pressure. Once the cooking time is up, allow 20-25 minutes for the "natural release" of the steam inside the Instant Pot. After that time, perform a manual "quick release" to vent any remaining steam to release lid, if necessary.
A few minutes before the steam is fully released, preheat oven broiler to high and line a large, rimmed baking sheet with aluminum foil.
Transfer pork to the prepared baking sheet and gently shred with two forks. Drizzle with ¼ cup juices from the Instant Pot and toss to combine before spreading into a thin, even layer.
Place pork under broiler for 4-5 minutes, then remove from oven and add a little more juice before turning the meat to brown the other side.
Place back under broiler for another 4-5 minutes or until the pork is nice and crispy on the edges.
Once pork is under the broiler, press "Sauté" on the Instant Pot to reduce the cooking liquid by one half while the pork is broiling.
When finished broiling, remove baking sheet from oven and serve immediately with the reduced cooking liquid, fresh lime wedges, and chopped cilantro. Enjoy!
Nutrition Information:
Yield:
12
Serving Size:
4 oz
Amount Per Serving:
Calories:

185
Total Fat:

8g
Saturated Fat:

3g
Trans Fat:

0g
Unsaturated Fat:

5g
Cholesterol:

58mg
Sodium:

60mg
Carbohydrates:

5g
Fiber:

1g
Sugar:

2g
Protein:

26g
Doesn't that sound amazing? I like to finish my carnitas with a squeeze of fresh lime. It just elevates the flavors that much more. Even better, this Instant Pot Carnitas is low carb, and Paleo and Keto friendly. And it has ZERO Weight Watchers Freestyle Points, just like the Mexican Shredded Chicken. YAY! You can have some of your favorite foods on whatever meal plan you're following.
Don't forget to pin this recipe to save it for later!