ho doesn't love a good, chunky salsa? It's even better when it's freshly made in your very own kitchen. This delicious garden fresh salsa recipe is super easy to make, and tastes even better after the flavors have had a chance to meld. Make your garden fresh salsa recipe a day or two beforehand to really enjoy the flavors.
We're majorly into Cinco de Mayo here. Perhaps it's the SoCal upbringing, but it feels like Cinco de Mayo is a day to be celebrated, along with our other holidays and occasions.
To that point, we're bringing you a number of great Mexican food recipes to help celebrate and put on a feast. These recipes include:
Homemade Flour Tortillas
Chicken Quesadillas
Tomato Salsa
Pico de Gallo
Sweet Corn Tamale Cakes with Salsa Verde (Cheesecake Factory Copycat)
Watermelon Agua Fresca
Whew! That's quite the spread of authentic Mexican food! On to the salsa recipe!
Garden Fresh Salsa Recipe
Yield: 1 Cup
Delicious Garden Fresh Salsa Recipe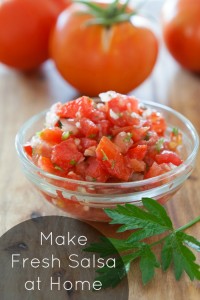 A delicious, fresh salsa that is really easy to make. It tastes even better after the flavors have melded for a day.

Prep Time 10 minutes

Cook Time 5 minutes

Total Time 15 minutes
Ingredients
4 medium ripe tomatoes, cored and seeded
2 - 3 cloves garlic, peeled
Juice from 1 fresh lime (about 1/4 cup)
1 - 2 tablespoons fresh cilantro, stems removed and finely chopped
salt and pepper, to taste
1-2 fresh Jalapenos, diced and seeded, if desired.
Instructions
Cut 3 of the tomatoes into quarters and place in blender or food processor. Add garlic cloves and half the lime juice. Pulse until thoroughly combined.
Dice remaining tomato into evenly sized small pieces. Stir into tomato garlic mixture to create a chunkier texture. Stir in 1 to 2 tablespoons of fresh cilantro (adjust according to personal preference). Add jalapenos, if desired.
Add remaining lime and season with salt and pepper, to taste. Serve with your favorite Mexican entrée or by itself with crispy tortilla chips.
Nutrition Information:
Yield:
4
Serving Size:
1/4 c
Amount Per Serving: Calories: 65Total Fat: 0gSaturated Fat: 0gTrans Fat: 0gUnsaturated Fat: 0gCholesterol: 0mgSodium: 117mgCarbohydrates: 16gFiber: 2gSugar: 11gProtein: 2g
See how easy that is? And it's practically failproof. The biggest tip is to use really good produce, as that's the star of this salsa recipe.