One of the things that I love is a really good taco. Now, they can be beef or chicken, or carnitas or al pastor or or or…I have to stop! I'm making myself hungry! But it has to be good, with really fresh, quality ingredients.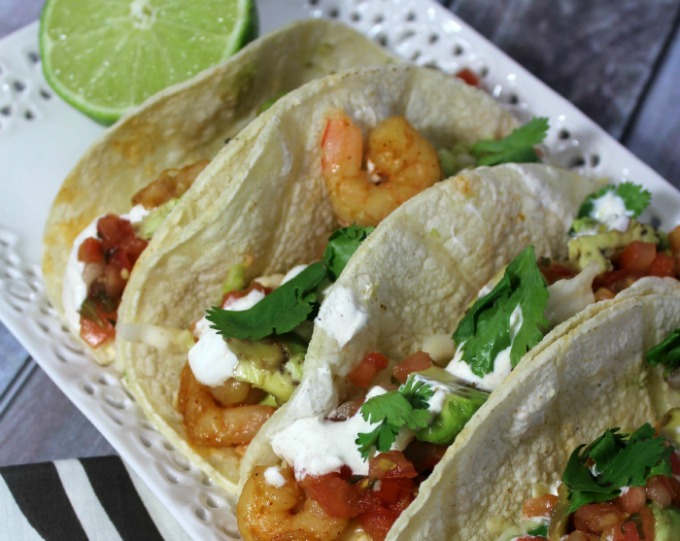 When I was out in California recently, I had these really great shrimp tacos. Over the weekend, I was thinking "oh, those would be SO GOOD today!" When I asked my mom if she remembered where we had those, she broke the news to me that it was when we were traveling. Heart broken. These Chipotle Shrimp tacos with Lime Crema sauce are a great replica.
They have a delicious marinade for the shrimp, then a homemade pico de gallo and a lime crema sauce. And to top it off, for that little bit of zesty crunch, a fabulous chipotle cabbage. MMMM…sooo good! These are spicy and cooling at the same time.
Chipotle Shrimp Tacos with Lime Crema Sauce
This healthy shrimp taco recipe can be made in about half an hour. It just means marinating the shrimp for about half the time. It won't affect the flavor too much, it'll just be milder.
Yield: 8
Chipotle Shrimp Tacos with Lime Crema Sauce
Subtly spicy shrimp tacos with a cabbage topping and a lime crema sauce to help cool it down. You can easily adjust your spice levels.

Prep Time 15 minutes

Cook Time 10 minutes

Additional Time 30 minutes

Total Time 55 minutes
Ingredients
Chipotle Shrimp
1 lb shrimp 51/60
1 teaspoon Tony Chacheres Creole seasoning
1 teaspoon chili powder
1 teaspoon kosher salt
1 teaspoon of Chipolte oil - adjust for your heat level
1/2 TBSP garlic
2 teaspoons Olive oil
Pico De Gallo
7 Roma Tomatoes
1 Yellow Onion
3 seeded Jalapeños Chopped
1 TBSP garlic
1 TBSP Chipotle chili powder
1 Juice of a lime
1/4 C fresh cilantro
Chipotle Cabbage
2 cups finely cole slaw
1/4 cup Chipotle Mayo
1 teaspoon Chili Powder
1/4 cup fresh cilantro
Lime Crema
1/3 cup sour cream
3 TBSP lime juice
1/2 TBSP Tony Cacheres seasoning
1/4 tsp Cumin
Tortillas
Chopped avocado
Lime
Instructions
Clean the shrimp.
Place the shrimp in a Ziploc bag, adding spice mixture and let marinate for 30 minutes.
Add a little olive oil to a non stick pan, and add the shrimp.
Cook the shrimp until they're done, about 3-5 minutes. They should be bright pink (which might be a little hard to see) and curled into a C shape.
!Lime Crema
In a small bowl whisk together the sour cream, lime juice and cumin. Season to taste with kosher salt. Refrigerate until ready to use. Stir well before serving.
Pico de Gallo
Chop up tomatoes, onions, and jalapenos. Combine all items together, adjusting jalapenos and and chipotle for heat level. Chill until ready to use.
Place 6-8 shrimp in a tortilla, and top with the chipotle cabbage and lime crema. Add avocado, pico, and top with a squeeze of lime.
Nutrition Information:
Yield:
8
Serving Size:
1
Amount Per Serving: Calories: 306Total Fat: 19gSaturated Fat: 4gTrans Fat: 0gUnsaturated Fat: 14gCholesterol: 132mgSodium: 1486mgCarbohydrates: 20gFiber: 4gSugar: 8gProtein: 16g

Nutritional info is provided as a convenience

These tacos are so quick, and so easy that they'll easily become one of your family's favorite meals. Try these shrimp tacos with our guacamole or fresh salsa, too!
Like this recipe? Don't forget to pin it for later, or share on social to save it.