Sweet and tart is one of my favorite flavor combinations. While I do love sweet, the tart twist gets me going every time. These Lime Curd Cupcakes are no exception to my love of tart things.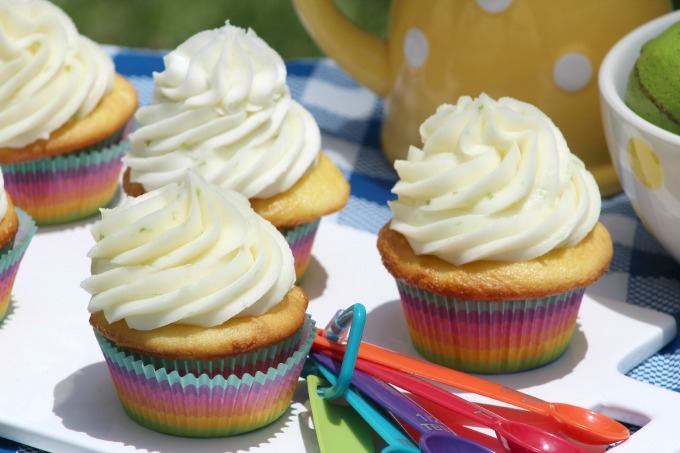 Much like their lemon flavored cousins, these lime curd cupcakes are sure to be a real crowd pleaser. The best part is that they're pretty easy to make, and your friends and family are going to be so impressed. While I'm a fan of the punch you in the face flavor, these are much more subtle in their flavoring. So don't be afraid!
Lime Curd Cupcakes
There are a few products that make making these Lime Curd Cupcakes easier.  These stainless steel measuring spoons are pretty fantastic.  I have a set of these in my own kitchen. A fantastic stand mixer, like this Kitchenaid helps get the job done quickly. Pair it with this paddle blade to get the sides of the bowl. If a stand mixer is a little out of the budget, this hand mixer is pretty legit.
Greta
Yields 12
Sweet and Tangy Lime Curd Cupcakes
Lime is generally considered to have a subtler, sweeter flavor than lemon. Make these amazing Lime Curd Cupcakes totally from scratch. They're not hard!
15 minPrep Time
40 minCook Time
55 minTotal Time
Ingredients
Cupcake Ingredients:

2 1/2 C all-purpose flour
2 tsp baking powder
1/2 tsp baking soda
1/4 tsp salt
1 C unsalted butter (room temp)
1 1/2 C sugar
2 eggs (room temp)
2 egg yolks (room temp)
2 tsp vanilla extract
1 tsp grated lime zest
1/4 C fresh lime juice (1-2 limes)

Lime Curd Ingredients:

3 eggs
3/4 C sugar
pinch of salt
1/2 C lime juice (2-3 limes)
zest of 1 lime
4 TBSP diced butter

Frosting Ingredients:

1 lb powdered sugar
1 C unsalted sweet cream butter
2 TBSP Lime Juice fresh squeezed
2 tsp lime zest
2 TBSP heavy whipping cream
Instructions
Cupcake Recipe:

Preheat oven to 350 degrees.
Whisk all dry ingredients together in a bowl.
Cream the butter on med. speed until light and fluffy .
Add the sugar to the butter and mix until smooth.
Add the eggs one at a time; mixed well.
Add the yolks one at a time; mixed well.
Beat in the vanilla extract and lime zest until fully mixed.
Slowly add the lime juice on low speed until combined.
Slowly add the dry ingredients and alternate with the milk into the butter mixture then increase the speed to medium.
Mix together well, being sure to scrape the sides.
Fill cupcake liners 3/4 full. Bake for 20-25 minutes.
Let cool in pan for 10 minutes. Remove from cupcake pan and allow to cool completely.
Scoop a hole in the center of the cupcake and spoon in the chilled lime curd.

Lime Curd Recipe:

Add sugar, eggs, salt, juice and zest to a pot away from heat. Whisk together until smooth.
Cook over low heat, stir constantly until thickened. About 8-10 minutes.
Add diced butter. Stir until blended and the butter is melted.
Remove from heat. Allow to cool completely.

Frosting Directions:

Whip the butter and powder sugar in a mixing bowl until creamy, using a medium speed. .
If frosting doesn't cream add several drops of heavy whipping cream until it becomes creamy.
Add the fresh squeezed lime juice and mix.
Add the zest of 1 lemon and 1lime to the frosting. Stir to mix well.
Spoon the frosting into a pastry bag with a star or large round frosting tip and frost the cupcakes.
7.8.1.2
72
https://www.gretasday.com/make-these-delicious-sweet-and-tangy-lime-curd-cupcakes/