We're always looking for a quick and easy meal idea that doesn't take lots of work. like this Portobello Mushroom and Feta Frittata. While convenience foods are great, you don't want to rely on them all the time.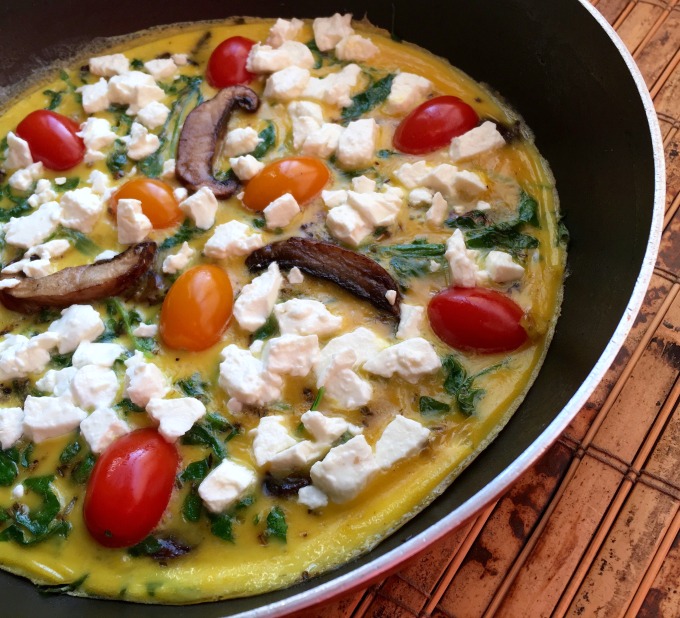 This Keto friendly Portobello Mushroom and Feta Frittata is so quick and easy to make, too. Just a little bit of prep work, and then you let it cook. It can be on the table in slightly more than half an hour.
One of the best things about a frittata is that it's sooo easy to make, yet everyone is always super impressed. It's also a great way to use up a few random leftovers. If you're not familiar with a frittata, and wondering how it differs from a quiche, let us help. A frittata is more like a large omelet that isn't folded, while a quiche is more like a pie, with a crust.
Low Carb Portobello Mushroom and Feta Frittata Recipe
This recipe makes 4 good sized portions, and takes just a few tomatoes and a couple mushrooms. Some leftover feta cheese – or whatever you have.


Yield: 1
Keto Friendly Portobello Mushroom and Feta Frittata Recipe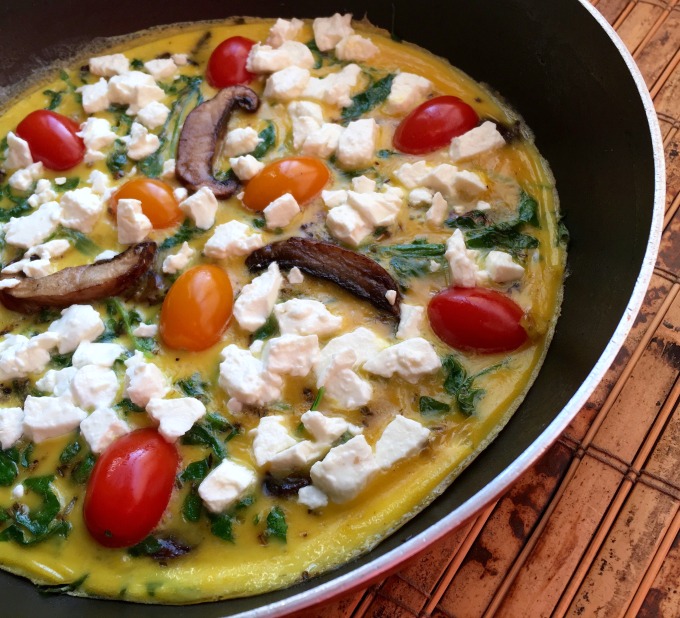 A delicious and easy frittata that's a great way to use up a few leftovers. Low carb, keto friendly, and perfect for breakfast or dinner.

Prep Time 10 minutes

Cook Time 25 minutes

Total Time 35 minutes
Ingredients
6 Whole Eggs
1/4 C Half & Half
3 TBSP Water
1 TBSP Extra Virgin Olive Oil
6 Baby Portobello Mushrooms, cleaned + gills removed.
2 Handfuls Arugula, washed and dried
6 Cherry Tomatoes, washed
2 oz Feta Cheese. Either cubed or use crumbled.
Sea salt and Black pepper, to taste
Instructions
Wash and clean your veggies.
Chop the portobello mushroom stems, and slice the caps into thin slices. Set aside.
Slice the cherry tomatoes in half. Set aside.
In a medium bowl, whisk together 6 eggs, half & half, water, sea salt, and freshly ground black pepper until blended. Set aside.
Add olive oil to a 10" non-stick skillet and heat over medium heat. Add Portobello mushroom slices and chopped stems and cook approximately 5-6 minutes, stirring occasionally. When the mushrooms are browned, remove 3 uniformly sized mushroom slices from the pan and set aside.
Add arugula to pan and stir constantly until wilted, approximately 1-2 minutes.
Spread mushrooms and arugula into a uniform layer across the bottom of the pan. Pour egg mixture on top and let cook for 1-2 minutes, or until the egg begins to set on bottom.
Reduce heat to just above the "low" setting and cover. Cook 8-9 minutes, then remove lid and arrange the 3 Portobello strips, cherry tomato halves, and Feta chunks in a decorative pattern, if desired. If not, simply scatter those ingredients across the top of the frittata before covering again.
Cook for another 5-6 minutes, or until the egg is cooked through and the Feta has just begun to melt. Remove from heat and carefully transfer to a serving platter and cut into wedges.
Serve warm or enjoy at room temperature.
Nutrition Information:
Yield:
4
Serving Size:
1
Amount Per Serving: Calories: 227Total Fat: 16gSaturated Fat: 6gTrans Fat: 0gUnsaturated Fat: 9gCholesterol: 297mgSodium: 337mgCarbohydrates: 7gFiber: 2gSugar: 4gProtein: 15g

Nutritional information is provided as a courtesy, and may not be accurate.


See how easy it really is to make something that seems soooo fancy. The Portobello Mushroom and Feta Frittata is a great option for breakfast, brunch, lunch, or dinner. For lunch or dinner, I'd probably add a side salad. It's also a great recipe to experiment with. Try it! Pretty much anything you would put in an omelet can go in a frittata.