One of our family's traditions is to go out to brunch.We find a great restaurant or a resort that has brunch, and meet there as a family.Everyone gets to have what they like, and there's a lot less complaints than having a meal with someone hosting. It was at one of these brunches that I first discovered Bananas Foster.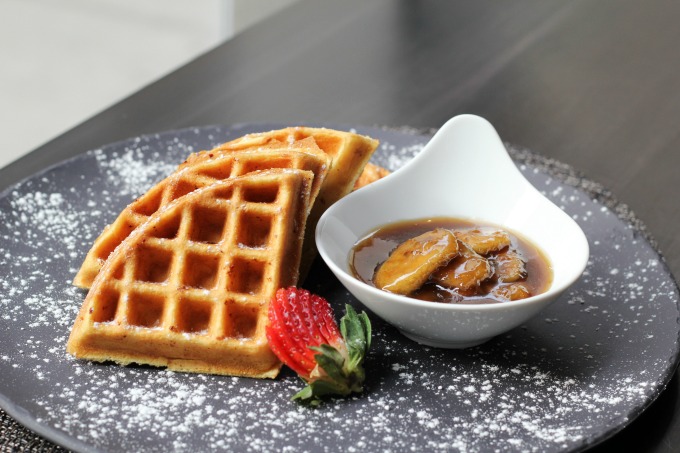 I'm not normally much of a banana fan.  However, I do love Bananas Foster. The rich depth of the maple flavor plays nicely with the sweetness of the bananas, especially when they're sauteed together.  Add in the brown sugar and butter, and it's just so indulgent.
Belgian Waffles with Maple Bananas Foster Sauce
Belgian Waffles recipe
Make these delicious Belgian waffles from scratch, and you'll never buy waffle mix again.
Ingredients
1 pint Buttermilk
9 oz All-purpose Flour
3 Tbsp Sugar
4 eggs
2 Tbsp baking powder
1 tsp Salt
8 oz butter, unsalted (2 sticks)
Directions
Mix the flour, baking powder and salt together, combining well.
Melt the butter and let it cool, but not solidify.
Mix the milk, eggs and sugar together.
Add the milk mixture to the mixed flour, and mix.
Add the melted butter to the other ingredients, and combine thoroughly.
Cook in a pre-heated waffle maker, until done.
Maple Bananas Foster Sauce Recipe
Ingredients
4 bananas, sliced                

3/4 c. Brown sugar                         

3/4 c. Maple syrup                         


1 Tbsp Butter, unsalted
Directions
Melt the butter over medium-high heat.
Saute the bananas and brown sugar in the butter for 2-3 minutes.
Add in the maple syrup, and reduce by 1/4.
Serve with the waffles.
Special thanks to Langham Hotels for this delicious recipe.