I am a huge fan of s'mores.  Like, seriously…they're one of my absolute favorite things. One of my other favorite things is Starbucks.  It's almost become a joke among my friends that when something new comes out, I'll go try it and report back. One of my favorite Starbucks drinks was the S'mores Frappuccino that they brought out last year.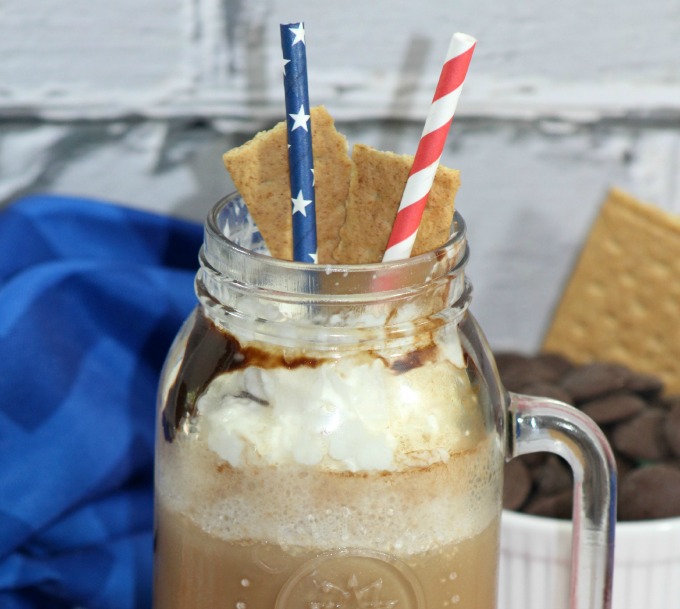 I've eagerly been anticipating the re-introduction of the S'mores frappuccino, but sometimes a girl has to take matters into her own hands.  Sometimes…sometimes, she just has to recreate it. That's how this copycat S'mores Frappuccino came to be.

Copycat Smores Frappuccino from Starbucks
Ingredients
½ C of 2% milk
¼ Heavy Cream
½ C ice
1 shot of Espresso or ¼ C strong coffee
1 Tbsp sugar
½ Tbsp Cocoa Powder ( Dark )
¼ C Marshmallow fluff
Whipped cream
1-2 Graham Crackers, crushed
Hot Fudge topping
Directions
In a blender add milk, heavy cream, ice, sugar, cocoa powder, and coffee.
Blend well until well incorporated.
The Starbucks Smores Frappuccino has a layered look to it.  It's kind of fun, and feels really special.  I also think it adds to the s'mores effect.  Here's how to recreate that effect.
Take a large glass and pour fudge topping drizzle down the sides. Layer your copycat Smores Frappuccino by filling it 1/3 way full with the frozen mix. Next, add a wee bit of crushed Graham cracker and a spoonful or so of marshmallow fluff.  Repeat until your glass is filled.
Garnish with whipped cream and graham cracker crumbs.
Voila!  You have your own version of a S'mores Frappuccino made at home, quickly and easily.