Copycat Starbucks. It's a phrase we have all Googled – probably a lot. I know I have. I'm a huge fan of Starbucks, but one of their drinks in particular really makes my mouth happy. I am a huge fan of s'mores. Like, seriously…they're one of my absolute favorite things. One of my other favorite things is Starbucks. It's almost become a joke among my friends that when something new comes out, I'll go try it and report back. One of my favorite Starbucks drinks was the S'mores Frappuccino that they brought out last year.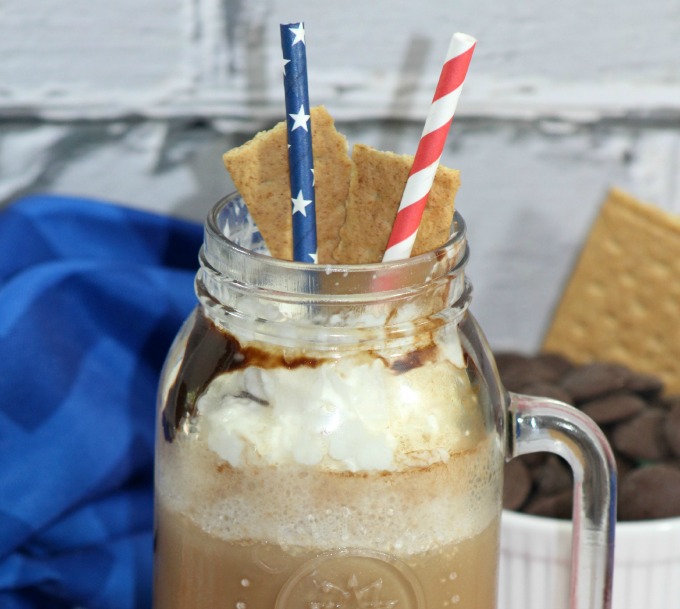 I've eagerly been anticipating the re-introduction of the S'mores frappuccino, but sometimes a girl has to take matters into her own hands. Sometimes…sometimes, she just has to recreate it. There was no way I was going to wait to get my hands on a glass of that delicious drink filled to capacity with smores goodness. Uh, uh. I'm not known for my patience. That's how this copycat Starbucks recipe for S'mores Frappuccino came to be.

Smores Frappuccino Copycat Starbucks Recipe
This recipe packs a lot of flavor into the glass, and it's so good. In fact, it absolutely hits the mark when it comes to that great taste of Starbucks' Smores Frappuccino if I do say so myself. It's full of chocolate, creamy goodness, marshmallow heaven, and of course, strong coffee. What's even better is that even though this recipe packs a punch, it's really easy to make. All you need is a blender, and you probably already have most or all of the ingredients in your house right this second.
So let's stop blabbing and start making. Ladies and gents, the Copycat Starbucks Smores Frappuccino.
Greta
Yields 1
Copycat Smores Frappuccino from Starbucks
A delightful knockoff copycat of the fantastic S'mores Frappuccino blended coffee drink from Starbucks.
5 minPrep Time
5 minCook Time
10 minTotal Time
Ingredients
½ C of 2% milk
¼ Heavy Cream
½ C ice
1 shot of Espresso or ¼ C strong coffee
1 Tbsp sugar
½ Tbsp Cocoa Powder ( Dark )
¼ C Marshmallow fluff
Whipped cream
1-2 Graham Crackers, crushed
Hot Fudge topping
Instructions
In a blender add milk, heavy cream, ice, sugar, cocoa powder, and coffee.
Blend well until well incorporated.
The Starbucks Smores Frappuccino has a layered look to it. It's kind of fun, and feels really special. I also think it adds to the s'mores effect. Here's how to recreate that effect.
Take a large glass and pour fudge topping drizzle down the sides. Layer your copycat Smores Frappuccino by filling it 1/3 way full with the frozen mix. Next, add a wee bit of crushed Graham cracker and a spoonful or so of marshmallow fluff. Repeat until your glass is filled.
Garnish with whipped cream and graham cracker crumbs.
7.8.1.2
114
https://www.gretasday.com/copycat-smores-frappuccino-from-starbucks/
Voila! You have your own version of a Smores Frappuccino made at home, quickly and easily. It's the perfect drink for the warm months. But why stop there? It's also a great drink to enjoy by the fire or with a cozy blanket during the cold months. Basically, it's a year-round party in your mouth, and it's so easy to make you can have it any time you like. Kick it into s'mores overload with these amazing S'mores cupcakes! If you love Starbucks, you'll want to try the Copycat Starbucks Birthday Frappuccino, too.
What are you waiting for? Get out your blender and start making this awesome Copycat Starbucks Smores Frappuccino right now! It's so easy to make, there's really no reason not to. Have it tonight. Maybe not. It does have caffeine. But have it as a snack. Have it for breakfast. Have it whenever. The point is, with a tasty recipe this easy to make, you can have it whenever you want because it only takes a few minutes. And it's sooo good.