One of the great things about spring is that the vivid colors start making a comeback.  Oh sure, we have rich jewel tomes for fall and winter, but even they're kind of dark.  Dark red, dark purple, dark green…le sigh…Don't get me wrong, they definitely have their places, but those vivid shades that pop up in the spring.  Ooh la la!
That's part of the reason I am LOVING this Colorful Spring Mix and Match wardrobe.  Look at these gorgeous shades of jade, mustard, tangerine, and orchid.  Who can resist?  And I'm not even gonna lie – I am LUSTING after those floral pants.  OH YES.
Colorful Spring Mix and Match Wardrobe from Nordstrom
We've taken 15 items from Nordstrom and created 15 outfits from them.  That's what a mix and match wardrobe, or a capsule wardrobe is, in a nutshell.
Links may be affiliate links
1 Adelyn Rae Belted V Neck Dress ($78, shown in mint.  Also available in Cobalt) + Sam Edelman Felicia Flat ($100, shown in Chartruese.  Available in 16 shades) + Modena Fringe Scarf ($28)
2 Bobeau Mesh Trim Tee ($34, available in 4 colors) + Rails Beckett Boyfriend Jeans ($188) + Street Level Reversible Pocket tote ($54, shown in Blush/Red. Available in 4 shades) + Sam Edelman Felicia Flat ($100, shown in Chartruese.  Available in 16 shades)
3 Bobeau Teird Sleeveless Top ($48, shown in Olive Oil. Available in 4 colors) + Joe's Flawless Honey Bootcut Jeans ($179) + Vince Camuto Reta d'Orsay flats ($100) + Kate Spade Rosy Paint Dot Scarf ($88)
4 Slub Knit Shark Bite Tunic ($49) + ASTR Go Your Own Way Striped Pants ($88) + Sam Edelman Felicia Flat ($100, shown in Chartruese.  Available in 16 shades)
5 Hinge Print Back Tee ($48) + Hue Floral Luster Twill Skimmer Leggings ($48, also available in greyscale) + Vince Camuto Reta d'Orsay flats ($100) + Sole Society Ellie Mini Backpack ($45)
6 Bobeau Mesh Trim Tee ($34, available in 4 colors) + Joe's Flawless Honey Bootcut Jeans ($179) + Sam Edelman Felicia Flat ($100, shown in Chartruese.  Available in 16 shades) + Modena Fringe Scarf ($28)
7 Adelyn Rae Belted V Neck Dress ($78, shown in mint.  Also available in Cobalt) + Street Level Reversible Pocket tote ($54, shown in Blush/Red. Available in 4 shades) + Vince Camuto Reta d'Orsay flats ($100)
8 Slub Knit Shark Bite Tunic ($49) + Hue Floral Luster Twill Skimmer Leggings ($48, also available in greyscale) + Vince Camuto Reta d'Orsay flats ($100) + Kate Spade Rosy Paint Dot Scarf ($88)
9 Hinge Print Back Tee ($48) + ASTR Go Your Own Way Striped Pants ($88) +  Vince Camuto Reta d'Orsay flats ($100)
10 Bobeau Teird Sleeveless Top ($48, shown in Olive Oil. Available in 4 colors) + Rails Beckett Boyfriend Jeans ($188) + Sam Edelman Felicia Flat ($100, shown in Chartruese.  Available in 16 shades) + Sole Society Ellie Mini Backpack ($45)
11 Bobeau Teird Sleeveless Top ($48, shown in Olive Oil. Available in 4 colors) + Hue Floral Luster Twill Skimmer Leggings ($48, also available in greyscale) + Sam Edelman Felicia Flat ($100, shown in Chartruese.  Available in 16 shades) + Modena Fringe Scarf ($28)
12 Hinge Print Back Tee ($48) + Joe's Flawless Honey Bootcut Jeans ($179) + Vince Camuto Reta d'Orsay flats ($100) + Sole Society Ellie Mini Backpack ($45)
13 Bobeau Mesh Trim Tee ($34, available in 4 colors) + ASTR Go Your Own Way Striped Pants ($88) + Sam Edelman Felicia Flat ($100, shown in Chartruese.  Available in 16 shades) + Kate Spade Rosy Paint Dot Scarf ($88)
14 Adelyn Rae Belted V Neck Dress ($78, shown in mint.  Also available in Cobalt) + Hue Floral Luster Twill Skimmer Leggings ($48, also available in greyscale) + Street Level Reversible Pocket tote ($54, shown in Blush/Red. Available in 4 shades) + Sam Edelman Felicia Flat ($100, shown in Chartruese.  Available in 16 shades)
15 Slub Knit Shark Bite Tunic ($49) + Rails Beckett Boyfriend Jeans ($188) + Vince Camuto Reta d'Orsay flats ($100)
Shop all of the Spring Mix and Match wardrobe pieces below: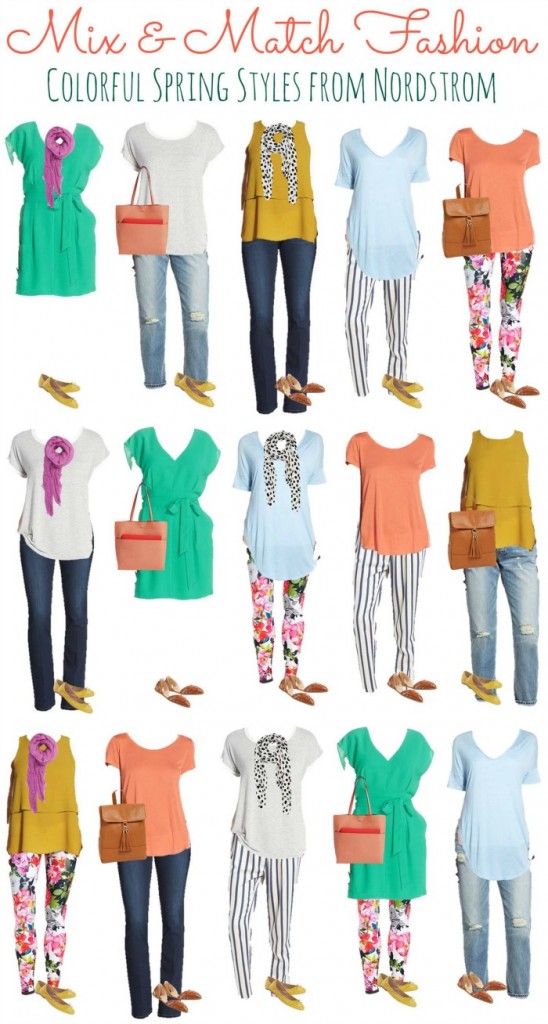 For more spring beauty articles, visit a few of my favorite bloggers: