Strawberries are easily one of my favorite foods.  Not my favorite fruit, but food, in general. Growing up in Southern California, we always had access to really great strawberries, even during the off-season. And when they were in season?  HOO BOY! They're like the perfect little sugar bombs, and you can't just eat one pint. That's why this Strawberry Lemonade Mojito mocktail is perfect for spring and summer.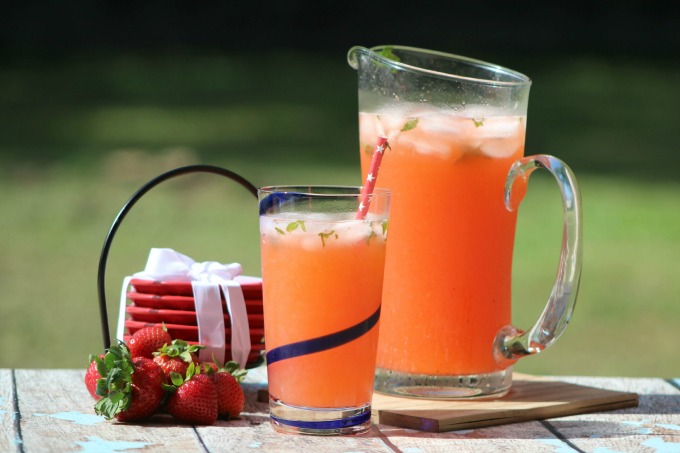 Strawberry Lemonade Mojitos are easy to make. We'll be teaching you to make the lemonade from scratch and build it up, but you can use a good quality lemonade as a base.  Love lemonade?  Check out our fab list of must try lemonades as well.
Refreshing Strawberry Lemonade Mojito Mocktail
This is a great twist on a classic mojito.  A little fruitier, but yet has the same fabulous acidity and tartness.
Strawberry Lemonade Mojito
Ingredients:
20 fresh strawberries (frozen ones work well for this too!)
Freshly picked mint
Lemonade
Directions:
Wash, hull and quarter the strawberries, if using fresh. If you're using frozen ones, simply that them out.
Put the strawberries into a blender, and puree the strawberries.
Press through a fine mesh strainer to remove any larger bits & pieces of strawberry left.
Fill a pitcher about halfway with lemonade.
Add about half  of the pureed strawberries and mix well to blend.
Tear up some mint and stir to combine.
Serve over ice, and add a mint sprig for garnish.
Homemade Lemonade Recipe
Ingredients:
 1 C sugar
1 C water
Zest from 2 lemons (approx 2 TBSP)
Juice of 6 lemons (approx 3/4 cup)
1 gallon of cold water
Ice
Directions:
In a saucepan, bring the 1 cup of water to a boil.  Add the sugar and lemon zest, stirring constantly until sugar has dissolved. Set aside. We've made  simple syrup!
Pour the gallon of water into a pitcher and add the lemon juice. Stir well to combine.
Mix in the simple syrup with the lemon zest, adjusting for taste.  Stir well until the simple syrup has been thoroughly mixed.If you like a tarter drink, use less simple syrup.

For more spring posts, visit a few of my favorite bloggers: