When I was a kid, we used to go camping a lot. We'd camp at the beach, or at one of the many state parks that weren't terribly far from our house, but seemed a world away. Sometimes, we'd head out to Northern California and June Lake, or up to Big Bear. One thing was always the same – there was a ton of camping gear that we had to trek out there! Just about anything we would need, we'd have to bring from home. We had stoves and tents and coolers – oh my! Our whole garage was full of camping gear and outdoorsy stuff.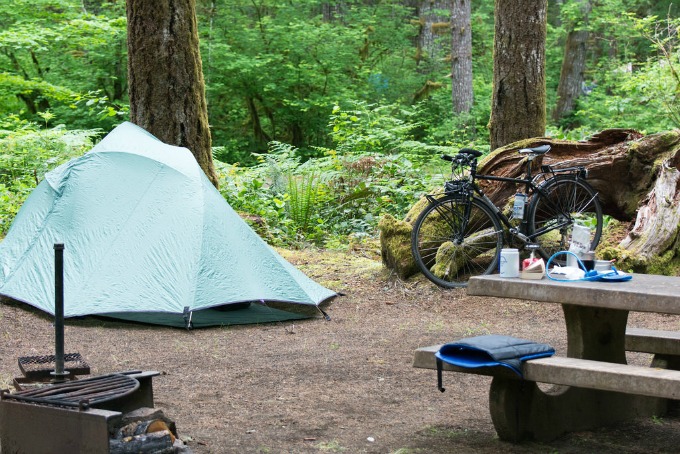 I still like to go camping sometimes. And there's still a lot of camping gear that you have to pack for your trip. These are some of our favorite camping items that you need, and most are under $50. WHOA!
40 Awesome Pieces of Camping Gear that You Need
These are some of our favorite basic camping gear items. Almost all of them are available on Amazon Prime, and you can get them before your next camping trip. Links may be affiliate links.
Tents
The first rule of camping is that you'll need a tent. There are two basic kinds of tents – pop-ups or dome tents and pole tents. Pole tents are usually larger, and you can fit more people in there, while pop-up tents are smaller, and sleep two or three people. I kind of like pop up tents, because you can have a little bit of privacy and alone time.
Semoo Water Resistant 3 Season Light Weight Tent – This one has a large door, rain flaps (SO important!!), and interior pockets to hold your phone, glasses, or book. This is great, because you don't have a nightstand or anything. It also has windows, so you can get a little air flow in your tent.
Happy Camper Two Person Tent – Not the best, not the worst. It's a good little tent if you're new to camping and don't want to invest tons of money. It's very lightweight and compact, but doesn't have two windows for cross ventilation, or that great of rain flaps.
Suisse Sport Dome Tent – This tent fits two people comfortably, and still has room for your stuff. It also has a bit of a taller profile so you have plenty of headroom for sitting up, and getting out. Speaking of getting out, this tent has a center zip and two flaps that open for a door, rather than a D shaped door. Easier to close, and easier to get in and out of the tent.
Semoo Large 3 Person 3 Season Lightweight Tent – All of the benefits of the Semoo tent above, but a little larger.
Stansport Adventure Backpackers Dome Tent – Lightweight construction doesn't weigh you down. This is great for hikers, mountain bikers, and kayakers. It also has a mesh roof, which allows you to see the night sky, but also has a rain flap to keep water out. This is pretty much a one person tent.
Toogh 3 Person Popup Tent – Easy up, easy down, and the perfect size for two adults. Y'know, so you don't have to touch constantly.

Cooking Items
Food, and eating, is a huge part of camping. You're hungry from being outside. You're hungry from doing things and being active. And you're kind of bored sometimes and looking for something to do. Food is also a big time for socializing while you're camping.
Cast Iron Dutch Oven – One of the joys of camping is sitting around the fire, talking and chatting. Generally, you do this while you're waiting for whatever to cook, or at night. This cast iron dutch oven is the perfect item for camping. It's big enough to make soup or stew for a crowd, but not so big that it's a burden.
7 Piece Cast Iron Cookware Set – Everything tastes better in cast iron. This is a fab set if you can park by your campsite, as it's a bit heavy to have to pack in and out. And ya might want to get an extra set for your kitchen at home.
Petforu Outdoor Camping Stove + Tool Set – This is kind of brilliant. It's a compact camping stove that fits inside a small non-stick pan, and has a lid that doubles as a bowl. Genius, right?!?! It's the perfect size for one or two people, and great for those that are biking, hiking, or kayaking.
Coleman Classic Propane Stove – This camping gear essential is an oldie but goodie. I can't even begin to tell you how many times I've had a meal made on one of these. This is great to have at home in case of emergency, too.
Coleman Triton+ Camping Stove – A good camping stove is a must. This one is a workhorse. It's an upgraded version of the Coleman Classic campstove above, which is an all-time classic. Everyone should have a camping stove in their essential camping gear.
GSI Outdoors 24 Piece Destination Kitchen Set – This has all those kitchen tools that you don't think you need, but really come in handy, plus silverware for 4! It has spice containers and a cheese grater and a knife and cutting board. This is a great set to add to your camping gear. It's not too heavy to add to your backpacking gear, either.
9 Piece Portable Kitchen Utensil Set – Kitchen utensils are must have camping essentials that people always seem to forget about. Get a set and keep them with your camping gear. Because no one wants to have to try to turn over their freshly caught fish with a stick. True story.
Camping Cookware Mess Kit – This ain't your granddaddy's mess kit. Oh no. This one is easy to pack, easy to clean, and stores nicely. It has a pot and a lid, a pan, two bowls, a spoon, a spork, a spatula, and a cleaning sponge.
Mess Kit for Two – This set is great for hikers and backpackers. It has your mess kit, and a couple pans to cook. Plus, it's lightweight and completely self-contained for portability.
Coleman Packaway Portable Kitchen – Experienced campers know there isn't always a table available for meal prep. This portable kitchen makes campsite cooking so much easier. There's even a spot for your cooking utensils and your portable stove.

Sleeping Items
You have to be comfortable in the tent. If you're not comfy, the whole trip is gonna suck!
Coleman ComfortSmart Cot – This keeps you off the ground, and drier/warmer. It's also great for places where the ground is a bit rocky or lumpy. No one wants to sleep on that.
Teton Sports Camp Pillow – This pillow folds up compactly. No more folding your clothes or laying your head on your backpack while camping. This will help you sleep better while camping.
King Camp Base Camp Self Inflating Mattress – An airbed makes camping so much better. Especially if you're an adult. Kids…they can sleep on the ground. heh heh heh. Even die hard adventurers will tell you that an airbed or mattress is a piece of camping gear that makes a world of difference. This helps to keep you dry, too, by keeping you off the ground. You can even combine two of these to make a queen size.
Coleman Palmetto Sleeping Bag – This is a three season sleeping bag that's designed to keep you warm and dry, down to 30 degree weather. Frankly, if you're camping in colder weather than that, you need some serious heavy duty gear. This is a perfect introductory to mid range sleeping bag that should last for a while.
Ohuhu Double Sleeping Bag – Sometimes, it's more comfortable to sleep in a double sleeping bag. I like to move a lot in my sleep, so a narrow sleeping bag makes me feel confined. This sleeping bag can be used as a double bag, or the two halves can be zipped apart and have two single sleeping bags. That's pretty convenient.
Coleman Queen Airbed Cot – Let's face it – an airbed makes sleeping while camping a whole lot better. This one keeps you off the ground, and can support two adults. It also has its own pump.
Abco Tech Sleeping Bag with Compression Sleeve – We all know how bulky sleeping bags can be. Eliminate that issue with this one, that compresses down to save space when packing.

Other Items
ALPS Mountaineering Eclipse Table – This is one piece of camping gear that is SO NICE to have. You've got a place to put drinks, play a board game or a game of cards, and put your dinner. It folds up nicely, too.
Coleman Deluxe Two Mantle QuickPack Lantern – Most campgrounds don't have streetlights. Sure, there may be lighted walkways or things like that, but you still need lanterns. This Coleman lantern is propane powered, and emits a TON of light. The light is also adjustable, so you're not being blinded. You'll want a couple of these.
Premium Solar Camping Shower Bag – When I was a kid, I didn't really care about taking a shower when camping. As I got older, ehhh…there were times I *REALLY* needed a shower. Some places have showers at the campgrounds, and they're decent. Some have showers that are super creepy, and some don't have showers at all. Be prepared with this solar heated portable shower bag.
TMS Portable Pop Up Privacy Tent – This is the perfect companion to the portable shower. It gives you some privacy while you're getting clean. Even if you don't strip down to nothing, you don't always want everyone knowing everything you're doing. This also makes a great changing room, as getting dressed in a tent can be…cumbersome.
Portable Outdoor Shower/Privacy Room – This privacy tent has a camping shower built in. It's a little larger, and a little better made. Sometimes you just wanna stand up to change your clothes or strip your swimsuit off. This allows you to do so, modestly, and is great if you camp a lot.
Coleman Oversized Quad Chair with Cooler – You need somewhere to sit. Sometimes there's a picnic table, but not always. And sometimes, you get tired of sitting on the hard wood seat. That's where this chair, that has the definite possibility of becoming your favorite piece of camping gear, comes in. The arm rest cooler holds up to four 12 oz cans, and the chair holds up to 300 lbs. You'll get your money out of these chairs in no time at all.
OmniCore Folding Loveseat – It's two folding camp chairs with a little space in between them. It's GREAT! Perfect for a larger person or a few kids.
Coleman 10 x 10 Sun Shelter – You want somewhere to get out of the elements. The sun is hot, even on a mild day, and having an open air shelter is nice. This is also nice for garage sales or if you're selling at outdoor festivals.
Portable Propane Heater -It can get chilly in the great outdoors, even in the summer. This camping heater is great if you want more warmth than the campfire and your sleeping bag, or if you're staying in a cabin. I wouldn't sleep with it on, but it's great for knocking the chill off the air.
Led Lantern with Fan – It's a battery powered lantern that has a fan attached. GENIUS! Hang your lantern, and you have a ceiling fan. And it's cheap! You're gonna want to pick up a couple.
Solar Power Bank – You're gonna need your phone, right?? Charge it up with a solar powered power bank, and keep it with your camping equipment. Get an extra solar power bank to keep in your emergency supplies, too.

Fun & Games
Believe it or not, games are one of my top camping gear must haves. If you're just camping for a couple days, boredom doesn't usually set in. But, much longer than that, and at some point people are going to want to do something. That's why I keep a couple decks of cards in my camping essentials.
1 Uno Wilderness – The classic Uno game with a bit of a twist.
2 GoSports Portable Cornhole – This is fun for all ages. Plus, it's lightweight and breaks down easily.
3 Champion Sports Rubber Horseshoes – Burn off some of that energy, without going too far.
4 GoFindIt Outdoor Nature Scavenger Hunt – Scavenger hunts are so fun. This one is a great way to experience your surroundings.
5 Marshmallow Roasting Sticks – If you don't make s'mores, did you even go camping?
Do you go camping a lot? What are your camping gear essentials?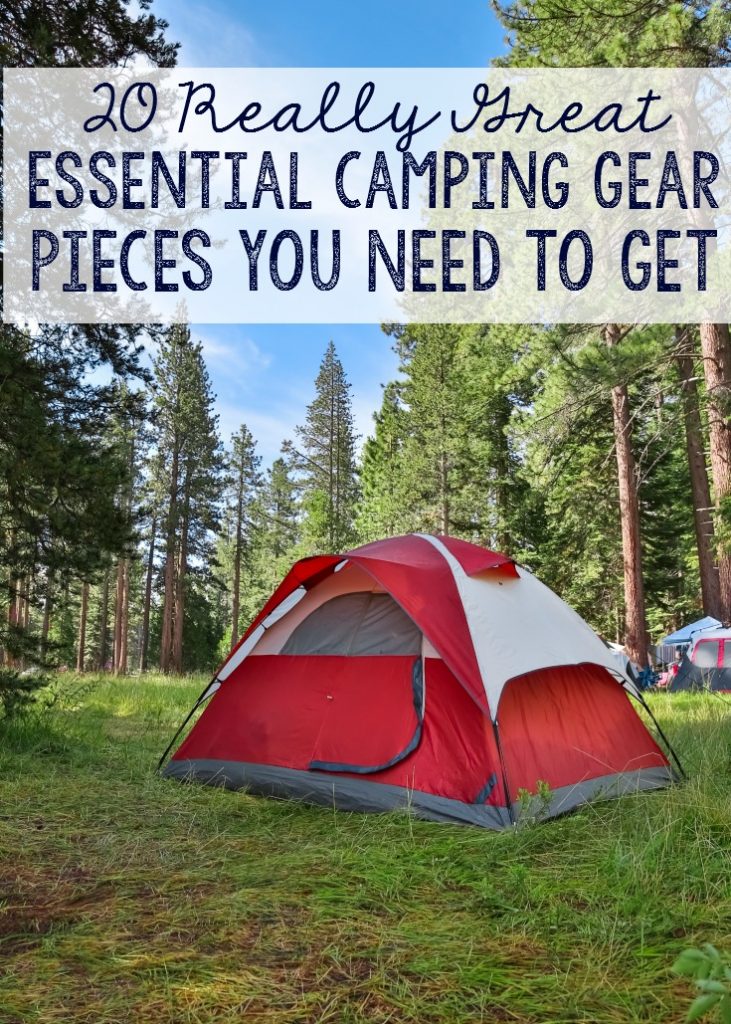 photo credit: camp at Alsea Falls via (license)