I'm always looking for DIY or craft projects that pack a lot of bang for their buck, like this Lacy Glitter Picture Frame. I do this for a few reasons. While I like pretty things and cute projects, if I'm going to put my time, money, and effort into a project, I want it to be useful and memorable. I want someone to say "you MADE that?!?!" rather than "oh, yeah, she made that. *rolls eyes*"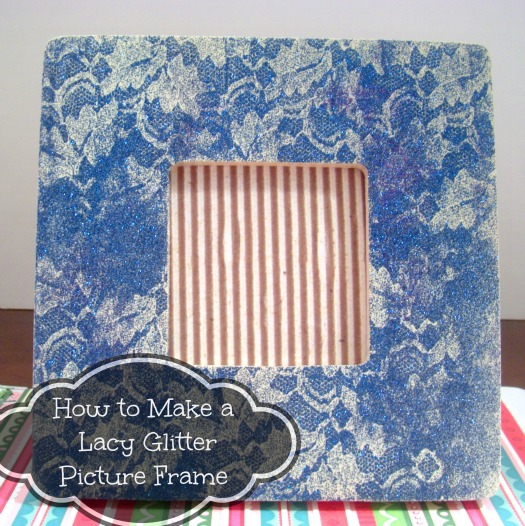 I think that this lacy frame fits the bill. This is a great gift for the engaged couple, goes fabulously in a shabby chic environment, and, depending upon the colors and pattern you used, could really fit into any décor.
Materials Needed
Links may be commissioned. Thanks for supporting small business by shopping through them.
Unfinished Wood Picture Frame
Ultrafine Glitter – I used Azurite from Martha Stewart Crafts
Lace fabric – I bought ¼ yard and used just a small piece of it. You can use the lace over and over again.
Paint – I used spray paint. You can easily use acrylic paint.
Spray Adhesive
Spray Sealer


Directions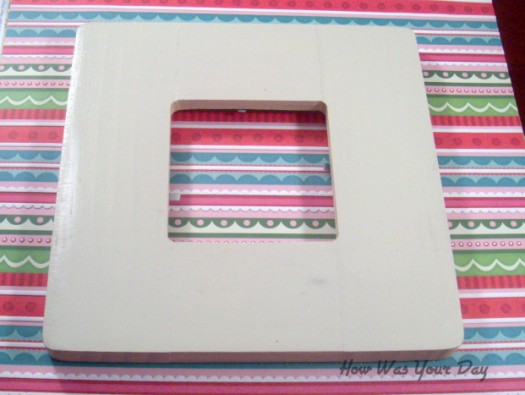 Take your frame and paint it any color you'd like. Remember that this color will show through, and be seen on your Lacy Glitter Picture Frame. I used an unfinished wood frame, and it was nice and smooth, so I didn't have any prep work to do. If you're using an old frame, you'll want to clean and sand it to prepare it.
I went with a creamy off-white paint color, for the high contrast. While I used spray paint, acrylic paint works perfectly, as well. Acrylic paint may even be a little bit easier. Let dry.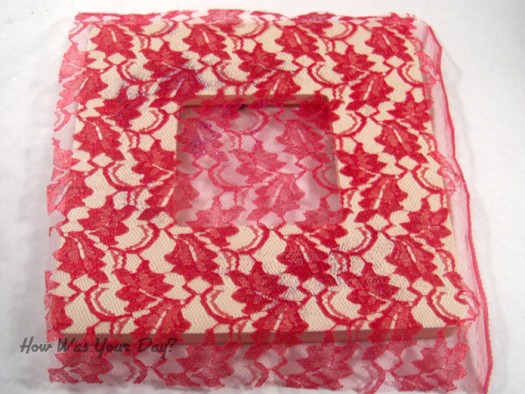 Once the paint is dry, spray the frame with spray adhesive and let it set for a minute or two to get tacky. Apply the lace to the frame, making sure that it's stuck down really well and there are no wrinkles.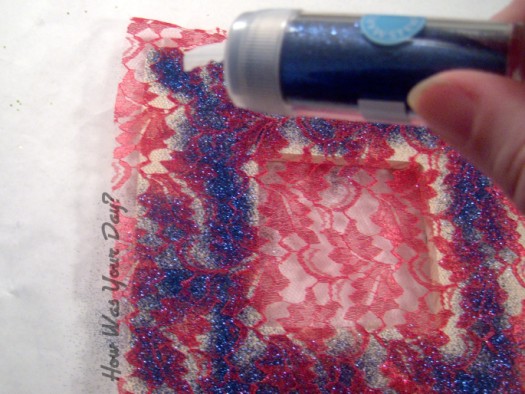 Place a couple pieces of paper down over your workspace. Place your frame on top of the paper. Sprinkle glitter liberally all over the frame and lace. Shake excess off over your paper.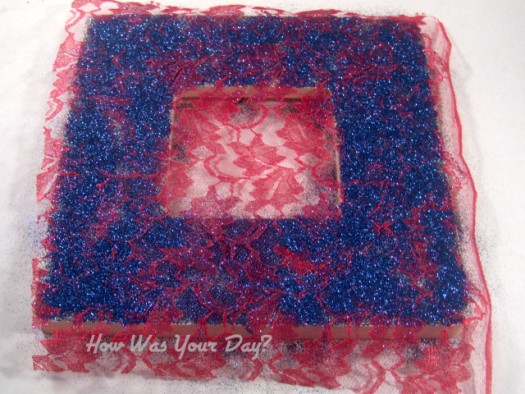 You may want to tap your lacy glitter picture frame a couple times to really get the glitter off. If desired, you can sprinkle the frame with glitter again and repeat the shaking the excess off.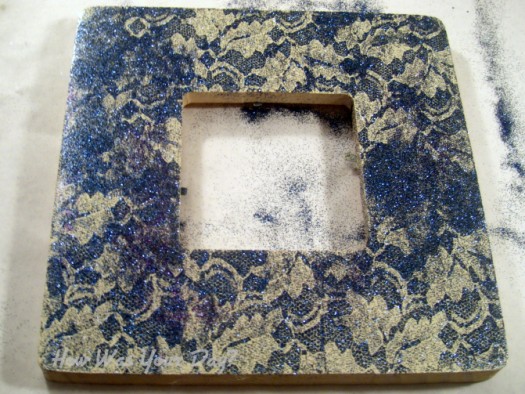 Remove the lace. You should have the pattern of your lace on your frame, in sparkling glitter! Allow to dry for about 20-30 minutes. You can see a couple places where I didn't have the lace completely stuck down.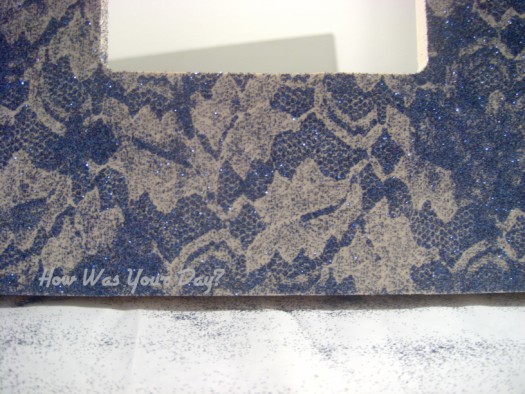 Close up of the detail
Once dry, spray with a spray sealer. This will make sure that your glitter doesn't fall off. It will also help to keep dust or debris from sticking to your lacy glitter picture frame. If you like a glassy finish, you can apply two or three coats of the spray sealer.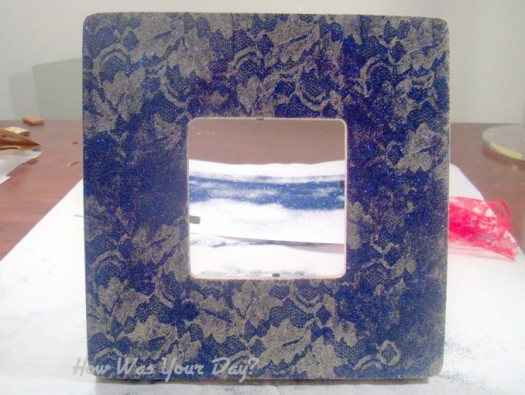 You now have a project that is impressive and looks like it was a lot of work. They'll never know how quick and easy this lacy glitter picture frame really was.
Total cost: $15, if you need to buy everything, including the adhesive and the sealer. Of course, the more things you have, the less the project costs.
Total time: An hour or so, including drying time for paint and adhesive, but not including sealer.