One of the things I love about summer is all of the amazing produce that's available. Fresh, sweet fruit, and those veggies that are just perfect are spilling out all over. Right now, two things that I love are in season – watermelon and blackberries.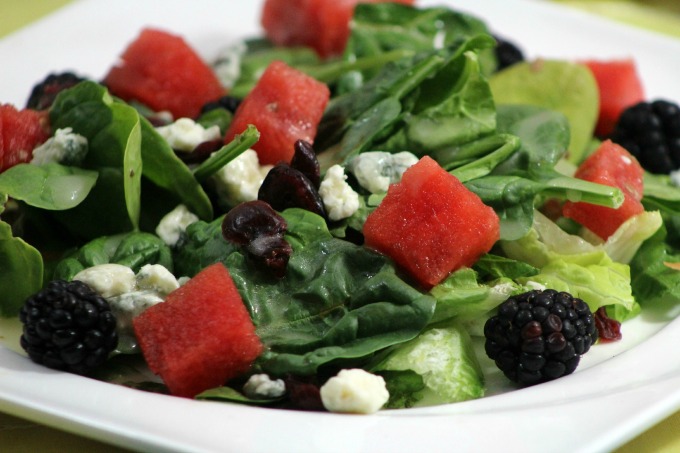 I also love a really good salad, one with lots and lots of goodies in it. This Watermelon and Blackberry salad really fills the bill. Add in a great gorgonzola and a tangy lemon vinaigrette? I am SO THERE!
Watermelon and Blackberry Salad with Lemon Vinaigrette Dressing
Yield: 4
Watermelon and Blackberry Salad with Lemon Vinaigrette Dressing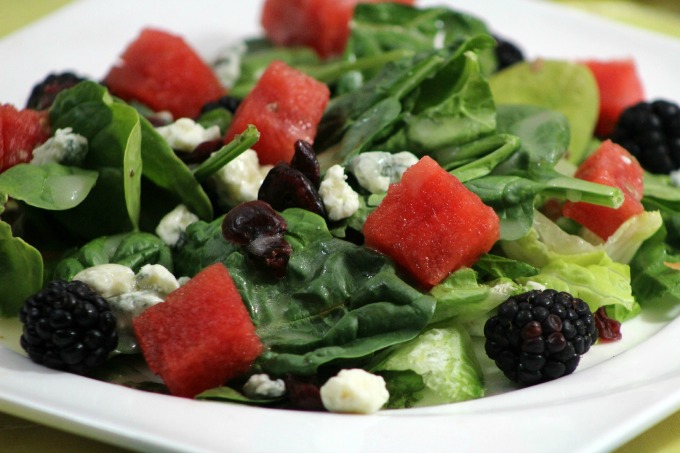 A great summer salad with watermelon and blackberries, along with blue cheese and spinach and a made from scratch Lemon Vinaigrette

Prep Time 10 minutes

Cook Time 10 minutes

Total Time 20 minutes
Ingredients
2 C fresh Spinach
3 C Salad Mix
2 C fresh cubed Watermelon
1 C Blackberries
1/2 C Dried Cranberries
1 C Blue Cheese Crumbles
2 lemons
1 lime
1 C Olive Oil
1/2 C White Wine vinegar
Pinch salt & pepper
Instructions
Rinse off the fresh spinach and dry it off with a kitchen towel or paper towels.
Place the spinach and salad mix in a large salad bowl.
Add the cubed watermelon and blackberries.
Add dried cranberries and Blue cheese crumbles.
Toss the salad ingredients together.
For the Lemon Vinaigrette --
Squeeze the juice of 2 lemons and 1 lime into a large glass measuring cup.
Add olive oil and stir well.
Add white wine vinegar, and whisk to combine well.
Add salt and pepper to taste.
Pour into a bottle with a lid. Shake well before using.
Drizzle Lemon Vinaigrette over the salad and toss well.
Chill salad until serving.
Add a protein like grilled chicken, shrimp, or salmon if desired.
Makes 4 dinner sized servings or 6-8 appetizer servings.
Nutrition Information:
Yield:
4
Serving Size:
1
Amount Per Serving: Calories: 763Total Fat: 65gSaturated Fat: 14gTrans Fat: 0gUnsaturated Fat: 49gCholesterol: 25mgSodium: 485mgCarbohydrates: 41gFiber: 9gSugar: 26gProtein: 12g

Nutritional information is provided as a courtesy, and may not be accurate.