I don't know about your area, but where I live we're under a heat advisory for the next week.  UGH. Talk about yucky. I'm just staying inside and soaking up all that really good air conditioning. I'm also taking care of myself by indulging in a little retail therapy. mmmmhhhhmmmm….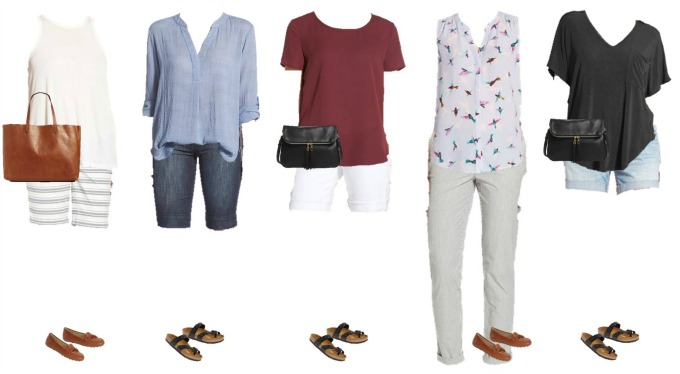 I've made it no secret that Nordstrom is one of my favorite stores. They have a really great mix of affordable and designer brands, and then sweeten the pot with amazing sales. Right now, the Nordstrom Anniversary sale is going on. Until July 22, it's only open to those with a Nordstrom credit or debit card, but then…then it's open to the public.  OH YEAH! Sneaking a quick peek, I can tell ya – there are some really fabtastic pieces on sale, with many up to 40% off!!  Love Nordstrom?  Check out our first Summer Mix and Match wardrobe
Nordstrom Summer Mix and Match Wardrobe
You may have some similar pieces in your wardrobe already.  If so, that's a total bonus! We're going to show you how to create 15 outfits from 14 pieces, but the possibilities are really endless.  If you love these types of mix and match wardrobes, have a peek at our Spring mix and match wardrobe from Nordstrom, or our Summer Mix and Match Wardrobe from Old Navy too!  Links may be affiliate links.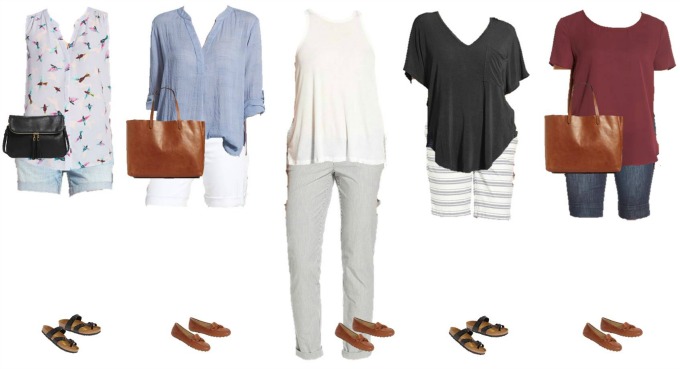 1 Hummingbird Print Pleat Back Split Neck Blouse ($78, available in 12 colorways) + Treasure&Bond Cuffed Denim Boyfriend Shorts ($78) + Birkenstock Mayari Sandals in Black ($95, also in mocha) + BP Foldover Crossbody Bag in Black ($39, also in grey)
2 LUSH Woven Tunic in Denim ($44, available in 5 colors) + KUT from the Kloth Catherine Denim Boyfriend Shorts ($69) + MICHAEL Michael Kors Daisy Loafer in Luggage ($99, also in Black) + MADEWELL Transport Leather Tote ($178)
3 Sun and Shadow Rib Knit Swing Tank ($18, also in black and grey) + Caslon Chino Ankle Pants in Navy-Ivory Mini Stripe ($58,  available in 7 colors) + MICHAEL Michael Kors Daisy Loafer in Luggage ($99, also in Black)
4 LUSH Knit Tee in Black ($32, also in blue) + Caslon Addison Shorts in Navy-Ivory stripe ($46, available in 10 colors) + Birkenstock Mayari Sandals in Black ($95, also in mocha)
5 Pleione Pleat back Woven Top in Burgundy ($39, available in 17 colors) + KUT from the Kloth Natalie Stretch Denim Bermuda Shorts ($69) + MICHAEL Michael Kors Daisy Loafer in Luggage ($99, also in Black) + MADEWELL Transport Leather Tote ($178)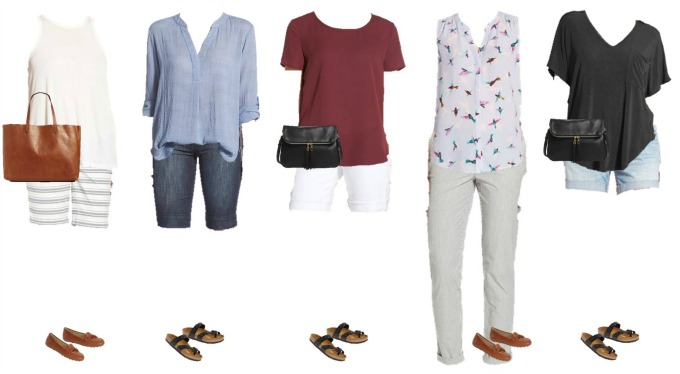 6 Sun and Shadow Rib Knit Swing Tank ($18, also in black and grey) + Caslon Addison Shorts in Navy-Ivory stripe ($46, available in 10 colors) + MICHAEL Michael Kors Daisy Loafer in Luggage ($99, also in Black) + MADEWELL Transport Leather Tote ($178)
7 LUSH Woven Tunic in Denim ($44, available in 5 colors) + KUT from the Kloth Natalie Stretch Denim Bermuda Shorts ($69) + Birkenstock Mayari Sandals in Black ($95, also in mocha)
8 Pleione Pleat back Woven Top in Burgundy ($39, available in 17 colors) + KUT from the Kloth Catherine Denim Boyfriend Shorts ($69) + Birkenstock Mayari Sandals in Black ($95, also in mocha) + BP Foldover Crossbody Bag in Black ($39, also in grey)
9 Hummingbird Print Pleat Back Split Neck Blouse ($78, available in 12 colorways) + Caslon Chino Ankle Pants in Navy-Ivory Mini Stripe ($58,  available in 7 colors) + MICHAEL Michael Kors Daisy Loafer in Luggage ($99, also in Black)
10 LUSH Knit Tee in Black ($32, also in blue) + Treasure&Bond Cuffed Denim Boyfriend Shorts ($78) + Birkenstock Mayari Sandals in Black ($95, also in mocha) + BP Foldover Crossbody Bag in Black ($39, also in grey)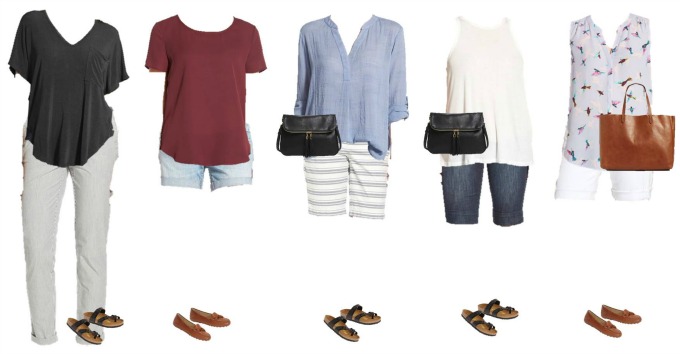 11 LUSH Knit Tee in Black ($32, also in blue) + Caslon Chino Ankle Pants in Navy-Ivory Mini Stripe ($58,  available in 7 colors) + Birkenstock Mayari Sandals in Black ($95, also in mocha)
12 Pleione Pleat back Woven Top in Burgundy ($39, available in 17 colors) + Treasure&Bond Cuffed Denim Boyfriend Shorts ($78) + MICHAEL Michael Kors Daisy Loafer in Luggage ($99, also in Black)
13 LUSH Woven Tunic in Denim ($44, available in 5 colors) + Caslon Addison Shorts in Navy-Ivory stripe ($46, available in 10 colors) + Birkenstock Mayari Sandals in Black ($95, also in mocha) + BP Foldover Crossbody Bag in Black ($39, also in grey)
14 Sun and Shadow Rib Knit Swing Tank ($18, also in black and grey) + KUT from the Kloth Natalie Stretch Denim Bermuda Shorts ($69) + Birkenstock Mayari Sandals in Black ($95, also in mocha) + BP Foldover Crossbody Bag in Black ($39, also in grey)
15 Hummingbird Print Pleat Back Split Neck Blouse ($78, available in 12 colorways)  + KUT from the Kloth Catherine Denim Boyfriend Shorts ($69) + MICHAEL Michael Kors Daisy Loafer in Luggage ($99, also in Black) +MADEWELL Transport Leather Tote ($178)