Banana frozen yogurt is about to be your new go-to for a tasty summertime snack. When the weather gets warm, sometimes you need a cool treat. Make it a healthier option with this Banana Frozen Yogurt recipe that you can make at home. It's easy to make, gives you all the great taste and texture of frozen yogurt, and it's so much healthier for you. You can't beat that!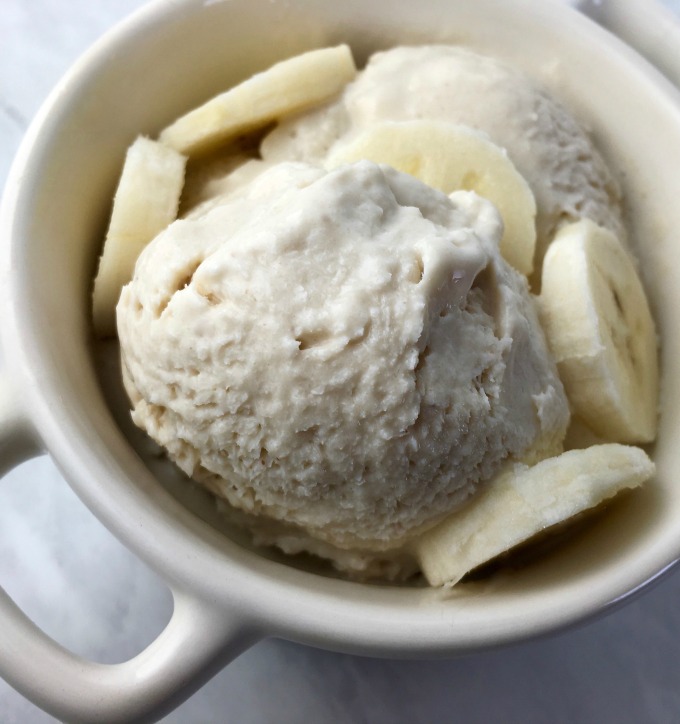 I love ice cream. I love it a lot. I love it far more than I should. It's delicious, creamy, and it really hits the spot on a summer day. The thing is, it also really hits the spot when it comes to cholesterol and tons of sugar. It may taste good, but it is so bad for you! That's why I'm such a fan of this banana frozen yogurt.
It's healthier than ice cream, and since you're making it at home, you know exactly what's going into the recipe. Plus, there are only 5 ingredients! And there's zero chance that your banana frozen yogurt has been tampered with at the store.
Bananas are the star of the show with this yogurt, but their supporting cast – the yogurt and cream cheese – are what give this yogurt its creamy texture to go along with its rich banana flavor. It's a creamy dessert that's rich in flavor and texture but not in calories, and it's a great way to get in some extra protein while you're satisfying your sweet tooth with this refreshing cold treat.
This recipe sounds a little weird, I'll grant you that. But the combination creates a wonderfully rich and creamy frozen treat that is sure to satisfy all of those cravings that you have. Much like the Salted Caramel Pecan Ice Cream, this recipe requires no special machinery or skills. Even better, there's no refined sugar in this recipe. That's right. All of the sweetness comes from honey and the bananas.


One of the biggest tips is to find the perfect balance between the cream cheese and the Greek yogurt. The cream cheese adds richness and helps temper the tanginess of the Greek yogurt. I find this recipe creates the best richness to flavor ratio. But, of course, you can experiment to find the combination that you like the best.
Links may be commissioned. We'll make a very small percentage if you buy through our links.
There are a few things that you'll need. Firstly, you need a really powerful blender. A Vitamix blender will do the job really well, as will a powerful Ninja blender. You'll also need a good quality vanilla extract. While you can buy one, you can also make your own vanilla extract. Start a batch so you have it next time you're making treats. Now that I've talked it up, it's time for you to make this tasty dessert and see for yourself just how amazing it really is.
Easy, Creamy, No-Churn Banana Frozen Yogurt
Yield: 4
Creamy Banana Frozen Yogurt Recipe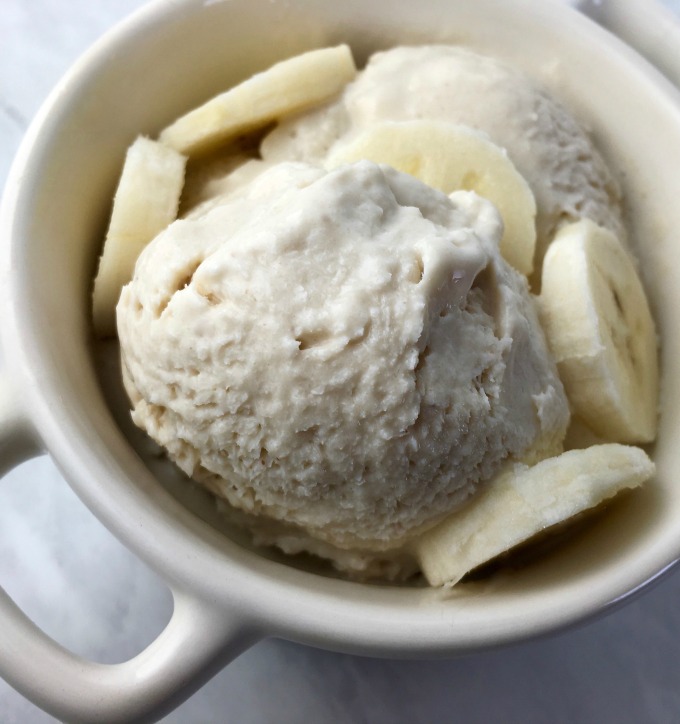 A delicious no churn frozen yogurt recipe that has no added sugar.

Prep Time 15 minutes

Additional Time 5 hours

Total Time 5 hours 15 minutes
Ingredients
2 large bananas
½ c. plain Greek yogurt, full fat
6-oz. cream cheese, cut into chunks
¾ T. real vanilla extract
¼ c. honey, preferably local
Instructions
1. Peel and cut bananas into thin slices. Place banana slices in a zip top freezer-safe bag and place in the freezer until frozen.


2. Add yogurt, cream cheese, vanilla extract, and frozen banana slices to powerful blender or food processor and blend until completely smooth. If the mixture is too stiff, add 2-3 tablespoons of water to
the blender to loosen it up.


3. While blending, drizzle in honey until thoroughly combined with other ingredients. Once blended, taste mixture and add more honey, if desired.


4. Transfer contents of blender to a freezer safe dish and cover tightly. Place in freezer for a minimum of 4 hours or overnight.


5. To serve your banana frozen yogurt, remove from freezer and let sit on the counter for 5-10 minutes to soften. Scoop into individual chilled serving dishes and garnish with slices of fresh banana or your other favorite toppings.




Nutrition Information:
Yield:
4
Serving Size:
1
Amount Per Serving: Calories: 297Total Fat: 15gSaturated Fat: 9gTrans Fat: 0gUnsaturated Fat: 5gCholesterol: 44mgSodium: 145mgCarbohydrates: 37gFiber: 2gSugar: 28gProtein: 6g

Nutritional information is provided as a courtesy, and may not be accurate.

See how easy this banana frozen yogurt recipe is? It's really so simple that you'll never buy ice cream again. 5 simple and easy ingredients are all there are. Plus, the fact that there's no added or refined sugar makes this healthy banana frozen yogurt even better. With such a rich, banana-filled flavor, no refined sugar, and that extra kick of protein from the yogurt, you'll be able to have your cake, er, ice cream, and eat it, too.
Don't forget to pin this recipe or share it on social so you can save it for later!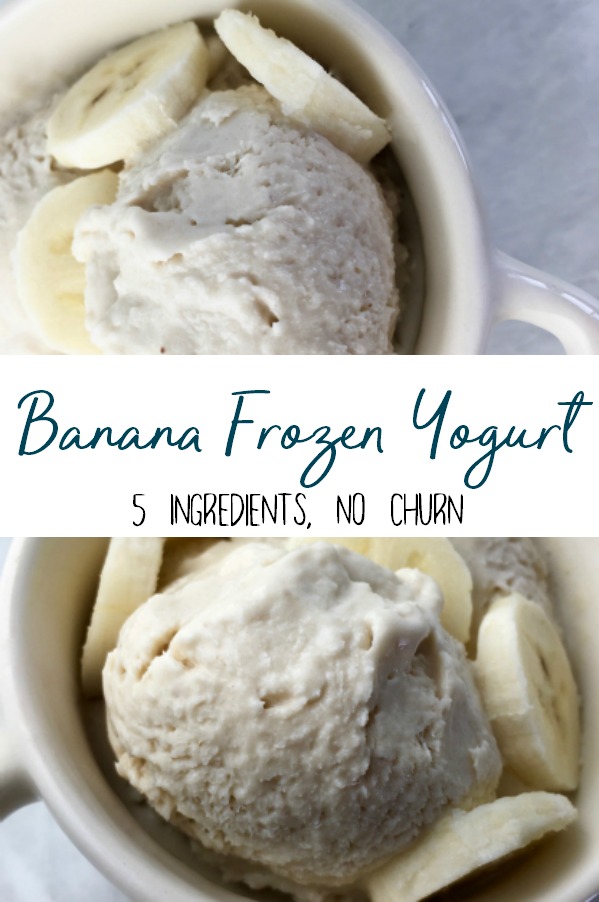 You may also like