We've all seen the recipes that tell you how to make your own Vanilla Extract at home. It sounds too good to be true! How can it be that we just add a little bit of this and a little bit of that and have this magical elixir? I have to admit, I was a total skeptic. Nu-uh, wasn't gonna fall for that trap. I mean, how many Pinterest remakes have we all done that are like, total fails? TOO MANY.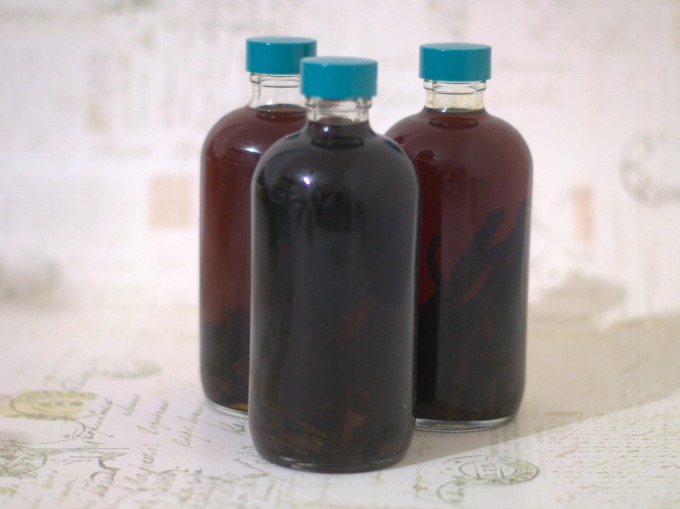 My mom though…My mom was not to be deterred. She decided we were making vanilla extract at home. Before I knew it, we had all kinds of supplies for homemade vanilla extract arriving on our doorstep. We finally sat down and made some a few weeks before Thanksgiving. I have to admit, it is as wonderful as it sounds!
How to Make Homemade Vanilla Extract
Items that will make this easier include good quality vanilla beans and 8 oz bottles with a tight fitting lid.
Yield: 8
The Best Homemade Vanilla Extract - Made Three Ways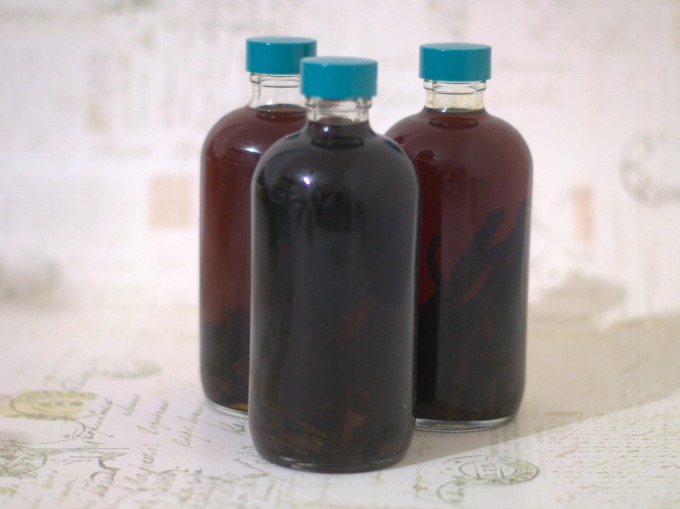 Vanilla extract is one of the staples of any decent kitchen. You need it in practically every baking recipe. It's easy to make your own, though. You just need a few simple items.

Prep Time 5 minutes

Total Time 5 minutes
Ingredients
5 Grade A Vanilla Beans
8 Oz alcohol - Vodka, Light Rum, and Bourbon all work beautifully.
Clean bottles to store the elixir.
Instructions
Cut your beans up and put them in your jar. I used a pair of scissors, and sliced them in half lengthwise, then cut them into 1/2 to 1 inch pieces. If you are making more than one flavor of Vanilla, be sure to label your jars as you add the cut-up beans.
Add the Alcohol of choice. Slowly pour enough alcohol into the jars until they are full.
Screw the lid on fairly tight, and give it a little shake.
Set in a dark corner, cupboard or bookshelf. Occasionally, shake the contents of the jar. Maybe once or twice a week, give the jar a good shake. You'll see the color change from clear to a honey brown to a very dark brown in about a month.
If after a month your vanilla isn't dark brown, you may need to add some more Vanilla Beans to your jar. I doubled the amount after a month and am pleased with my end product.
Let sit for a total of two to three months before using.
Strain out the Vanilla Beans and return the completed Vanilla Extract to your jars.
Bake away using your new homemade Vanilla!
A few tips for getting THE BEST Homemade Vanilla Extract
Notes from my mom:
Vanilla Beans – Buy Grade A beans. I bought Grade B beans, and some were so dry that they were difficult to cut, and didn't have much flavor/essence left in them. I ended up using 10 beans for an 8-ounce bottle to get a rich Vanilla Extract.
Start with 5 beans per 8-ounce bottle. You can always add more if you want a stronger flavor.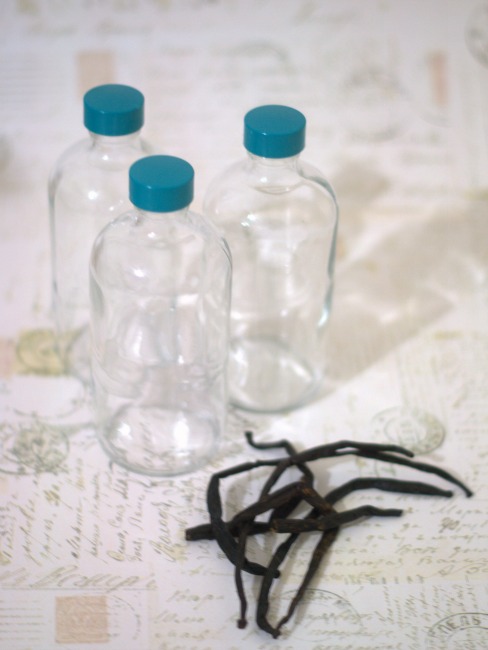 Begin with Tahitian Vanilla Beans. Although we made batches of Vanilla Extract using Tahitian, Madagascar, and Indonesian Vanilla Beans, the Tahitian is most like what is sold in the stores. The other two types didn't get as strong, and don't smell like the Vanilla I'm used to using.
Alcohol for Extract – Vodka would be the classic alcohol, but Bourbon and Rum are nice alternatives. The Bourbon and Rum add their own subtle twist on the flavor.
Vodka is used most often as it leaves a great, clean vanilla flavor.
Light rum will give you a slightly sweeter homemade vanilla extract, but the differences almost disappear when baking.
Bourbon gives a deeper, richer flavor. This is really great for recipes that aren't necessarily cooked or baked like ice cream or drinks.
Bottles – You may use any clean jars that will close tightly; canning jars will work, too. I bought some cute 8 ounce bottles from Amazon that were fairly inexpensive.
For more Pinterest remakes, visit a few of my favorite bloggers: