I'm always on the hunt for a great salad, and this Mexican Chopped Salad is a great option. One of my favorite things about the warmer months is all of the amazing produce that's available.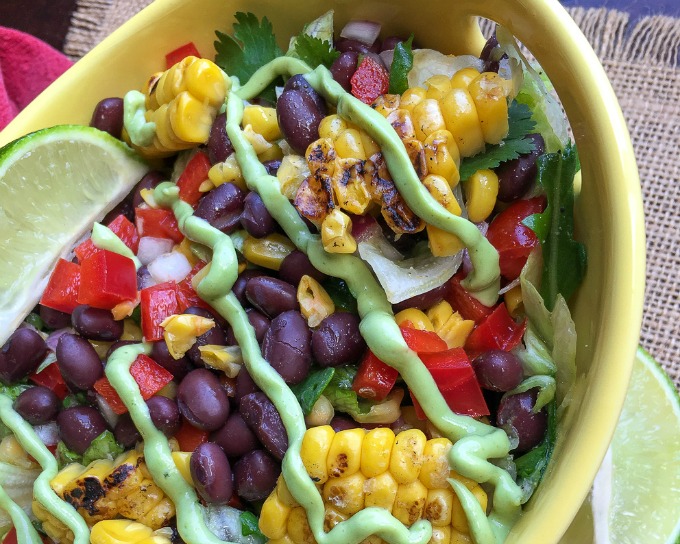 The lettuces seem to be more tender, the corn is sweeter, and the tomatoes are just so much better when they're grown and ripened on the vine. Even better if you can get an heirloom variety. The taste has no comparison.
This Mexican Chopped Salad recipe highlights some of the best finds from the growing season. It's a great time to hit up the Farmer's Market or your local produce stands. They have the best fruits and veggies, and many times, they're grown organically without the certification.
Mexican Chopped Salad Recipe
Yield: 4
Mexican Chopped Salad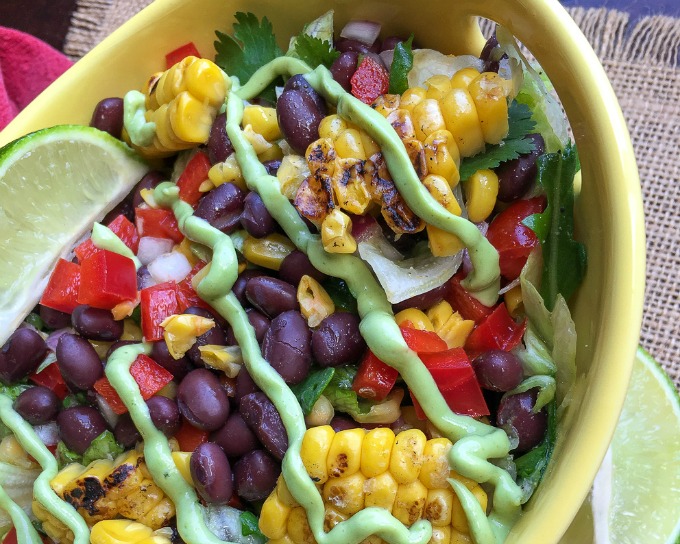 A delicious chopped salad with a definite Mexican flair. Serve with the Creamy Avocado Dressing for a real treat. It's a perfect dinner for the summer. You could also add some grilled chicken or shrimp.

Prep Time 10 minutes

Cook Time 10 minutes

Total Time 20 minutes
Ingredients
2 large ears fresh corn, husks and silk removed
1 T. unsalted butter, melted
1 head iceberg lettuce, chopped
2 c. fresh arugula, chopped
¼ c. fresh cilantro, finely chopped
1 medium red bell pepper, diced
½ medium red onion, diced
1 15-oz. can black beans, rinsed and drained
2 T. fresh lime juice
1 tsp. ground cumin
Sea salt and black pepper, to taste
1 large lime, cut into 8 wedges
Instructions
Brush corn with melted butter and place on a pre-heated gas grill over medium direct heat, or indoors on a grill pan sprayed with non-stick cooking spray set over medium-high heat.
Cook corn until kernels are slightly charred, rotating one-quarter turn every couple of minutes until each side is done. Remove from heat and slice kernels from cob with a sharp knife. Reserve kernels and discard cobs. Set aside.
Add chopped iceberg, arugula, and fresh cilantro to a large salad bowl and toss gently to combine. Set aside.
In a large mixing bowl, combine diced bell pepper, red onion, black beans, roasted corn kernels, lime juice, and ground cumin. Season with salt and black pepper, to taste, and toss gently to combine.
Add the seasoned black bean mixture to the bowl with the chopped lettuce and toss gently to combine. Serve immediately with Creamy Avocado Dressing or your favorite salad dressing. Enjoy!
Nutrition Information:
Yield:
4
Serving Size:
1
Amount Per Serving: Calories: 223Total Fat: 5gSaturated Fat: 2gTrans Fat: 0gUnsaturated Fat: 2gCholesterol: 8mgSodium: 502mgCarbohydrates: 40gFiber: 12gSugar: 8gProtein: 11g

If you're in a hurry to make this Mexican Chopped Salad recipe, or fresh corn isn't in season, you can use frozen corn. Just be sure to warm it up all the way. No one wants to bite into frozen corn! Just skip the part about grilling the corn. You could char the corn kernels in a pan a little, if you really wanted to.
Avocado Lime Dressing
Of course you want a delicious salad dressing for your Mexican Chopped Salad. This creamy, tangy dressing adds a great flavor to this, or any other salad.
Creamy Avocado Salad Dressing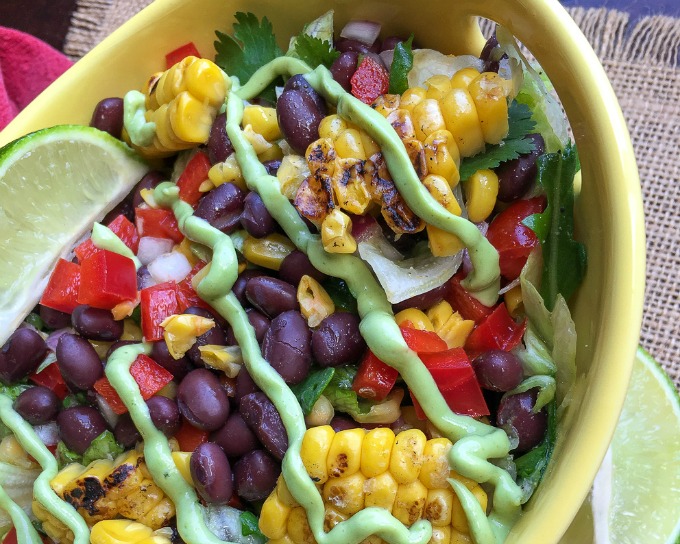 A delicious creamy and tangy salad dressing that's perfect for the Mexican Chopped Salad - or any other salad.

Prep Time 5 minutes

Total Time 5 minutes
Ingredients
1 large avocado, pitted
½ small shallot, peeled and cut in half
3 T. fresh cilantro, chopped
¼ c. plain Greek yogurt
2 T. extra virgin olive oil
2 T. fresh lime juice
2 t. honey
Optional: 2-3 T. water, if needed
Sea salt and black pepper, to taste
Instructions
Combine all ingredients in a blender or food processor and blend until smooth.
Add a little water, if necessary, to reach the desired consistency.
Taste and adjust seasonings as desired.
Cover and place in the refrigerator until ready to serve.
Nutrition Information:
Yield:
4
Serving Size:
1
Amount Per Serving: Calories: 142Total Fat: 12gSaturated Fat: 2gTrans Fat: 0gUnsaturated Fat: 10gCholesterol: 1mgSodium: 84mgCarbohydrates: 8gFiber: 3gSugar: 4gProtein: 2g

This salad would also be delicious with grilled chicken or grilled shrimp for a heartier meal. This recipe is also gluten free, and vegetarian.