Minimalism and Minimalist home decor are both having their moments. Personally, I believe that the explosion in loft living and open concepts is helping to fuel this home decor trend.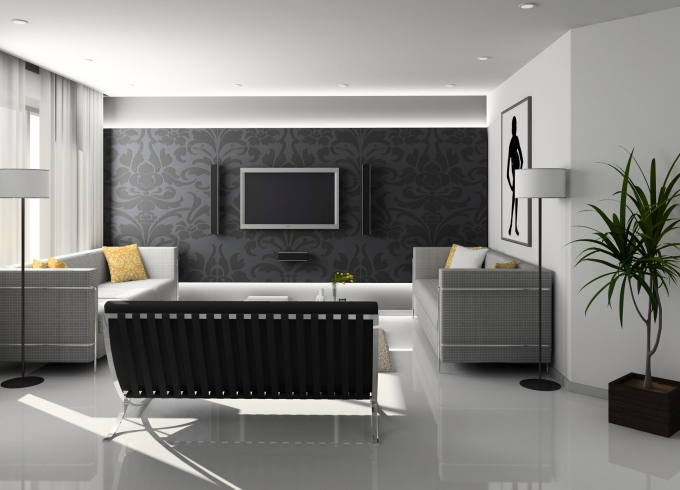 Even when you're living minimalist, you still need some stuff. Some things that make your space a home. Somewhere to sit. A fab alarm clock. You're just a lot more conscious about these things fitting in to your environment. We've rounded up some of our favorite Minimalist home decor items from Amazon.
20 Great Minimalist Home Decor Items from Amazon
Links may be commissioned. I'll make a small percentage if you purchase through them.
Items 1-10
1 Inhale Exhale Prints – Every home needs some artwork. These are really simple, but a nice pairing. These would be great in a home office area.
2 Geometric Hanging Wall Vases – Houseplants are so hot these days. Add a touch of greenery anywhere you'd like with these hanging wall planters. The geometric shape adds a little sumtin sumtn, and they look great in a cluster. These come in 5 color combos, too. There's an option for any home decor scheme.
3 Small Hexagonal Succulent Pots – Succulents are easy to grow, and look adorable. These small white ceramic pots are the perfect home for them. Alternatively, you could use these as little ring dishes or other clutter catchers. And for under $10 for the set, who can resist?
4 Entryway Coat Rack – A coat rack is an important home accessory that a lot of people overlook. It gives your guests, and your family, somewhere to put their coats and bags without it creating a lot of clutter. This coat rack has a minimalist feel without being too stark.
5 Set of 2 Orb Humidifiers – If you need to add some moisture to your air, these are a great way to do it. Low tech, looks great, and not another gadget that you've gotta find somewhere to put. You can place these humidifiers on a shelf, and no one is even the wiser. They just look like a knick knack or another modern or minimalist home decor piece.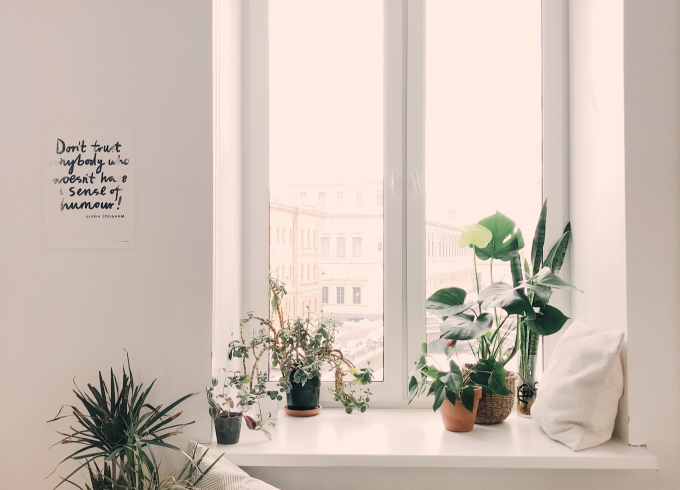 6 Modern Geometric Table Vases – Another fab way to display plants. Have enough plants sitting around? That's okay! Try these modern vases as a pen holder on your desk or in the bathroom to hold a hand soap or toothbrushes. These are a good size, with the larger one being 6 inches in diameter. Lots of home decor options here.
7 Modern Minimalist Ceramic Planter – Everyone needs a pop of color in their lives. This ceramic planter is a great way to add that to any minimalist decor. They're a great size. Get a couple of these and make a windowsill herb garden for your kitchen.
8 3D Printed Moon Lamp – In a minimalist home, you want your items to be conversation starters. This moon lamp is sure to be that, and so much more. It's a perfect piece for any space loving kid – or kid at heart. Great in a bedroom, office, or even in a living room.
9 Hourglass Sand Timer Set – There's something about a nice sand timer that makes a space look more elegant and upscale. Get this set of two for double the fancy. The wood base just ups the chic factor.
10 Geometric Modern Glass and Metal Side or End Table – This minimalist table would look great in many styles of decor. it's modern look adds some interest without it being too overwhelming. It's those subtle details that makes your house a home.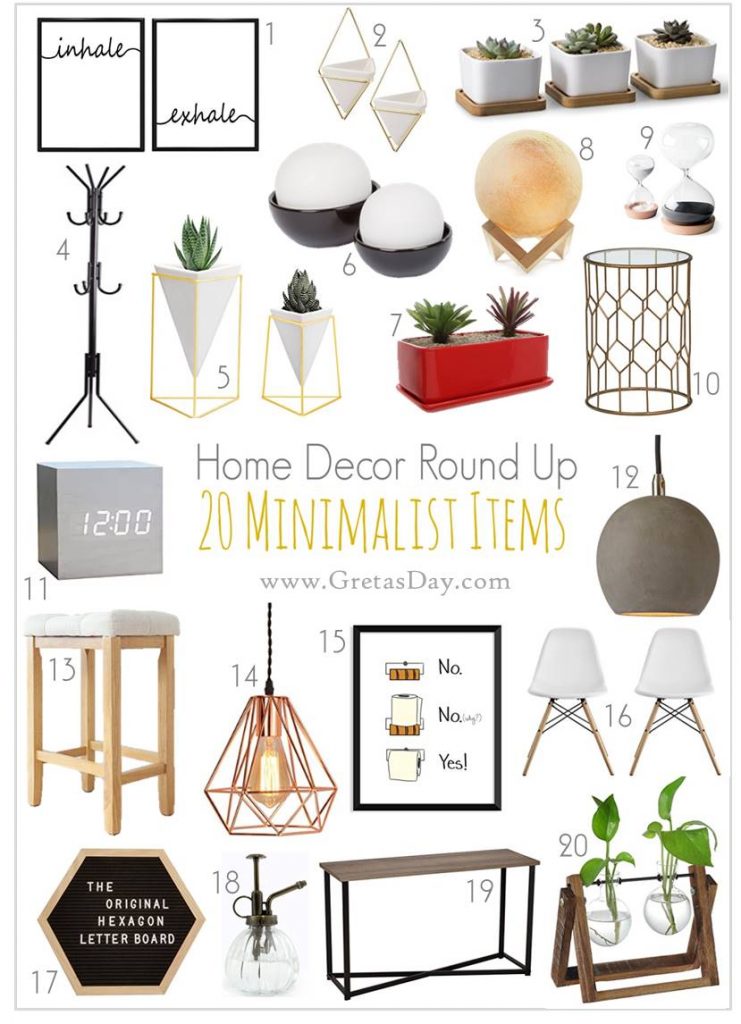 Items 11-20
11 Wood Digital LED Alarm Clock – The meeting of old and new. This clock looks like a simple block of wood, but SURPRISE! It's actually an alarm clock. The LED display shows the time, and the temperature.
12 Minimalist Concrete Pendant Light – Concrete is still a popular material in modern and minimalist home decor. Add some to your life with these fab pendant lights. They're a great alternative to glass or metal pendant lights. They also come in a table top version.
13 Padded Kitchen Counter Bar Stool – Having kitchen bar stools are really convenient. But, so often, they're uncomfortable for a long period of time. Enter these padded kitchen counter bar stools. Add some seating for guests or casual meals, and let everyone still be comfortable. The modern styling adds to your home, rather than the "ohhh….barstools…" that can happen.
14 Rose Gold Pyramid Lamp – Another great option for a pendant light. It adds something to the industrial look of Edison bulbs, but still allows you to showcase them. These would look great in a grouping above a bar or in an open space.
15 Bathroom Rules Art Print – For some reason, so many people fail to decorate their bathrooms beyond some fancy hand soaps and embroidered finger towels. This tongue in cheek art print showcases some personality, but isn't offensive.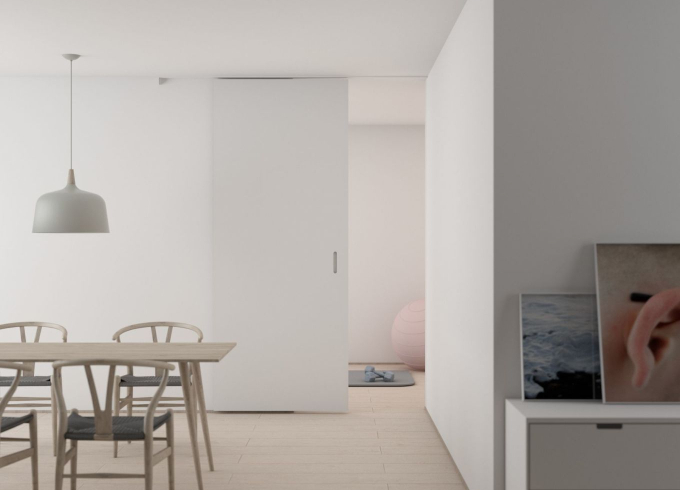 16 Mid Century Modern Chairs with Wooden Legs – These Mid Century Modern styled chairs have been all over, but with good reason. They have a great aesthetic and blend into a lot of decor styles. Add a pillow or a throw for some creature comforts. Plus, they're really affordable. I'm kinda digging the red ones, personally.
17 Hexagon Felt Letter Board – Are letter boards going away? Not any time soon! They're just going to get more interesting, with different colors of wood, felt, and fun scripts and sizes. The hexagon letter board is a fun addition to your collection. Add a quote. Use it for your Wifi password. A love note to your family. Whatever you can think of!
18 Vintage Style Glass Plant Mister – Some plants need a lot of water, some just need some humidity around them. This glass plant mister adds an air of sophistication to your home decor, and ends that ugly spray bottle problem.
19 Sofa Table or Entryway Console Table – A sofa table really helps to set off the area. Plus, it gives you somewhere to put things like your beverage that is easily within reach. Comes in 4 finishes to blend with any home decor.
20 Clear Glass Bulb Vases – How cool are these?? Add trailing plant cuttings, place them on a shelf, and watch them grow. A definite conversation piece that's equal parts minimalist home decor and mad scientist.
Aren't these items great? And while they're selected for a minimalist home decor, they'd look great in a lot of different styles. Industrial home decor and Mid Century Modern home decor would both benefit from some of these pieces, too.
Love these selections? Don't forget to pin this for later!