It seems that everywhere you look, there are all these projects using reclaimed wood and/or pallets.  Some of these projects are really great, and can really serve a purpose in your home. This easy to make reclaimed pallet coat rack with a shelf is one of those.
In my townhouse, I have nowhere to put coats.  It looks like they changed a coat closet into a laundry room.  And while I LOVE having a washer and dryer inside, we have, like, NO storage. Coats and bags just get tossed into a chair – or worse, on the floor!  I've been looking for some kind of solution to this issue, and may have just found it.
How to Make a Reclaimed Pallet Coat Rack with Shelf
SUPPLIES
• One notched pallet end (I used a 36″-wide pallet end.)
• One 2″× 4″ pallet support board
• Three coat hooks
• 1 5⁄8″ screws
• 3⁄4″ screws
• Paint
• Stain or clear finish
• Paintbrush
• D rings
TOOLS
• Saw
• Palm sander
• Drill
• Tape measure
TIME: 1 hour, plus dry time
LEVEL: Beginner
1. Measure each side of the open end of the pallet. Be sure to measure each side, as the sides often are different lengths. For example, mine were 15 1⁄4″ wide and 15 3⁄4″ long. From the 2″ × 4″ board, cut two pieces the lengths you measured.  Don't have a saw, or don't want to deal with cutting the wood?  No problem!  Just measure your pallet first, then have your wood cut when you buy it.  Most places give you 2 cuts free, and charge just $0.25 each additional cut
2. Sand the boards and the pallet end. Sand the inside of the pallet end by hand.
3. Fit the 2″ × 4″ boards over the bottom of the pallet end. Use four 1 5⁄8″ screws to secure each 2″ x 4″ to the pallet end to create the bottom shelf, drilling two screws in through the front of the pallet end and two from the back.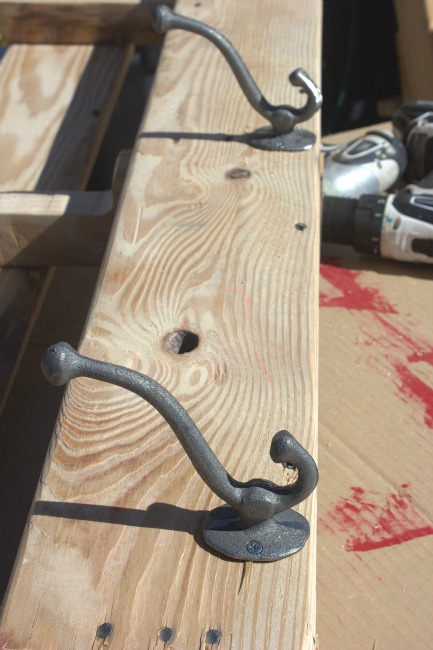 4. Attach coat hooks to the front of the shelf with 3⁄4″ screws. Because I wanted to paint the coat hooks, I added them before painting the shelf. If you are not painting the hooks, wait and add them after painting the shelf.
5. Finish as desired using paint, stain, or simply a clear finish on the pallet wood. Attach D rings on the back to hang the shelf.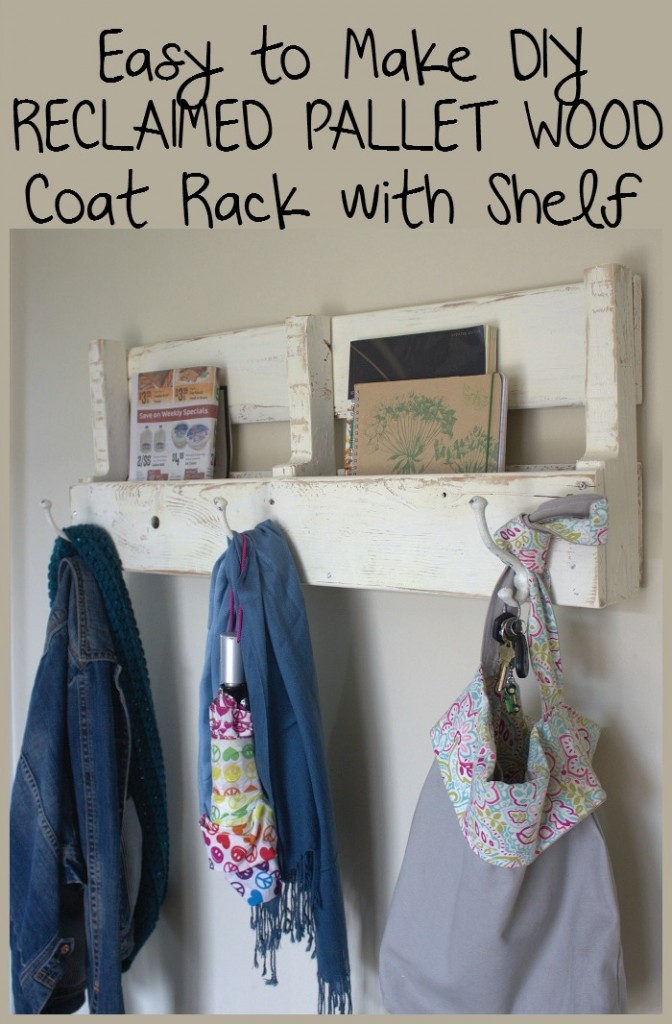 Where to use the Pallet Coat Rack and Shelf
Use this pallet coat rack and shelf in the kitchen to hold cookbooks, spices, aprons, and tea towels.   It's the perfect piece to help accomplish the French Country design look.
Hang two or three of these shelves low in a child's room for book storage. Hooks are easy for even the smallest of children to use.
Place this shelf in the mudroom for cleaning supplies. Hang cleaning cloths, mops, and brooms from the hooks.
The pallet coat rack and shelf is a perfect piece to use outside on the garden shed or attached to a fence for garden tools. Be sure to seal the wood if using outdoors.
This project is courtesy of Crafting with Wood Pallets. (aff link)  It's full of great, usable projects that are fun for your home.