It's that time of year again. That time when I want to get rid of everything in my house and totally redo it. Now, I'm not saying that it's not time for an update, because it totally is. I am loving this modern and chic living room look.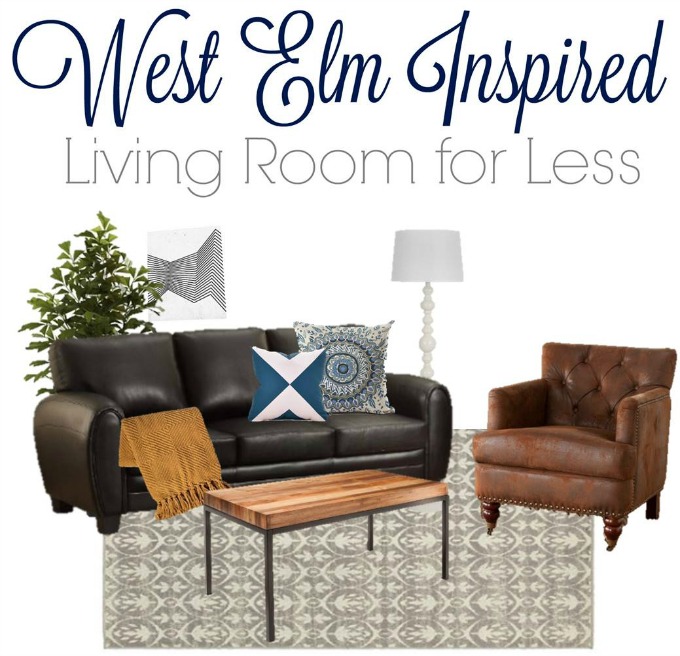 The inspiration came from West Elm, which has amazing pieces with a totally modern flair. However, you can get pretty close to the inspiration for a fraction of the price tag. And if you love this, check out our Mid Century Modern bedroom copycat, too.
We've looked high and low for great pieces that give you the same feel as the West Elm look, but is easier on your pocketbook. That's a great option if you have kids, pets, or just can't or don't want to commit to the West Elm level. Links may be affiliate links. We'll make a small commission if you make a purchase.
We've paired up the original inspiration pieces with the copycats. And then also linked to some fab accent pieces that really help to tie the look together.
Original  |  Copycat
Brooklyn Leather Sofa (available in 5 colors) | Homelegance Bonded Leather Sofa
Box Frame Coffee Table |  Hernwood Mixed Material Coffee Table
Heiroglyph Area Rug | Gray Newport Rug
Glass Floor Lamp | Turned Floor Lamp
Chenille Diamond Throw (shown in Gold, available in 6 colors)
Floral Medallion Pillow Slip  – Get a pillow insert, too
See how close we could get?!?  You can pretty much get the whole room done for less than the price of the original sofa. WHOA!