This overnight oats recipe was sponsored by Hiland Dairy.
Breakfast is the most important meal of the day, and these overnight oats are a great way to get the day started right. They're easy to make, require no cooking, and very little planning. Plus, you can make up a batch that will last a few days in no time.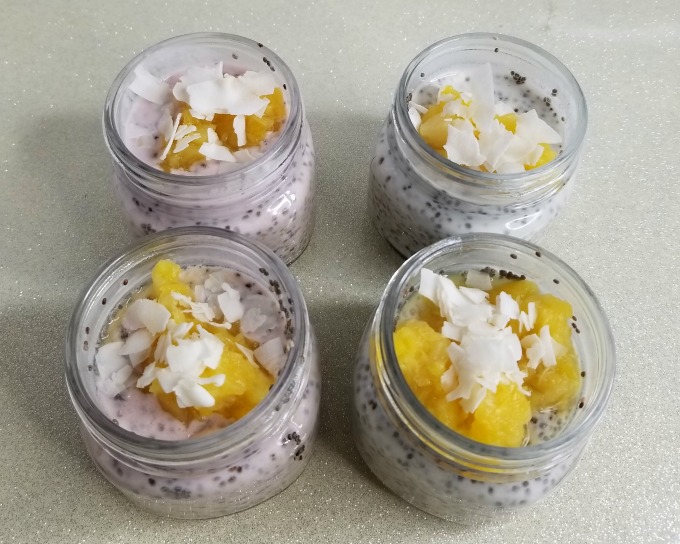 Even better, they can seem very luxurious, yet they're so simple, and actually healthy to eat. That's like bonus points, right?
The secret to these simple overnight oats recipe? The new smoothies from Hiland Dairy. They're basically a drinkable yogurt that comes in a myriad of flavors. And they work so well for this easy overnight oats recipe.
Now, I did a lot of testing for these overnight oatmeal jars, and there were quite a few things I tried that didn't work.
I tried using all smoothie. That worked, but the oats were still a little crunchier than I would prefer.
I tried using half juice and half smoothie. Those didn't work at all.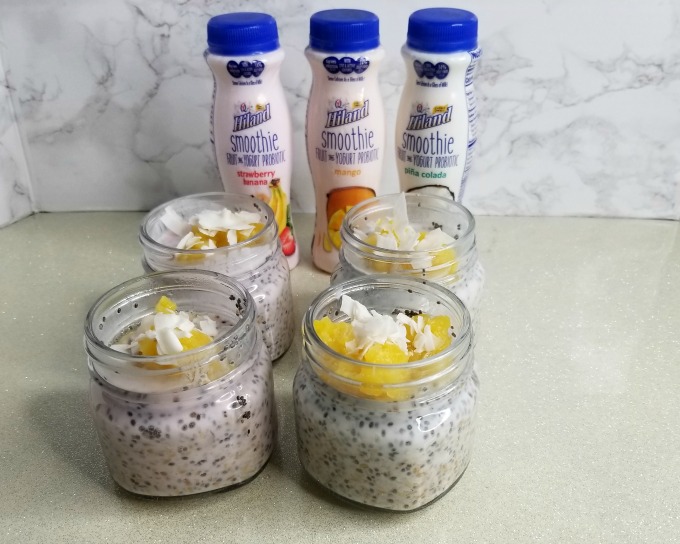 Here's what did work for Overnight Oats
One part oats – I used steel cut oats. You could also use regular oats, which would make these a lot more chewy.
One part Smoothie – We used Hiland Dairy Smoothies in Mango, Strawberry Banana, and Pina Colada flavors
One part milk – I found that 2% worked better than nonfat, for some reason.
A little bit of chia seeds – about 1 teaspoon. Personally, I don't think they add anything, but it's an easy way to get some additional health benefits into your diet.
Add these ingredients to a small jar, and mix them up. Add a lid, or covering, and put the jars in the fridge overnight. In the morning, you'll have a breakfast treat that's sort of like a pudding, but oh so much better for you.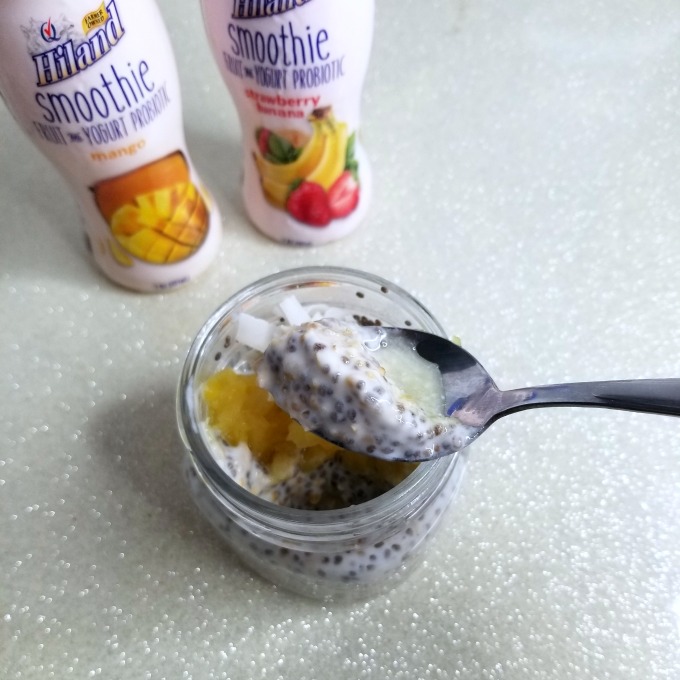 When you eat them in the morning, just top with your favorite fruit or toppings. You can use peanut butter for some extra protein, fresh berries, or even a dollop of jam. We've used crushed pineapple and some unsweetened coconut flakes to go with the tropical Pina Colada theme.
Now, a lot of people use a little bit of honey or agave syrup for sweetness when they make their overnight oats. When using the Hiland Dairy smoothies, you don't really need any additional sweetness. The yogurt smoothies have such a great flavor on their own, and they are more than enough to flavor the whole overnight oats jar.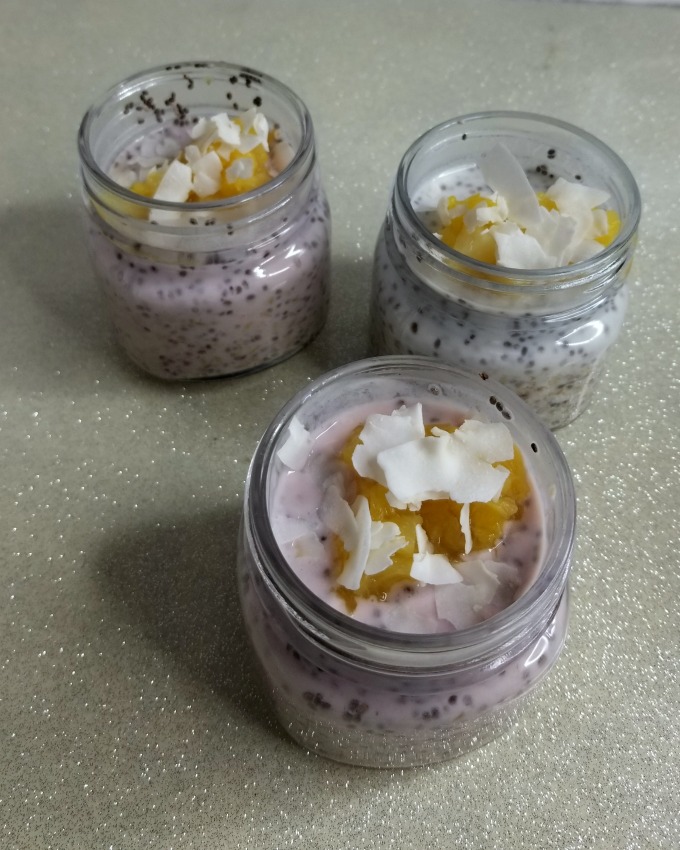 I also found that the jars of easy overnight oats that I placed on the shelf in the fridge seemed to be firmer than the ones in the door. It may just be because they didn't get as much movement, or weren't subject to as much temperature change.
Right now, Hiland Dairy is running a contest for a Get Fit Prize Pack. head on over and enter to win!
Yield: 1
Simple and Easy Overnight Oats Recipe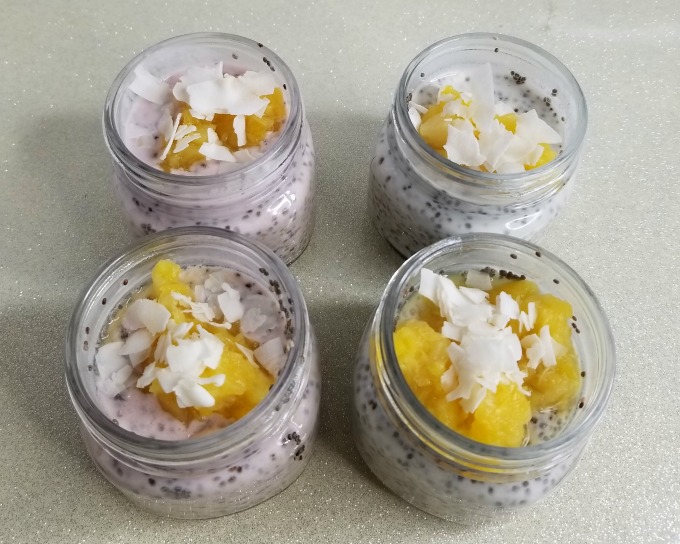 Simple and easy overnight oats will satisfy all your breakfast cravings. They feel like a treat, but they're oh so good for you. Make a batch of these overnight oats to have breakfast all week.

Prep Time 5 minutes

Additional Time 6 hours

Total Time 6 hours 5 minutes
Ingredients
1/4 C Steel Cut Oats
1/4 C Milk of your choice
1/4 C Yogurt
1 tsp Chia Seeds
Toppings of your choice
Instructions
Add all ingredients to a small jar or cup. A half pint canning jar works perfectly.
Stir well to combine.
Cover, and refrigerate at least 6 hours. Overnight is even better. These will have the consistency of pudding.
Before serving, add the toppings of your choice. Peanut butter, fresh fruit, a few small chocolate chips, or even a dollop of jam are all great options.
Nutrition Information:
Yield:
1
Serving Size:
1
Amount Per Serving: Calories: 238Total Fat: 6gSaturated Fat: 2gTrans Fat: 0gUnsaturated Fat: 3gCholesterol: 8mgSodium: 75mgCarbohydrates: 36gFiber: 5gSugar: 4gProtein: 11g

Nutritional information is provided as a courtesy, and may not be accurate.