Buffalo chicken fries, you guys. Because what is better than french fries and buffalo chicken wings? When you combine them into one delicious dish, of course. Just think about it. Everyone loves fries right? Yes, of course, they do. Buffalo chicken? Most people are all about it.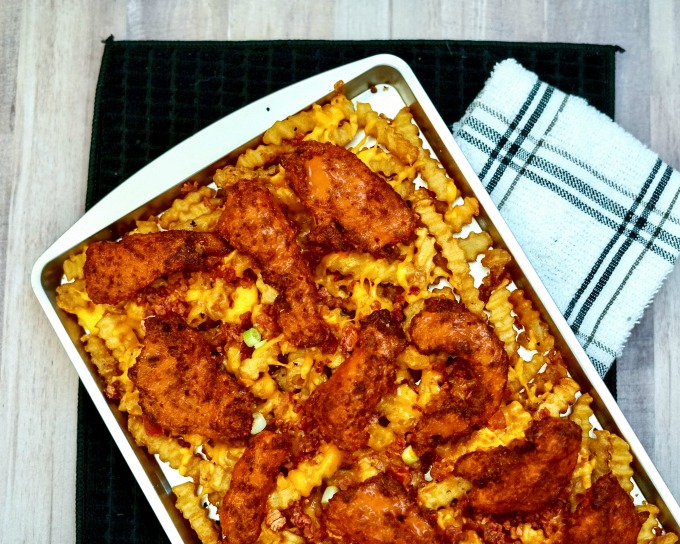 Rather than having chicken wings with a side of fries, why don't we pair them up? Why not, indeed. Well, that's what I did with these Buffalo chicken fries, and I have to say, I struck foodie gold.
Buffalo Chicken Fries are the Ultimate Food
These Buffalo Chicken Fries are so tasty and so satisfying. They have all the things we love about gameday grub, and they have it all in one package. The crispy fries. The tender chicken. The Buffalo sauce. Cheese. I mean, come on. It doesn't get much better than these bad boys. They're a total crowd-pleaser and are the perfect party food for a football gathering. And, I'm just going to throw it out there, they're also perfect for a movie night with OR without guests. I'm just saying…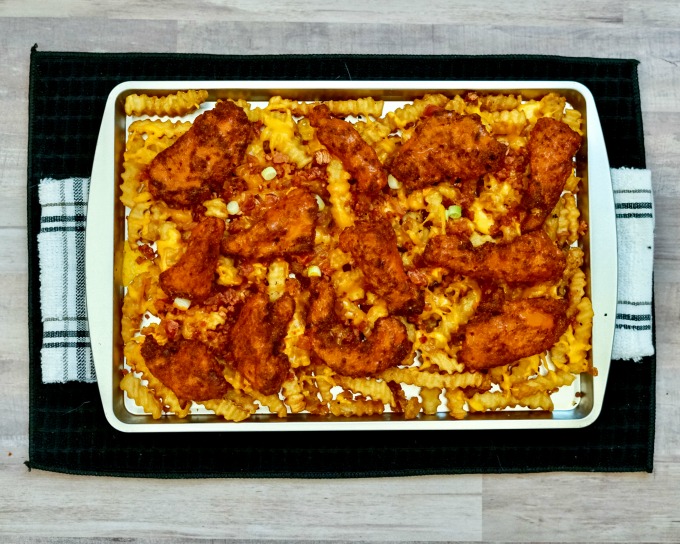 The best part is that these Buffalo Chicken Fries are oh so easy to make. Using frozen fries, pre-shredded cheese, and bottled buffalo sauce helps save sooo much time and effort. Of course, you totally could make your own sauce, and shred your own cheese. If you're into that, more power to you, but I like to keep things simple. That way, I can get back to the game.
Yield: 8
Buffalo Chicken Fries Recipe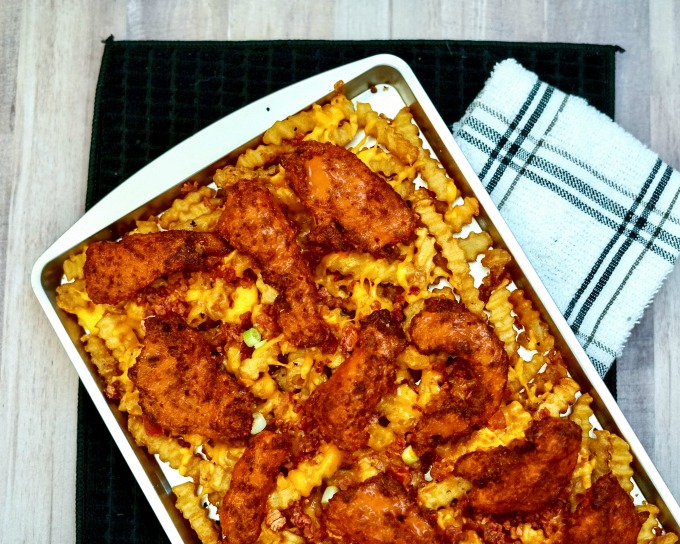 Buffalo Chicken Fries is a delicious and satisfying recipe that works as an appetizer or a side dish.

Prep Time 10 minutes

Cook Time 35 minutes

Total Time 45 minutes
Ingredients
2 eggs
Breadcrumbs
1lb Chicken Breast
1 Bag French Fries
8oz Bag Shredded Cheddar Cheese
Bacon Bits
Green Onion
Buffalo Sauce
Instructions
Preheat oven to 400 degrees F. Spray a baking sheet with non stick spray and set aside.
Take the chicken breasts and slice into strips.
Beat the eggs and place in a shallow dish that's large enough for a couple chicken strips
Dip the chicken into the beaten eggs, and then dredge in breadcrumbs
Lay the chicken on the prepared baking sheet, and bake until done, about 25 minutes.
Place the french fries into a baking pan, and cook as directed on the package. Once the fries are cooked, top them with the cheddar cheese, green onions, and bacon bits.
Once the chicken is fully cooked, coat it in buffalo sauce and place on top of your fries.
Place the baking sheet with the fries and chicken back in the oven until the cheese is fully melted, about 5 minutes.
Serve and enjoy!
Nutrition Information:
Yield:
8
Serving Size:
1
Amount Per Serving: Calories: 290Total Fat: 15gSaturated Fat: 7gTrans Fat: 0gUnsaturated Fat: 7gCholesterol: 123mgSodium: 333mgCarbohydrates: 10gFiber: 1gSugar: 1gProtein: 27g

Nutritional information is provided as a courtesy, and may not be accurate.

There you have it. With just a few ingredients and a little time, you'll have some of the best game day food you've ever had. These delicious buffalo chicken fries are the ultimate football grub. They're so delicious and cheesy, and that Buffalo sauce really makes it fantastic. With a recipe this easy to make AND this delicious, why wouldn't you make it?
If you wanted to customize these Buffalo Chicken Fries, you could definitely add blue cheese crumbles to the fries before you pop them back in the oven. I think they'd be good with Monterey Jack cheese, too. You could also pair them with some blue cheese dressing or ranch dressing. Don't forget the celery sticks either! The possibilities are endless, and you're really only limited by your imagination, which is another great bonus of this recipe.
If you've been looking for the perfect food not so healthy indulgent food, look not further. It's very possibly these Buffalo chicken fries – whether it's a game day or just a random Wednesday night.
And, if you have someone in your house that doesn't like spicy food, like the kids, or someone that's just weak when it comes to spicy food (that would be me!), these Buffalo Chocken Fries are just as tasty not spicy. They're so simple and easy to make, you could easily whip up two batches – spicy and not so(or at all) spicy.
Like this recipe? Don't forget to pin it for later!