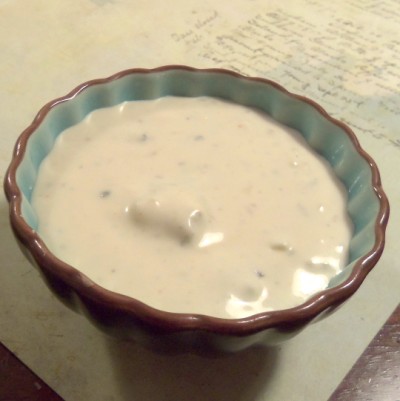 I am a huge fan of blue cheese and garlic. This dip/dressing has both. I find that most people who don't like blue cheese dressings have been subjected to the nasty stuff that comes out of a bottle.
No more! Now you can make a really great blue cheese dip or dressing, completely from scratch. Well…kinda from scratch.
You will need:
¼ c Mayonnaise
¼ c Sour Cream
2 Tblsp Blue cheese, crumbled
¼ tsp Minced Garlic
¼ tsp Worcestershire sauce
Salt and pepper to taste

Mix the mayo and sour cream together, until they're well blended. Add blue cheese and garlic. Stir until combined. Add in the Worcestershire sauce and mix again until well combined. Add salt and pepper to taste.
Makes about ½ cup.
To turn this into a dressing, I add one part plain yogurt. I generally do ½ cup of each Mayo, Sour Cream, and yogurt with about 1 tablespoon of garlic and ¼ cup of crumbled blue cheese.
You can use low fat mayo + sour cream. Don't use fat free, though.