I adore lemon bars. For me though, the payoff is the difference in the textures between the lemon curd topping and the flaky shortbread crust. Add in the delicately sweet and tangy dichotomy of flavors, and you have yourself a winner! This is a great, practically no-fail lemon bar recipe.
Sweet and Tangy Lemon Bar Recipe
Here's a list of what you'll need:
SHORTBREAD CRUST Recipe:
1 ¾ sticks Butter or Margarine, very cold (frozen is okay)
¾ cup Powdered Sugar
1 ¾ cup Flour
¾ tsp. Salt

Grease a 13 x 9 pan. Set oven at 350 degrees.
Grate the butter into a bowl – use the largest holes on the grater. Add the Powdered Sugar, Salt, and Flour to the bowl, and stir with a fork until it is all mixed. It will look very dry – but you want to have all of the butter into tiny pieces, about the size of rice grains or small peas.
Pour the crust mixture into the 13 x 9 pan. With your hands, spread it out into an even layer; press firmly to make the shortbread into one large piece. Pit on oven and bake for 15-20 minutes, until golden brown. Do not under bake, or it will be pasty.
Lemon Bar FILLING:
While the crust is baking, mix in the same bowl:
3 TBS. Flour
1 1/3 cup Sugar
¼ tsp. Salt
4 Eggs
Mix well; then add:
¼ cup Milk
7/8 cup Lemon Juice
Mix until smooth.
When the crust is done baking, turn the oven down to 325 degrees.
Pour the Lemon Filling in on top of the Shortbread Crust. Bake for another 18 minutes, until the filling is set and golden brown around the edges. Remove from oven and let cool. Cut into bars and serve.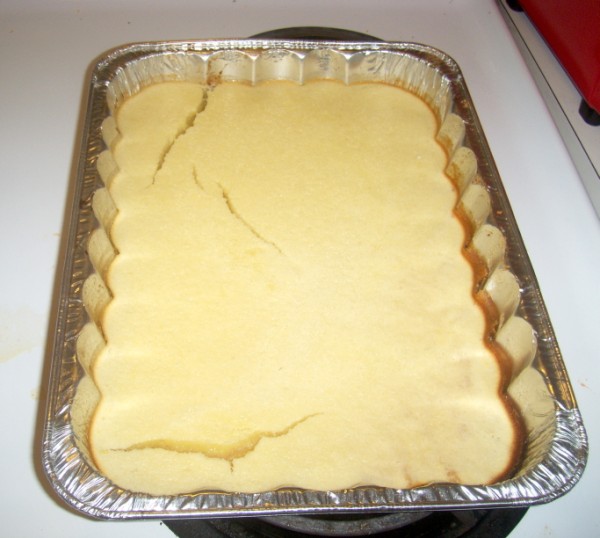 You can dust these with powdered sugar if you'd like.