In my younger years, I did some serious damage to my foot. I'm still not sure how it happened – everyone in the family has their own theory, and it's become quite the running gag. Oh, you're injured? Are you at least aware of how you injured yourself? Family members are soooo cute, aren't they?
Because of this, I'm kind of selective about the shoes I wear. It's not that I don't crave to wear flippy, flirty little ballet shoes or sky high stilettos, it's that unless they're really well engineered, I simply can't.
When I was contacted by
Dawgs Canada
to review their shoes, I was a little hesitant. Until I went and really checked out their site, that is. Once I got there, I realized that their shoes were engineered for support and ergonomic comfort. Ooohhh…I could do that! After much comparison, and polling a random assortment of people in my office that day, I chose a pair of the
Z Strap Sandals
in Navy/Lime.
Once they arrived, I was really surprised. The Dawgs Z Strap Sandals were extremely lightweight. I mean, they weighed nothing! The footbed had good arch support. I was also intrigued by the little massaging bumps on the footbed, which feel pretty good! Besides that, these shoes are actually cute and kind of stylish.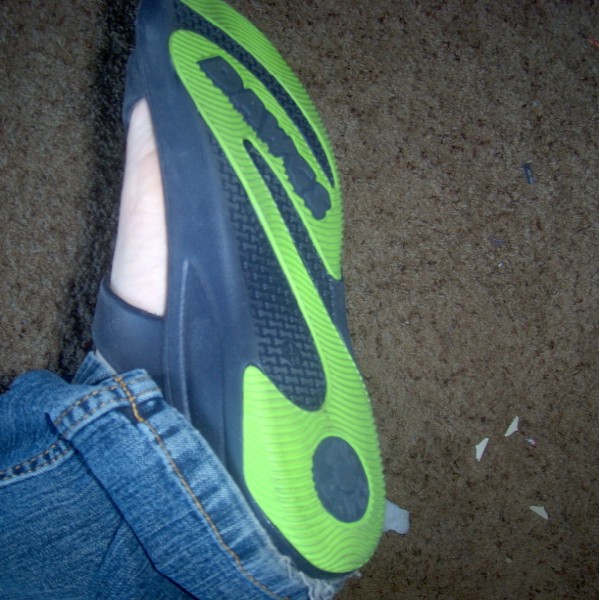 When I first put them on, I thought they were a little big. I wear an 8.5, and received a size 9, as Dawgs doesn't have half sizes. When I was looking at the sandals, I saw that they're a Euro size 40. I regularly wear a 37 Euro, so I probably should have gone with an 8. After wearing these around a little, they felt okay. I'm not sure if I just got used to them, or if they molded to my feet more.
I've been wearing the Z Strap Sandals around for a couple weeks now. I find them to be comfortable, and they don't aggravate my foot at all. They did start to look a little dusty, but I just washed them off in the bathtub. I haven't noticed any wear and tear on the shoes, either. Once they dried, they looked all brand-new!