Spring is the perfect time to breathe new life into your home, and what better way to do it than with Target's stunning indoor decor collection?
Whether you're looking to revamp a specific room or add a touch of freshness throughout your space, Target offers a wide selection of stylish and affordable options to suit every taste and budget.

Get ready to embark on a shopping adventure as we explore the wonders of Target indoor decor, where creativity meets convenience.
Transforming your home starts with finding the perfect pieces, and Target delivers on that front. From chic furniture to eye-catching accessories, their indoor decor section is a treasure trove of inspiration. Whether you prefer modern minimalism, bohemian vibes, or classic elegance, Target has curated a collection that caters to diverse styles, ensuring there's something to match your unique taste and personality.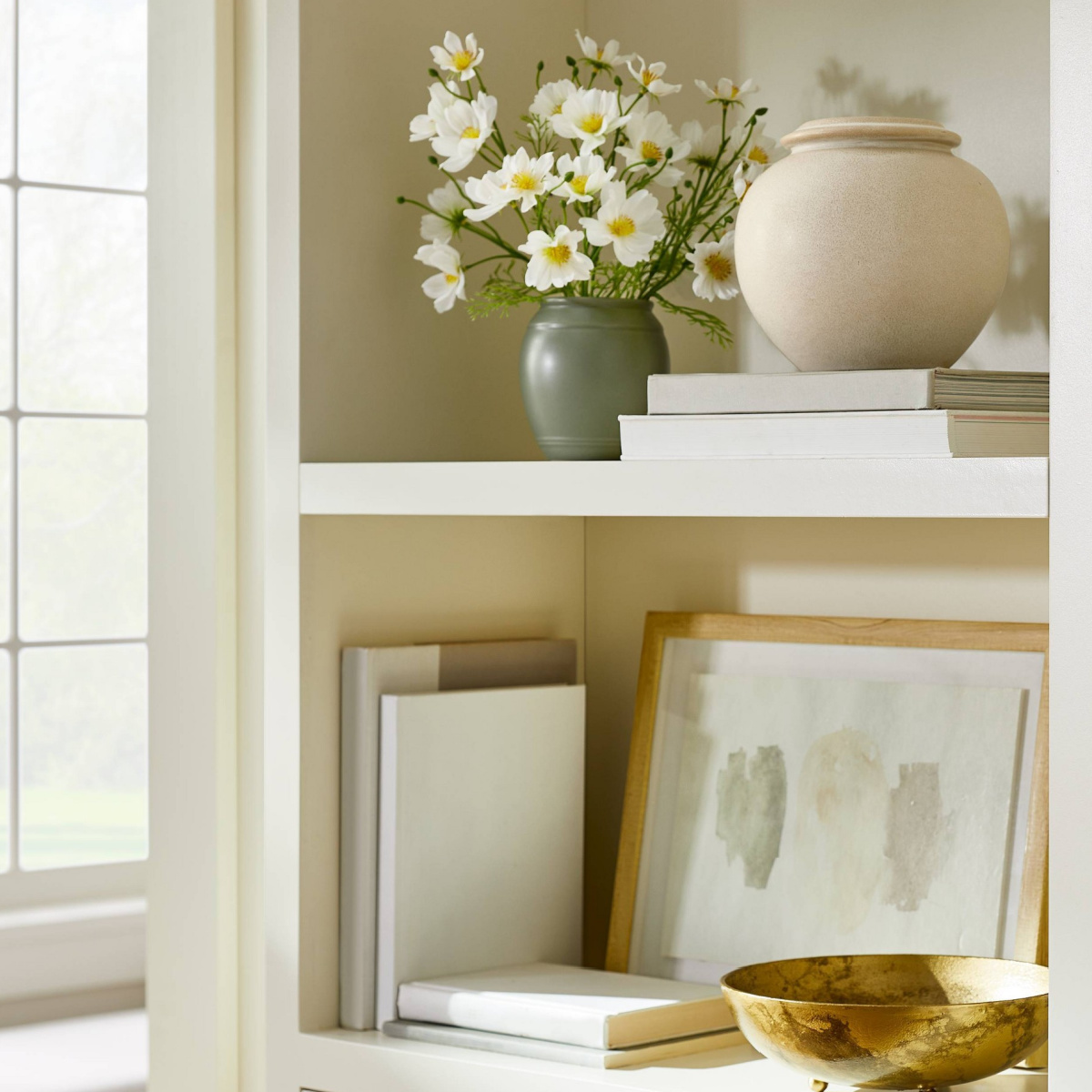 Target Indoor Décor Spring Finds
Links may be commissioned.
24″ x 18″ Landscape Study Framed Wall Canvas Antique Gold – This is a great not-too-large picture that will look great in a variety of spaces. Its vintage feel and earthy colors will fit with many styles of décor and add a fresh perspective for Spring. The gold frame would look great with goldtone accessories.
Small Artificial Thistle Plant in Pot – Threshold's Potted Thistle Plant lends subtle color and a punch of texture to your bedroom, bath, or living room. Its softer shades of ecru and baby pink will look great on any table or shelf. The modern pot is perfect for complimenting most décor.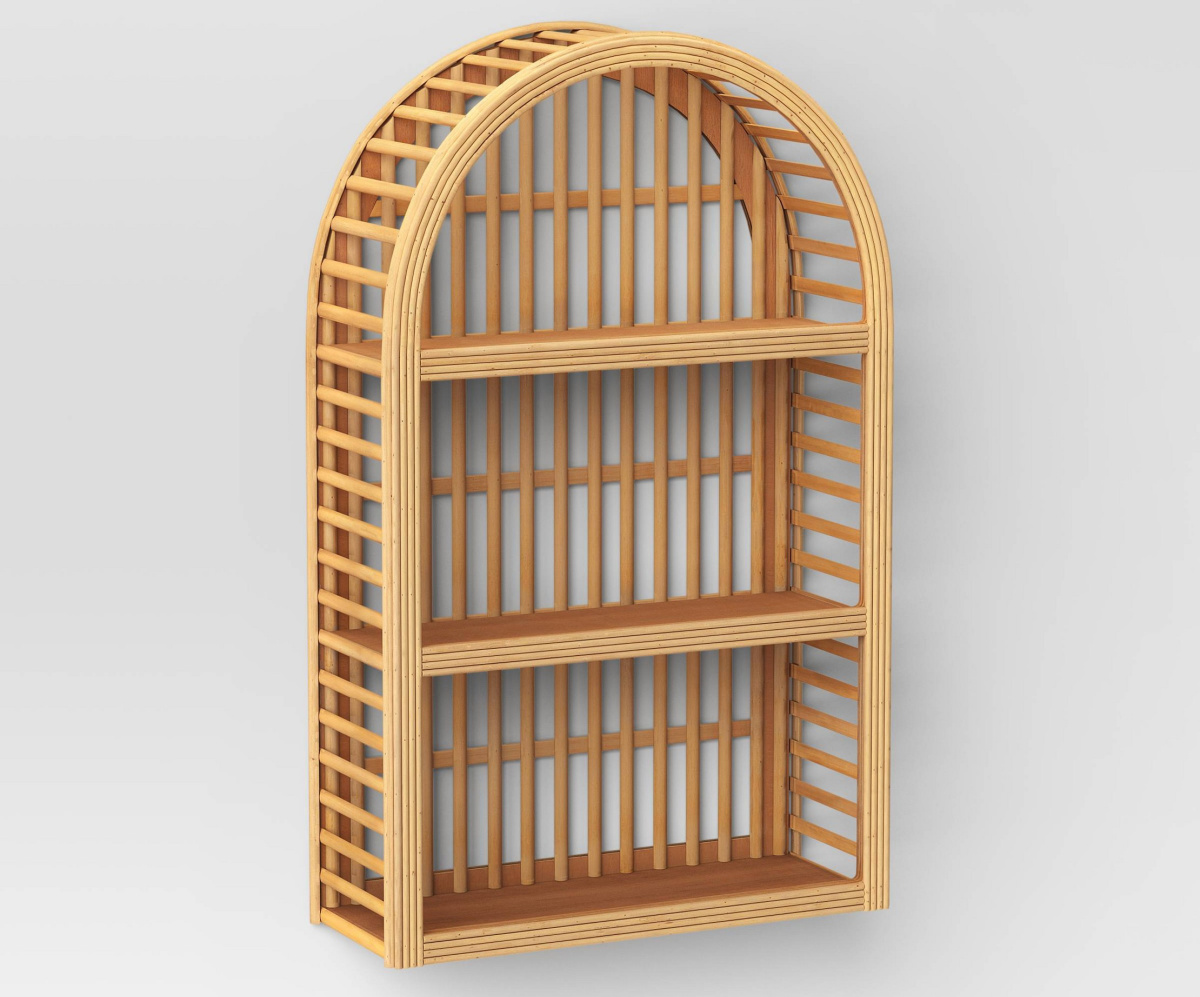 12″ x 20″ Wood and Rattan Wall Shelf – How cute is this rattan shelf? Big enough to display your treasured mementos, but not so big to be overwhelming, this Wood and Rattan Wall Shelf will brighten any corner in your home. Use it for spices in the kitchen or a seashell collection in a hallway. This versatile unit can be re-imagined for years to come.
Cast Metal Bowl Gold -This bowl is sold out, but this brass bowl has a similar feel, and is super budget friendly.
Embroidered Floral Square Throw Pillow – Spring is the perfect time to freshen up your home and an easy way is to change out your throw pillows. The linen/cotton blend Floral Embroidered Pillows are a great start; they are summery and colorful. Grab a few for the bedroom, guest room, or living room. They are available in several colors to compliment any décor.
Chunky Cable Knit Reversible Throw Blanket – For those cooler days we still get in Spring, grab one of these Chunky Cable Knit Throws to snuggle under. This easy-care blanket is not too heavy and will be ready when it is draped on the bed or sofa. Great for TV watching, too.
Lavender Artificial Plant Arrangement in Pot – Threshold's Lavender Artificial Plant is so realistic that your guests will believe it's real. Perfect to brighten up any corner in any room. The classic urn shaped ceramic pot will blend with most décor.
(Set of 2) Geometric Wall Panels – Add some interesting art to your wall with Threshold's Geometric Wall Panels in light natural finished wood. Modern curved design lends a distinctive flair to a variety of wall spaces in your home. Set some greenery in front of them for a clean Spring look.
Tall Ceramic Textured Vase – This vase is sold out, but I found a couple that have a similar feel. This brown ceramic vase would look fabulous in any retro themed environment. This white textured ceramic vase has a very modern and earthy aesthetic.
8″ x 10″ Sketch Flowers Unframed Wall Canvas Tan – This smaller framed modern floral picture looks hand drawn. It is perfect for every room in your home with its light wood frame and black and white style. The sketch flowers will complement any style.
Wide Fluted Speckled Ceramic Pampas Jar Candle Tonal Cream 11oz – Designed by the Chip and Joanna Gaines brand Magnolia, the ceramic candle and holder will leave your home smelling sweet and musky. The fluted ceramic jar fits in with most décor and will look good in every room of your home.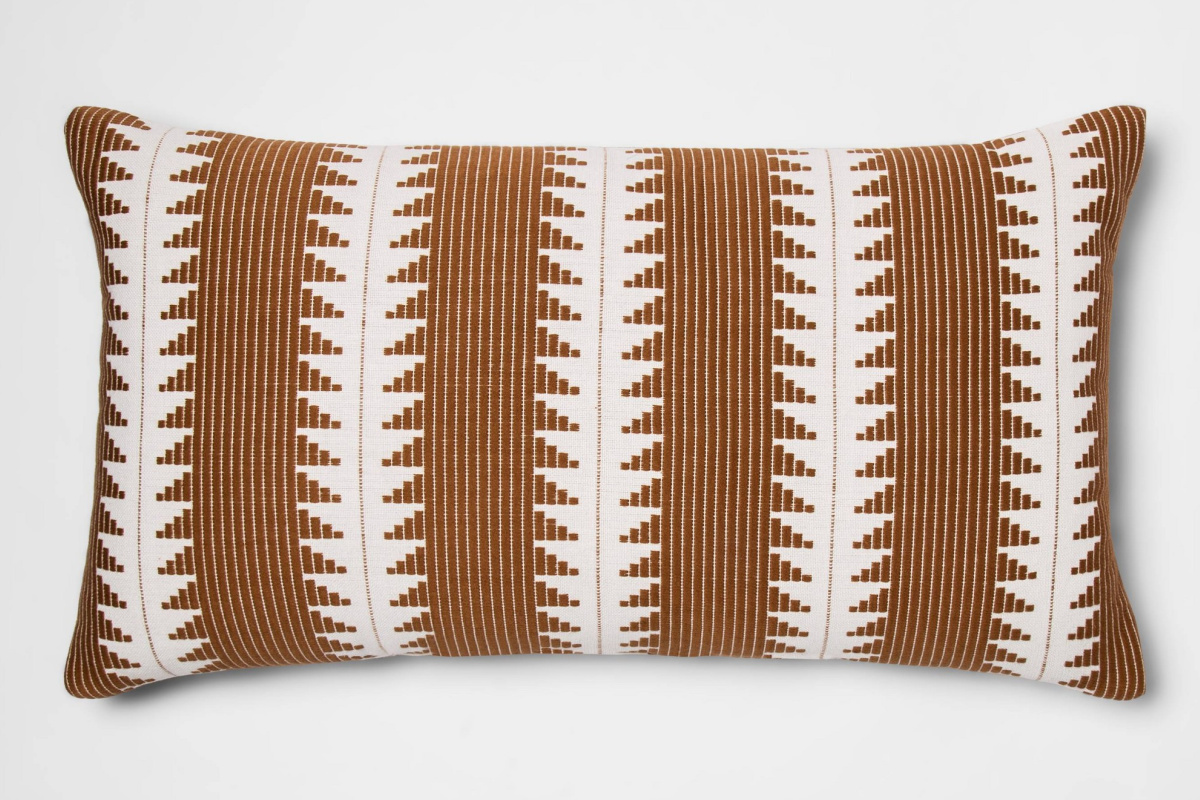 Oversize Lumbar Woven Global Pillow – This woven pillow with its geometric design looks as good on your bed as it will on your patio settee. Made of 100% cotton, it is available in multi-brown shades or black and natural.
11″ x 7.8″ Glass Hurricane Candle Holder – A glass hurricane candle holder lends a level of sophistication and is a perfect finishing touch. Add a little filler for a fresh and unique look, or leave as is with a large pillar candle for understated elegance.
Small Artificial Cosmo Arrangement White – Have a pretty floral display that will look great all Spring and Summer with the delicate Cosmo Arrangement. Perfect for entry or hall tables, as well as bedroom or bath area. Easy to care fore and the go-with-everything green ceramic pot is classic.
Textured Faux Fur Reversible Throw Blanket – The easy care Faux Fur Throw Blanket looks as good as it feels. Choose from several colors to coordinate with your bedroom, living room or patio for that extra warmth on the cooler nights. Reversible means it's gorgeous from any angle.
Abstract Ceramic Mini Table Lamp White – Perfect for small tables, this very modern lamp makes a perfect accent for a desk or nightstand. Put one on your entry table for soft lighting. The ultra-modern donut shaped base is perfect for a modern home.
Storage solutions play a vital role in maintaining an organized and clutter-free home. Target's indoor decor collection boasts an assortment of storage baskets, bins, and shelves that not only serve a practical purpose but also add a touch of elegance to your space. Say goodbye to chaotic closets and overflowing shelves as you discover the art of stylish organization, courtesy of Target's smart storage options.
With the Target indoor decor collection, spring becomes a season of transformation and renewal for your home. From vibrant accents to functional furniture and clever storage solutions, their collection offers a wealth of possibilities to elevate your space. So, don't wait any longer—explore Target's indoor decor selection, shop with confidence, and turn your home into a sanctuary of style. Get ready to embrace a fresh new chapter in your home decor journey with Target as your trusted partner. Happy shopping!