Interior designers like to think they have a monopoly when it comes to design tips for bedrooms, but they are wrong. Anyone can transform their hovel into a contemporary masterpiece, thanks to the materials and technology available to us. You only need to have a clear vision of what you'd like to achieve to make it possible.
Learn some great tips and tricks to help turn your dull bedroom into a stylish space that will change your life. There are many design tips for bedrooms to consider when taking on such a project.
Modern Design Tips for Bedrooms to Consider
Admit Defeat
The overriding principle in a modern room is to use the best quality workmanship, products, and materials. If you are thinking about a DIY project, do you have the skills to carry it out to a high standard? There is no shame in admitting defeat and calling in the professionals. No one wants a crooked shelving unit.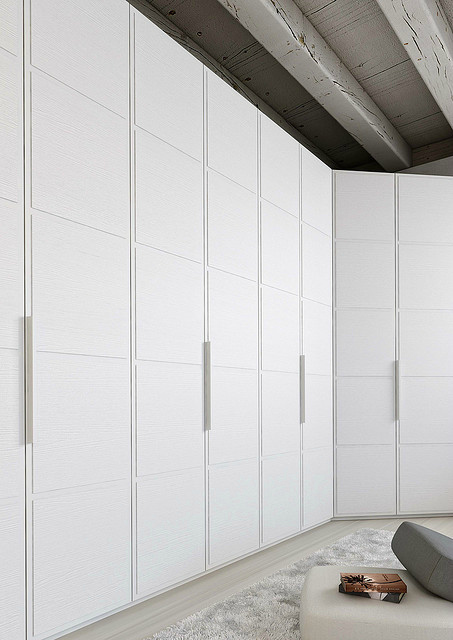 Storage
As in the image, every contemporary room must be free of clutter. Your habits must change if you are to live by this principle. Put the clutter in another place and save this space for yourself.
Fitted wardrobes and built in closets are by far the best solution for hiding all of your clothes and belongings. This is one of the great design tips for bedrooms. Fitted wardrobes help to create those sleek lines. There are companies that will measure your room and build bespoke units according to your specifications. Sometimes it is better to lose a section of the bedroom in order to stow everything away behind attractive doors. Though you have lost that square footage, the room will feel bigger than it did when everything was on display.
Lighting
One of the best design tips for bedrooms is to have light that can be altered. Whatever fixtures you choose for the main lighting in the room, make sure you can operate them with a dimmer switch. Sometimes you might want to create a romantic mood in there, or maybe a relaxed atmosphere.
Laminate Flooring
Laminate or hardwood flooring is the best solution and design tips for bedrooms for the floors in this setting. Many people choose laminate as it's as cheap as carpet, durable, and does not disturb the clean lines we are trying to create. It is easy to put down too, but remember to remove the skirting board first. Fit new skirting boards over the top of the laminate for a high-quality finish.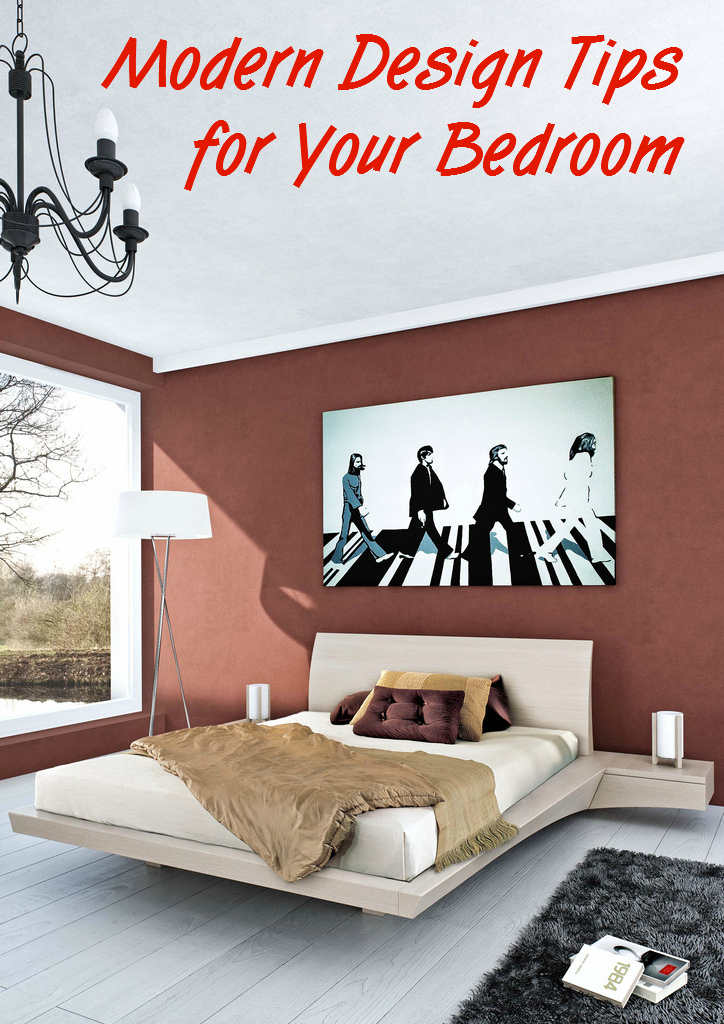 The Bed
If you ask anyone their design tips for bedrooms, they'll tell you to choose one statement piece. In the bedroom, the bed is usually the statement piece. Make a statement with your choice of bed. If you're going for a sleek, modern look, you don't want a four poster bed. The one in the image is extraordinarily simple yet it suits the room perfectly. Look online and in stores to find the piece you need. When you see it, it will scream "buy me."
Decoration
Whatever colours you choose for the room, keep them as single blocks of colour. Don't use patterned wallpaper and make sure it covers the whole wall. Sometimes people use a different wallpaper on the top to the bottom. That is a mistake for amateurs.
Windows
Though plain drapes will look good at the windows, enhance them with blinds. Roller blinds look best behind curtains, and they come in thousands of different shades and patterns. They are one of the cheapest items in the room.
With the addition of new bedding and bedside lamps, your room will almost be complete. You'll still need to choose one or two pieces of artwork to go on the walls. Modern prints are available in most home and furnishing stores, so you should have no trouble finding something to suit your tastes. Keep it simple though, that is key.
If you get this far, you will have spent a lot of time, money, and sweat equity to achieve the room of your dreams. Was it all worth it? I think the answer will be yes. You will sleep better and feel more refreshed, which will make you happier. That can't be bad.
What main design tips for bedrooms could your room use?
Photos courtesy of Mazzali