Have you seen Blackstone Griddles? They're the most recent backyard cooking gadget to take the world by storm. It's basically a large outdoor griddle that allows you to make, well, pretty much whatever you want.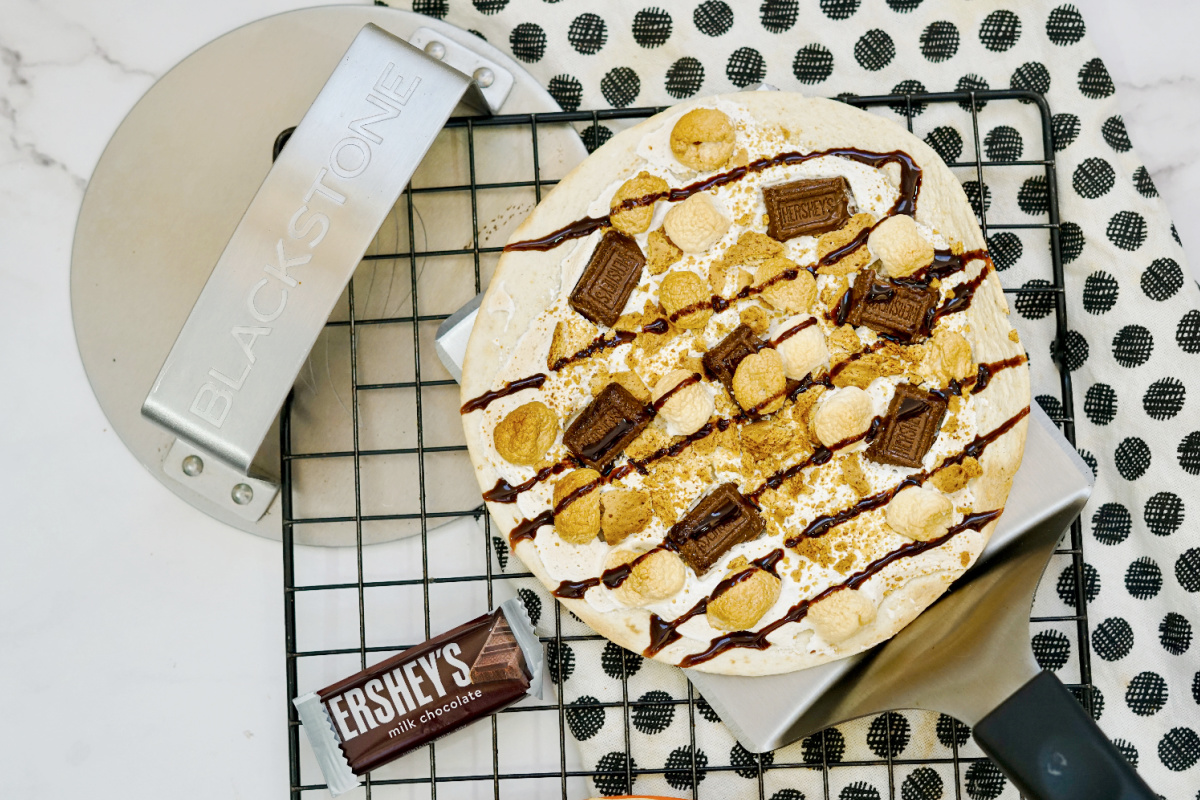 We'll be diving into the realm of indulgent desserts with a twist—a delightful and gooey treat known as S'mores Pizza. One of the things that seem to be lacking when it comes to backyard and outdoor recipes is dessert. There really doesn't seem to be a lot of dessert grilling recipes. We're fixing that with this Blackstone griddle dessert recipe.
Picture warm tortillas with gooey marshmallows, melted chocolate, and a graham cracker crumble. This easy-to-make recipe will unleash your inner sweet tooth and leave you craving for more. So, let's gather around the griddle and embark on a s'mores-filled adventure!
Blackstone Griddle S'mores Pizza
Ingredients:
Tortillas
Marshmallow Fluff
Mini Hershey Chocolate Bars
Chocolate Syrup
Graham Cracker Crumbs
Mini Marshmallows
Instructions:
Preheat your Blackstone griddle and coat the griddle surface with griddle cooking spray to prevent sticking.
Place the tortillas onto the griddle, creating a canvas for your s'mores masterpiece.
Coat each tortilla with a generous layer of marshmallow fluff, spreading it evenly and ensuring every bite is packed with sweet, fluffy goodness.
For an extra touch of graham cracker bliss, sprinkle a generous amount of graham cracker crumbs over the tortillas, creating a delightful crunchy texture.
Time to add the star of the show—mini Hershey chocolate bars! Scatter them across the marshmallow fluff, allowing their chocolaty goodness to melt and blend harmoniously.
Turn your griddle to low heat and let the magic unfold. Watch as the marshmallow fluff transforms into a creamy, melty blanket and the chocolate bars begin to melt, creating a luscious combination.
Once everything is beautifully melted and the tortillas become crispy, remove the s'mores pizzas from the griddle with the utmost care. Remember, the tantalizing aroma might just tempt you to take a bite right away!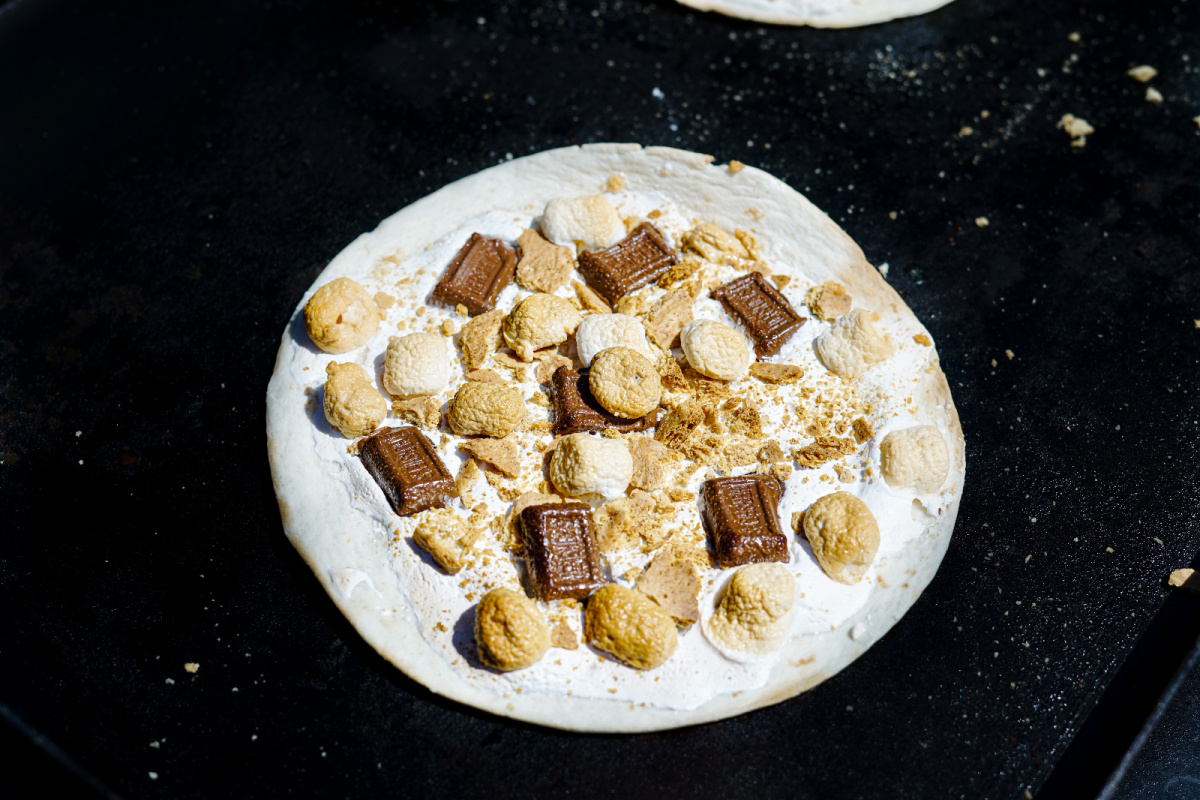 To complete the symphony of flavors, drizzle a generous amount of chocolate syrup over the top of each s'mores pizza. The sight alone will make your taste buds dance in anticipation.
Finally, it's time to enjoy the fruits of your labor. Cut the tortillas into slices, share them with loved ones, and savor each heavenly bite. Alternatively, you can leave them as whole pizzas for a fun and unique presentation.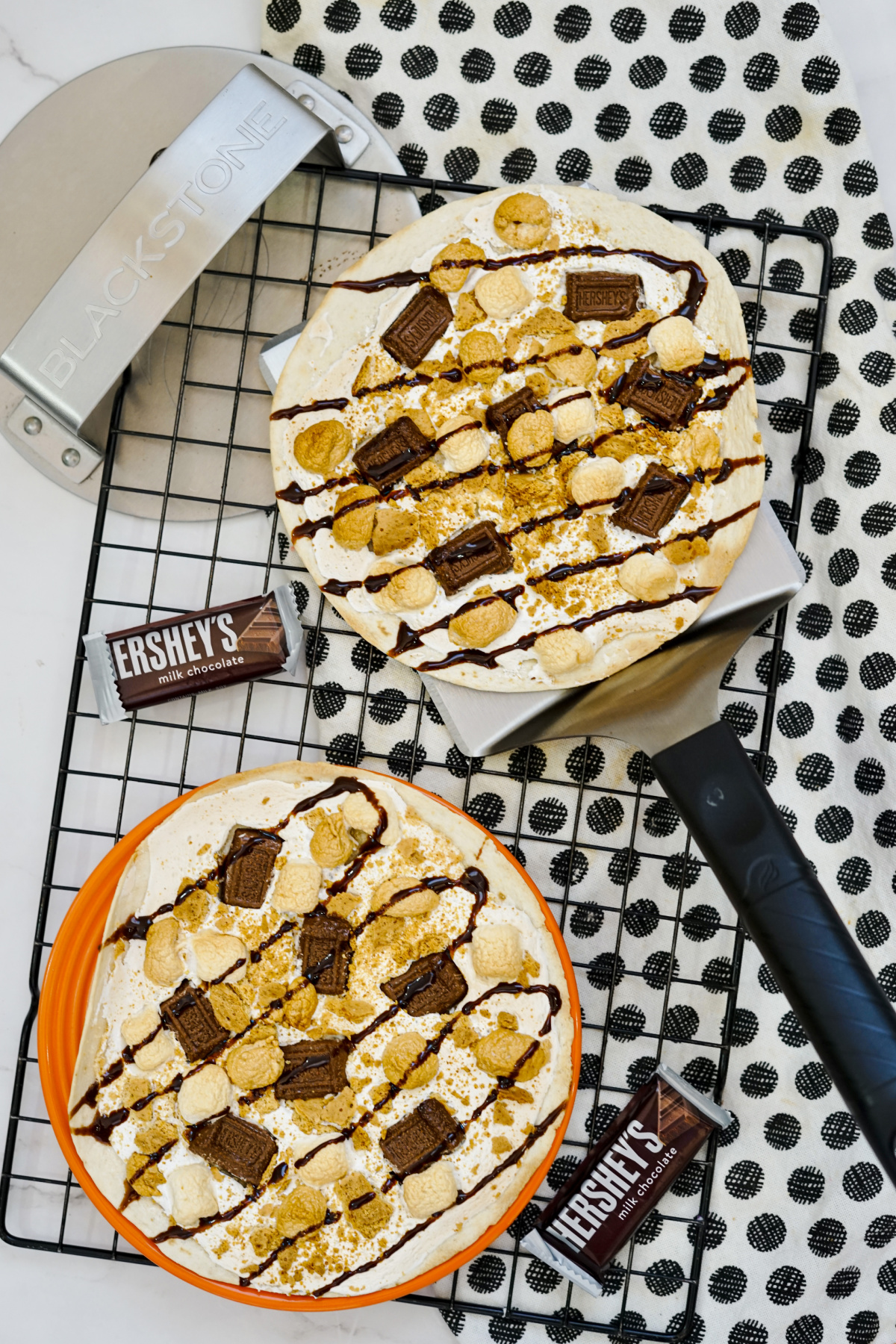 Do you have any tips or tricks for this S'mores Pizza?
To enhance your S'mores Pizza experience, here are a few additional tips:
Experiment with Toppings: While the classic combination of marshmallow fluff, Hershey's chocolate, and graham cracker crumbs is divine, don't hesitate to get creative with your toppings. Consider adding sliced bananas, strawberries, or even a sprinkle of shredded coconut for a unique twist.
Control the Heat: Adjusting the heat on your Blackstone griddle is crucial for achieving the perfect meltiness and crispness. Start with low heat to allow the ingredients to melt gradually, preventing them from burning. You can increase the heat slightly towards the end if you desire a crispier crust.
Mind the Size: Depending on the size of your tortillas and griddle, you may need to adjust the recipe accordingly. Ensure that the tortillas fit comfortably on the griddle surface without overcrowding, allowing them to cook evenly.
Preheat and Oil the Griddle: Preheating your Blackstone griddle ensures that it reaches the optimal temperature for cooking. Additionally, applying a thin layer of cooking oil or using griddle cooking spray helps prevent sticking and ensures a beautiful golden crust.
With the Blackstone griddle as your trusty companion, the world of dessert creations opens up in the most delectable way. The S'mores Pizza recipe combines the nostalgic charm of classic s'mores with the fun and versatility of cooking on a griddle. The ooey-gooey marshmallow fluff, melty chocolate, and the irresistible crunch of graham cracker crumbs will transport you to a sweet paradise right in your backyard.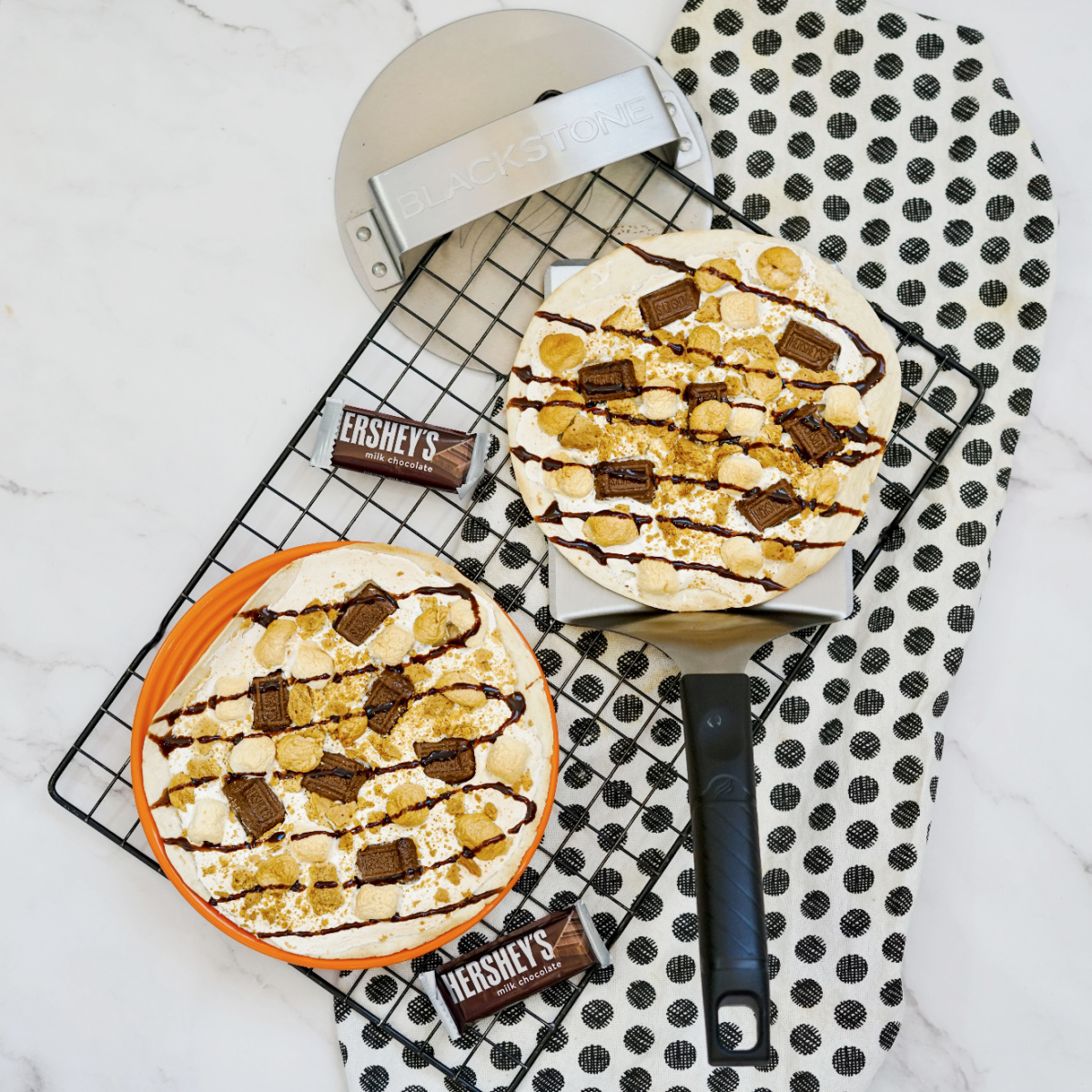 Remember, safety is paramount while using your Blackstone griddle. Keep a close eye on the heat levels, use oven mitts or heat-resistant gloves, and exercise caution while handling hot ingredients and equipment.
Now, ignite your griddle, gather your ingredients, and embark on this unforgettable S'mores Pizza adventure. Let your creativity soar, customize your toppings, and indulge in the flavors of gooey marshmallows and melted chocolate. Your taste buds and your friends and family will thank you!