Red Hot Applesauce Jello. If you're old-school, your mouth is probably already watering. If you're a bit younger, I can almost hear asking what the heck this concoction I speak of is. It's one of those classic recipes that everyone made in the 1950s and 1960s, but that seems to have been forgotten about. The first thing you need to know about it is that it's delicious. The second thing you need to know is that it's easy to make. It doesn't get much better than that.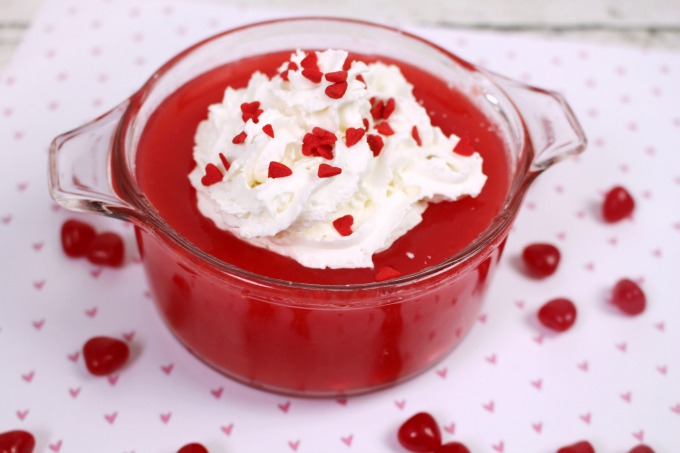 My mom wasn't a big Jello fan, so she never made it. But when I'd go visit my dad, my step mom's family would make applesauce jello bars because they were easy, inexpensive, and apparently I was impressed! I could seriously eat my weight in those tasty bars. I always have fond memories of childhood where those bars are concerned, so when I whip up my Red Hot Applesauce Jello, I get a blast of delicious flavor and some major nostalgia. You might or might not get the nostalgia factor when you make these, but you'll definitely get a flavor blast you'll love.
Red Hot Applesauce Jello isn't difficult to make. In fact, it's really simple and practically foolproof. You need just 4 simple, easy to find ingredients, and some time. It's also fairly low calorie, and cheap to make. It has a sweet flavor with a bit of a cinnamon kick, in the same vein as these Spicy Red Velvet Cupcake Cones. If you ever had Red Hots as a kid, you've probably already guessed fairly accurately how this Jello treat tastes. If you haven't get ready for a taste sensation.
Red Hot Applesauce Jello recipe
Links may be commissioned.
There are a few things you'll want before you make this recipe. One, of course, is Jello, and another is applesauce. However, you'll also need some Red Hots cinnamon candies. They can be a wee bit difficult to find in the offseason but not impossible. If you're making this into bars, you'll want a cutter. I find that these cookie cutters make a gorgeous, uniform shape. People will be so impressed, and your potluck dish will look sooo fancy, And, a good casserole dish to carry your treats is always a good choice, too.
Click here for a printable Recipe
Yield: 6 servings
Red Hot Applesauce Jello Dessert Recipe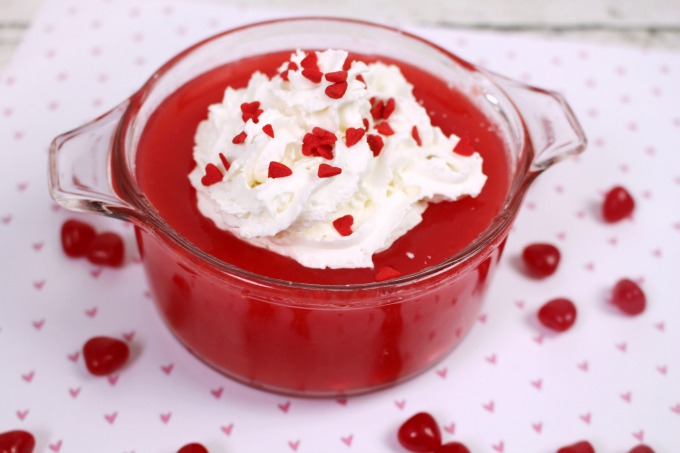 A classic retro vintage dessert that's been reintroduced for modern day. Super easy and budget friendly, too.

Prep Time 10 minutes

Cook Time 10 minutes

Additional Time 6 hours

Total Time 6 hours 20 minutes
Ingredients
1 1/2 cups of boiling water
1 cup Red Hots candies
1 (6 oz) box cherry Jello (can also use strawberry)
2 cups applesauce (I used Motts unsweetened)
1 cup chilled Sprite (or 7-Up)
For the garnish
Cool Whip or whipped cream
Red Hots candies
Instructions
Bring water to a boil in pan, over high heat.
Add the red hot candies. Reduce heat to low and stir until dissolved.
Add the box of jello and stir until dissolved. Remove from heat.
Add the applesauce and Sprite into the Jello-Red Hots mixture and stir to distribute.
Pour jello mixture into serving glasses and cover with plastic wrap.
Chill overnight.
Before serving, add a dollop of Cool Whip or whipped cream and sprinkle with extra red hots.
Nutrition Information:
Yield:
6
Serving Size:
6
Amount Per Serving: Calories: 109Total Fat: 1gSaturated Fat: 0gTrans Fat: 0gUnsaturated Fat: 0gCholesterol: 1mgSodium: 435mgCarbohydrates: 26gFiber: 1gSugar: 22gProtein: 1g

Nutritional information is provided as a courtesy, and may not be accurate.

See how easy that Red Hot Applesauce Jello recipe is? I mean, it takes 10 minutes, and then you just wait overnight. Boom. Easy deliciousness that everyone will love. The only thing hard thing about this recipe is having to wait overnight to enjoy it. After you've tried it once, those 6 to 8 hours of chill time will feel like forever.
You can also make this in a 13×9 baking dish and make bars instead of cups. It's great for family get-togethers, pot lucks, or even a classroom party if your school allows homemade treats. And with that bright red color and cinnamon kick, it's definitely a winner during the holidays. Whatever the occasion, once people get their hands on this treat, you can be sure that you won't have any leftovers to take home. So maybe save a bit for yourself.
This Red Hot Applesauce Jello is so easy to make and so good, there's really no reason not to make it. I mean, it's 10 minutes. This is literally the easiest recipe you'll ever make, and the taste is absolute cinnamon Jello heaven. So get out your pot, set aside 10 minutes, and get ready to create the most delicious Jello dessert you've ever had in your life.
Like this recipe? Don't forget to share on social, or pin it for later.