What's better than Red Velvet cupcakes? How about these spicy red velvet cupcake cones?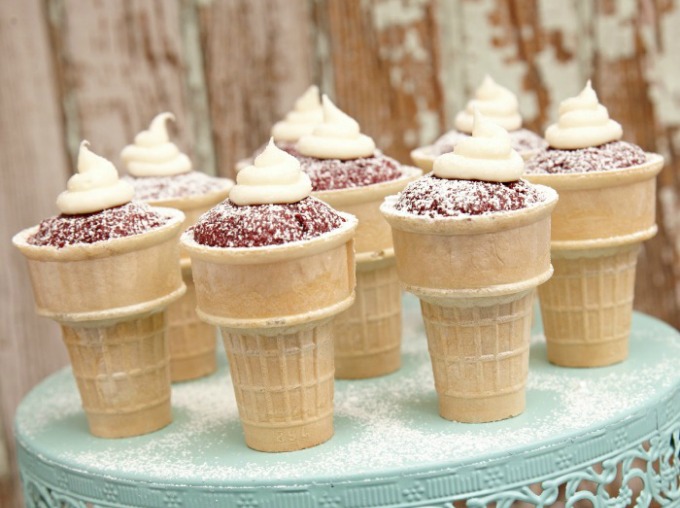 Have you been bored with your ho-hum meals lately? Sometimes your food needs a little kick. Texas Pete is here to help you spice up your life. You just can't beat freshly made sauces with premium ingredients, like Texas Pete Hot Sauce. Instead of dousing your meal in a spicy condiment, how about adding it to a recipe for the unexpected kick. Red Velvet cupcakes are a traditional favorite, but sometimes, they need a little sumtin-sumtin. These spicy Red Velvet Cupcake Cones are a perfect example of an unexpected spicy kick.
Texas Pete® Spicy Red Velvet Cupcake Cones
Yield: 48
Spicy Red Velvet Cupcake Cones Recipe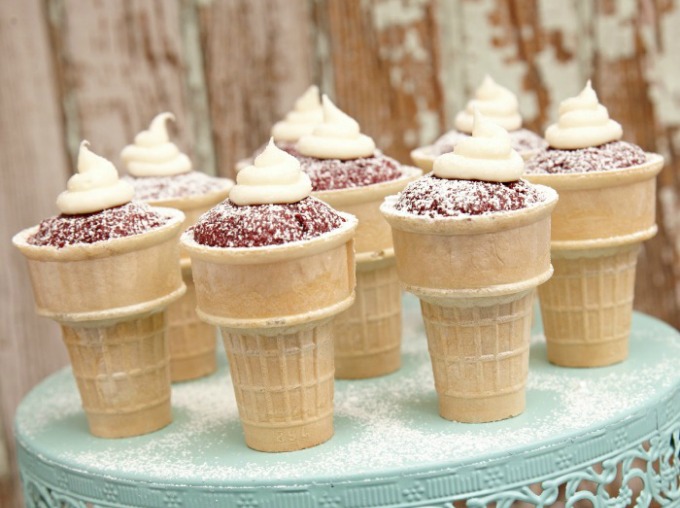 Ingredients
Cake Batter
5 C All Purpose Flour
3 C Granulated Sugar
1 TBSP Baking Soda
2 tsp Salt, Fine
2 tsp Cocoa Powder
3 C Vegetable Oil
2 C Buttermilk, room temp.
4 Large Eggs, room temp
3 TBSP Red Food Coloring
2 TBSP Texas Pete® Original Hot Sauce
48 Ice cream cones, small, flat bottomed
36 oz. Cream cheese: softened, whipped
1 stick Unsalted butter: softened, whipped
2 cups Powdered Sugar
2 tsp Texas Pete® Hotter Hot Sauce
Powdered sugar, for garnish
Instructions
Preheat the oven to 350 degrees Fahrenheit.
In a large bowl, sift together the flour, sugar, baking soda, salt and cocoa powder. In another large bowl, whisk together the oil, buttermilk, eggs, food coloring, Texas Pete® Hot Sauce and vanilla.
Using a standing mixer, mix the dry ingredients into the wet ingredients until just combined and a smooth batter is formed.
Carefully spoon the batter into the ice cream cones filling them 2/3 of the way up to give them room for rising in the oven. Arrange the cones on a parchment-lined sheet tray standing up and place them into the oven to bake at 350 degrees for approximately 15-20 minutes or until they have fully risen and a tooth pick inserted into the center of the cake comes out clean.
Remove the cakes from the oven and let cool completely.
While the cakes are in the oven, prepare the spicy cream cheese frosting.
For the frosting
7. Place the softened cream cheese and the softened butter into a medium size mixing bowl and whisk together until smooth. Add the powdered sugar and continue to whisk until the mixture is smooth. Add the vanilla extract and the Texas Pete® Hotter Hot Sauce and whisk one more minute. You may add more powdered sugar or Texas Pete® Hotter Hot Sauce so that the icing is to your liking.

8. Place the spicy cream cheese frosting into a piping bag with a small decorative tip.

9. Using the tip of the piping bag, carefully puncture a small hole into the center of the top of the red velvet cake and pipe approximately 2-3 tablespoons of the spice cream cheese into the center of the cake allowing some of the cream cheese to come out of the top for decoration. Continue until all the red velvet cake cones are filled. Use any extra cream cheese icing to frost the tops of the cones.

10. Sprinkle the Spicy Red Velvet Cupcake Cones with powdered sugar and serve.
Nutrition Information:
Yield:
48
Serving Size:
1
Amount Per Serving: Calories: 605Total Fat: 35gSaturated Fat: 14gTrans Fat: 1gUnsaturated Fat: 19gCholesterol: 91mgSodium: 353mgCarbohydrates: 66gFiber: 1gSugar: 47gProtein: 8g

Nutrition data is provided as a convenience

This Spicy Red Velvet cupcakes recipe makes a lot of cupcakes, and is a great option for a party. You might also want to add the food coloring slowly, and see how your batter is doing. A gel food coloring is a lot more potent than a liquid, too.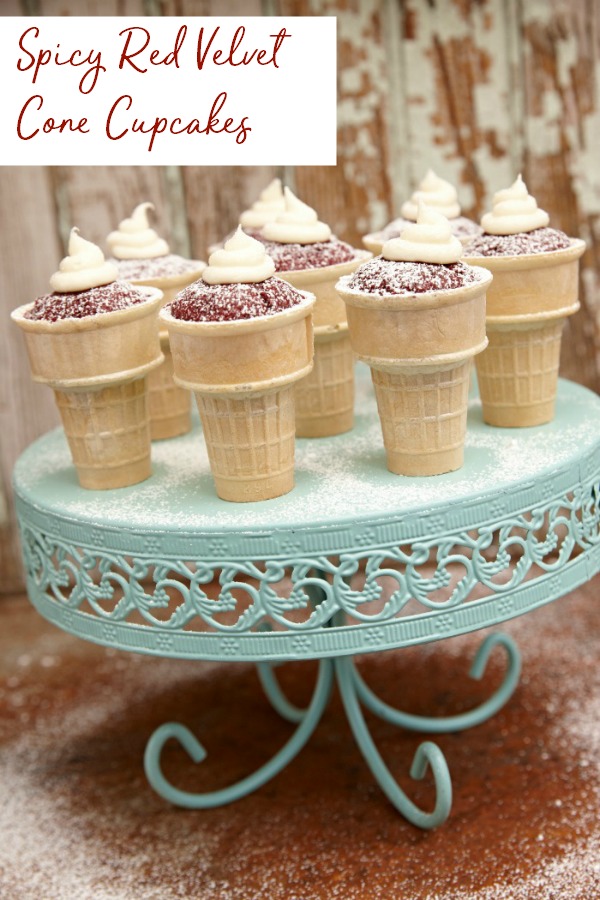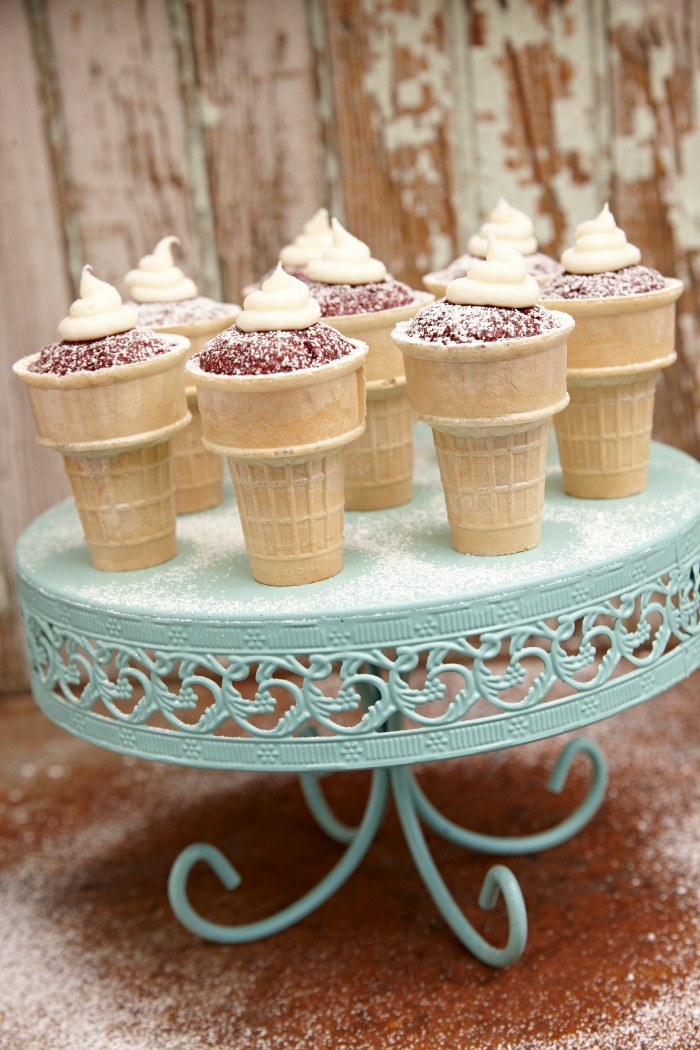 Texas Pete® wants you to experiment with their sauces. Try your hand at making something adventurous and share on social media with #TexasPete. find Texas Pete Hot Sauce in your area, and peruse Texas Pete Hot Sauce recipes for some great inspiration, too.
Will you be trying these Spicy Red Velvet Cupcake Cones?