Are you a bird enthusiast that's looking to add some flair and personality to your backyard? I've got great news for you. We've gathered some of the most fun and unique birdhouses that are available today.
Look no further than Amazon's incredible selection of fun and unique birdhouses. Whether you're an avid bird watcher or just getting started, these birdhouses are guaranteed to capture your attention and bring joy to our feathered friends.
We've created a captivating roundup of some of the most extraordinary birdhouses you can find on Amazon. From quirky designs to architectural wonders, there's something to suit every style and taste. Get ready to be inspired as we explore this fun collection of enchanting birdhouses.
Dive right in and discover the perfect birdhouse. One that will not only provide a cozy home for your avian visitors, but also become a whimsical focal point in your outdoor space. Since they're all available on Amazon, they can be in your garden in a jiffy.
Great Birdhouses for Your Outdoor Space
This post contains affiliate links. If you make a purchase I will earn an advertisers fee at no cost to you.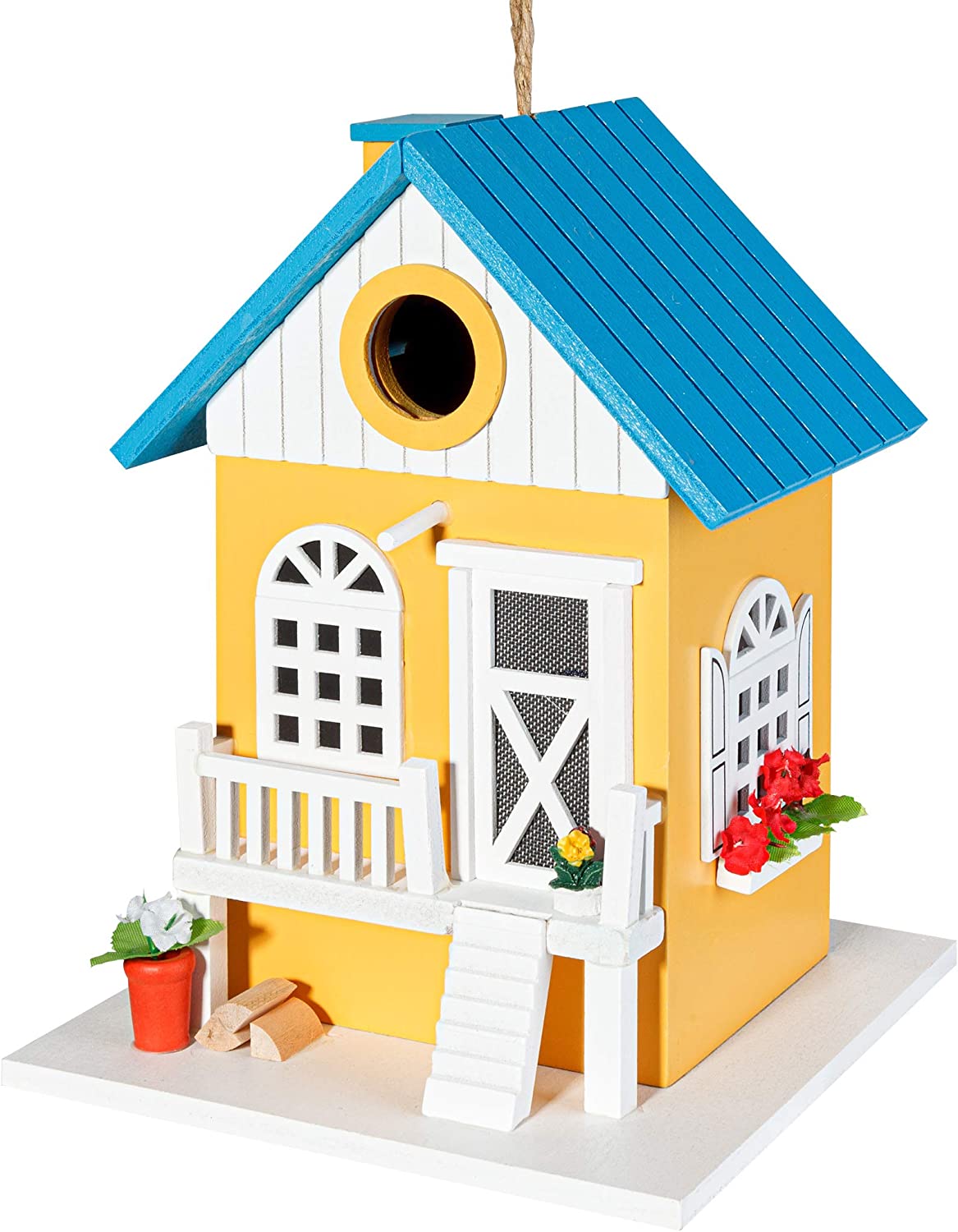 Beach House Bird House – Is it a country cottage? Is it a beach house? Who knows! However, this adorable bird box makes a cheerful addition to your outdoor decor.
Cedar Wren House – This simple cedar house smells lovely and makes an ideal home for small birds like wrens and chickadees. At this price, you might want to add a few to your backyard.
Vintage Tall Birdhouse – With it's weathered wood appearance, this birdhouse is a great addition to any outdoor space. It also provides a lovely home for a variety of birds. And at less than $30, you'll definitely want to get one of these vintage looking birdhouses for your feathered friends.
Window Bird Box – Now's your chance to view our feathered friends up close and personal. Snow and squirrel resistant, this clear window bird box allows you to view your visitors with ease. This one drains rain water and is easy to refill with seed, too.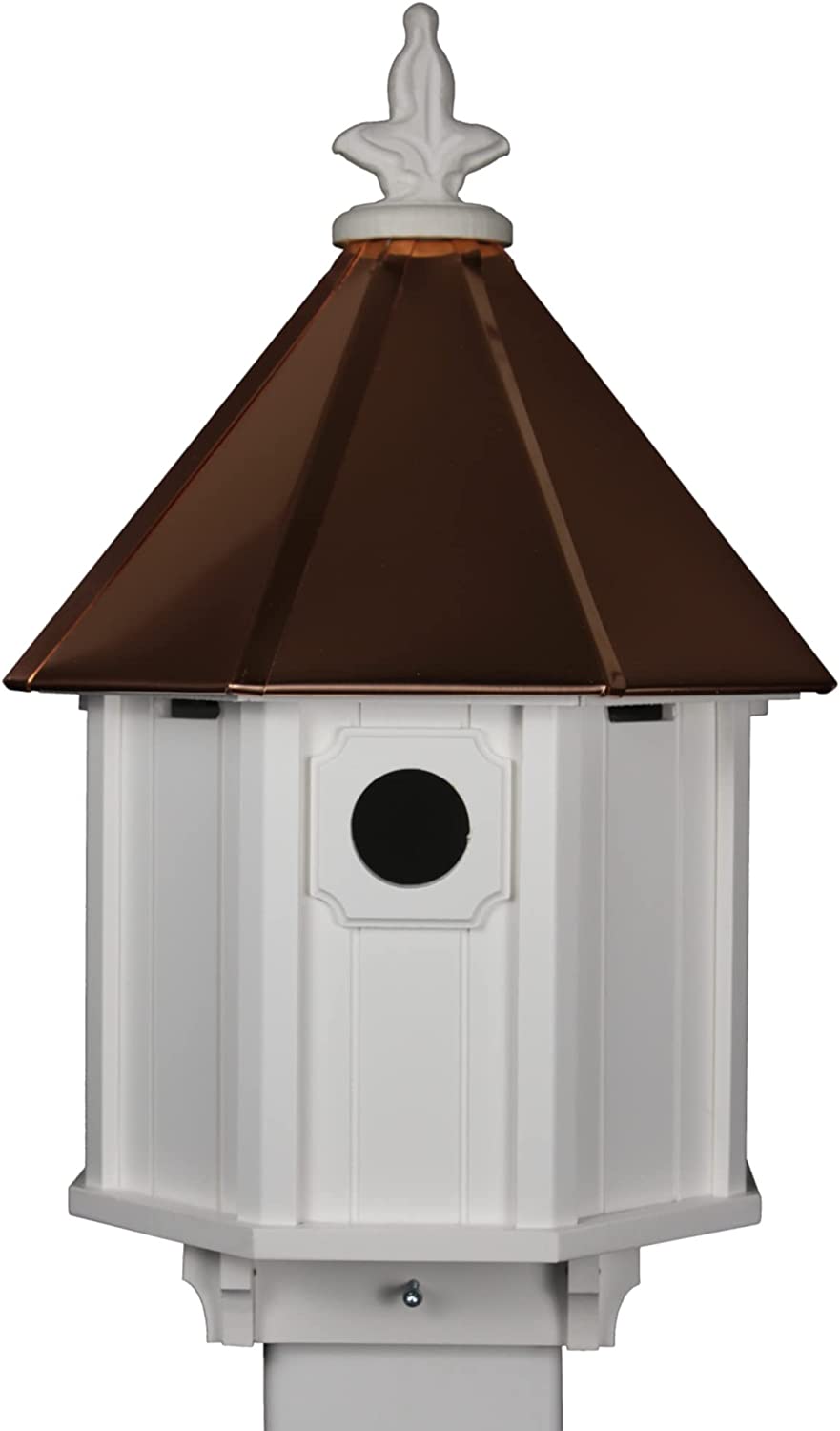 Copper Roofed Birdhouse – This pretty octagon shaped birdhouse features a stunning copper roof. It makes the perfect home for a songbird and is a great addition to your garden area. It's especially at home in a more formal setting.
Watering Can Birdhouse – This unique birdhouse looks like it was made from an upcycled watering can. This totally unique birdhouse would be perfect in a farmhouse backyard or a boho chic home. It would also be a pretty accent near the front of your house that will delight both humans and birds alike.
Bird Cottage – This bird cottage begs to be set atop a pole and admired while songbirds sing a tune in the distance. This bird house is made by hand, and the attention to detail really shows.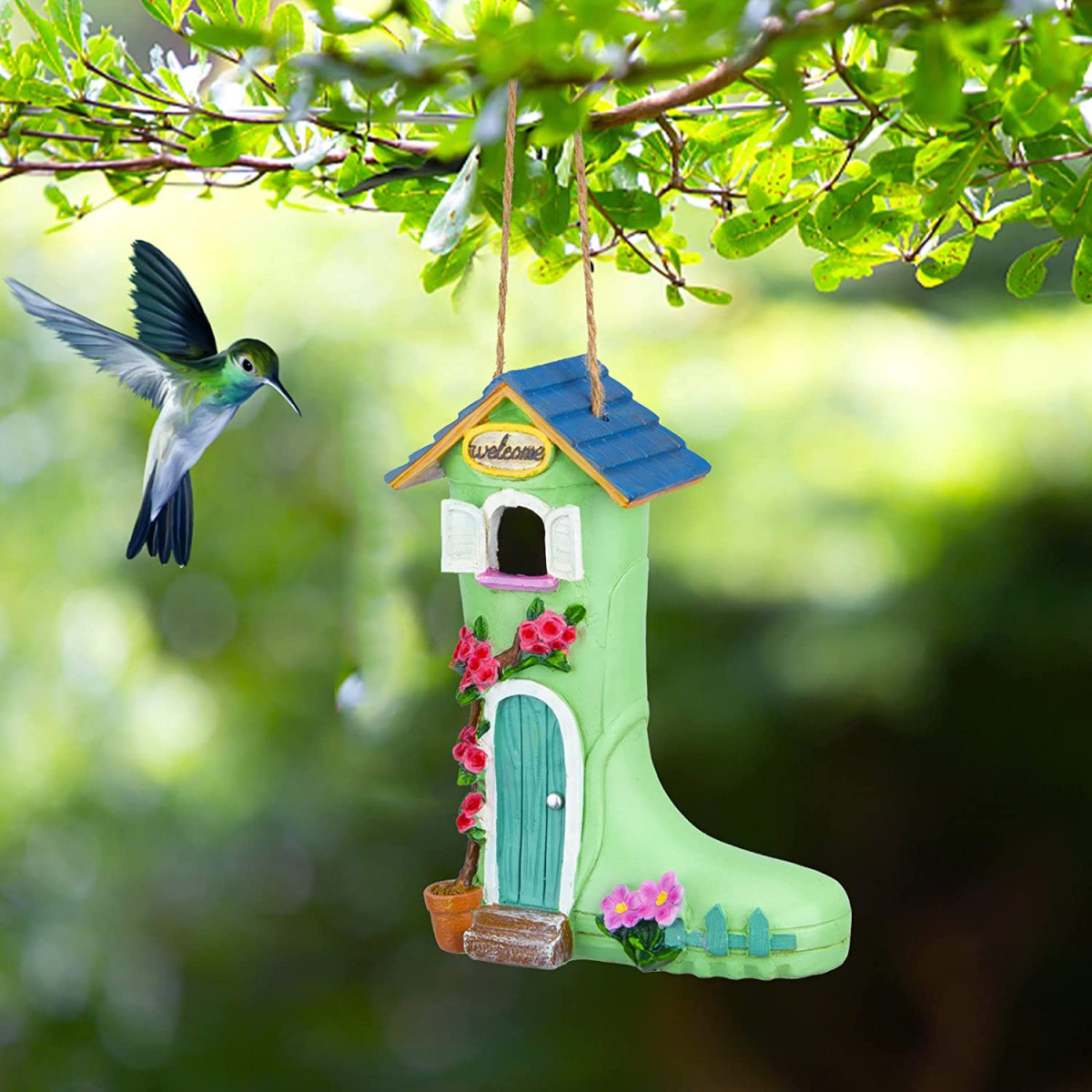 Boot Bird Box
– This whimsical birdhouse is all decked out in floral vines and shuttered windows. Hang it or mount it to a post. Not only is this birdhouse cute, but it's also easy to clean. It's bright and cheery and will make a great addition to your garden.
Retro Daisy Nesting Box – This nesting box is decorated with retro daisies to welcome birds to nest and stay awhile. With cheerful flowers painted on the front, it is functional and decorative. Best of all it costs under $30.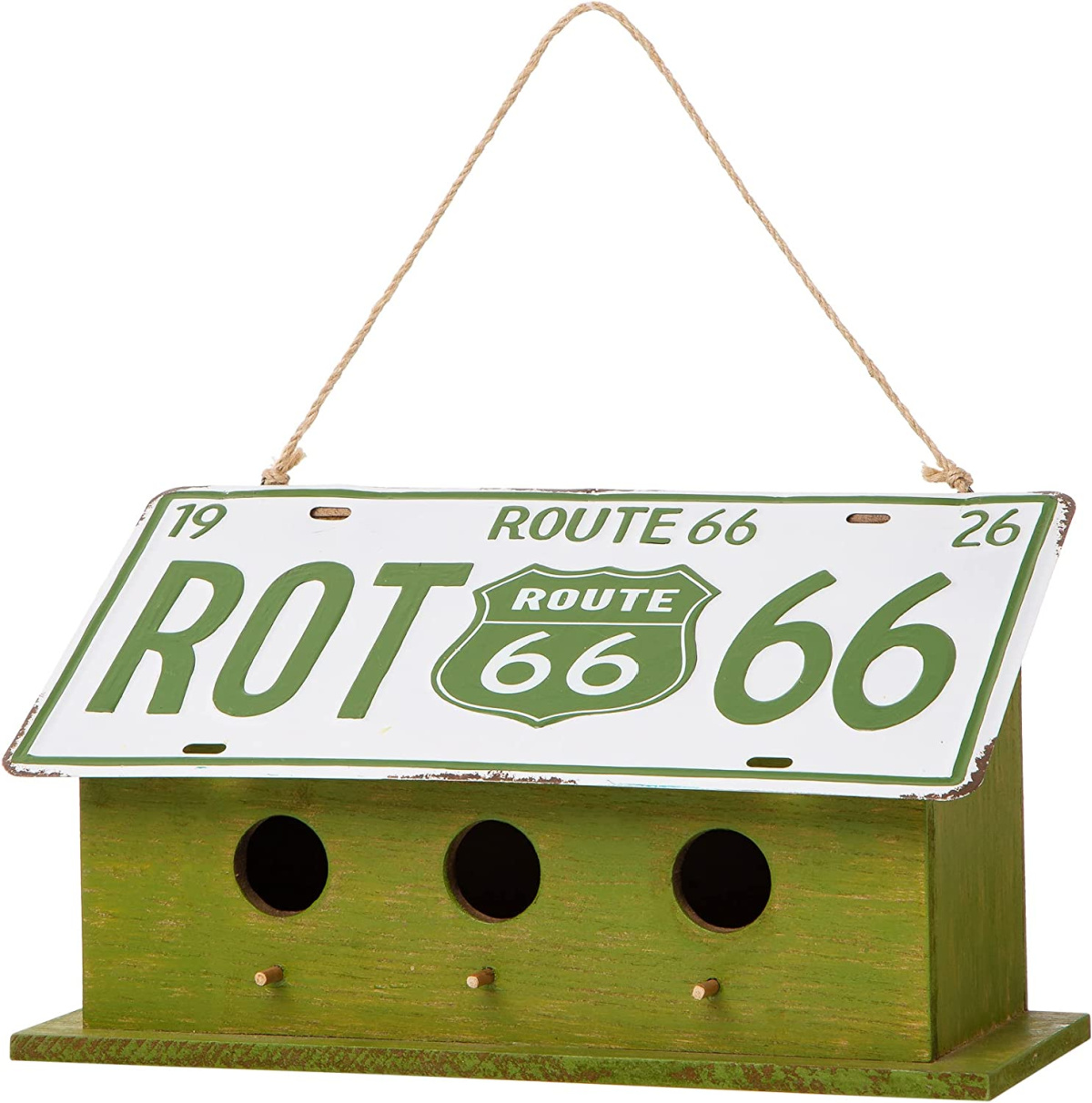 Route 66 Bird Box – This bird box is adorable with a vintage inspired license plate roof. Birds will surely get their kicks in this route 66 birdhouse. Handmade and big enough for a bird family. Easy to clean, too.
Oak Tree Painted Bird House – It is shaped and painted to look like an oak tree which would make a perfect home for feathered friends. Easy to keep clean, and made of molded plastic for durability. A great choice for any nature lover.
Nantucket Bird Cottage – This little blue cottage is so cute you might wonder if it is available in a size large enough to accommodate something bigger than birds, like people! This little cottage oozes charm.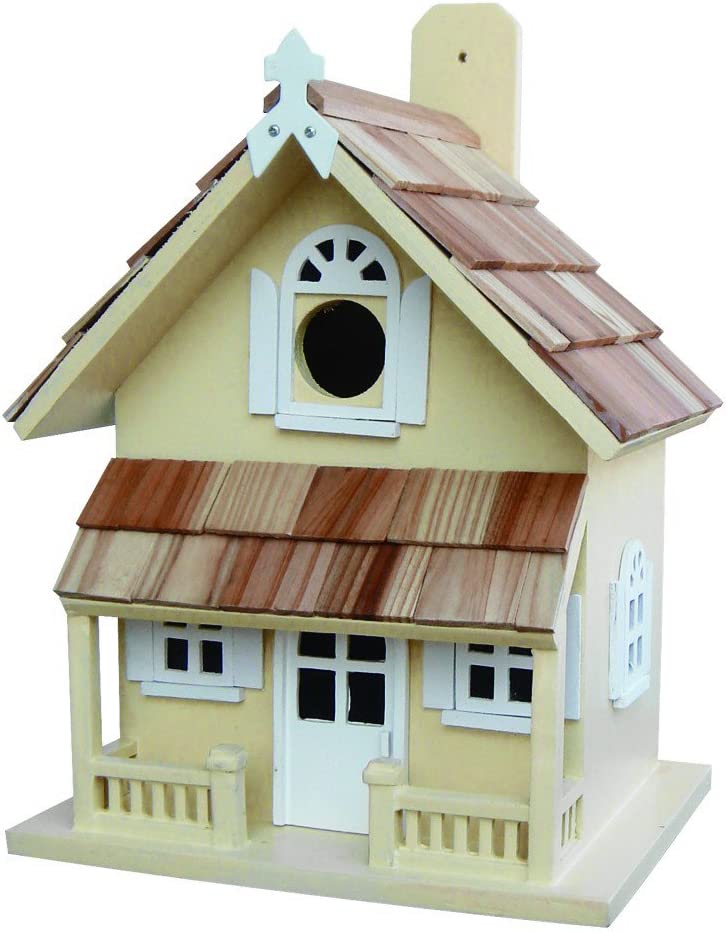 Cottage Bird House – This cottage is adorable and charming! Best of all you can get this for under $90 for a stunning addition to the garden. Birds can hang out on the quaint front porch or go inside for more protection. Back wall is removeable for cleaning. All finishes are animal-safe, too.
Birdhouse for Multiple Birds –
This bird house is perfect for bird watchers who want to add beauty to their yard. This all wood birdhouse is a veritable bird-ominium to house several of your feathered friends in one place. This good looking all-cedar birdhouse is designed for smaller birds.
And there you have it, fellow bird lovers! These are just a few of the fascinating, fun, and unique birdhouses available on Amazon. We hope this collection has sparked your imagination and inspired you to bring a touch of wonder and beauty to your backyard and outdoor spaces. Whether you're drawn to the whimsical designs, architectural marvels, or charmingly crafted birdhouses, there's no doubt that these unique creations will make a delightful addition to your outdoor space.
Remember, providing a safe and inviting habitat for our feathered friends is not only a joy to behold but also plays a crucial role in supporting bird populations and biodiversity. So, go ahead and choose a birdhouse that suits your style, and enjoy the rewarding experience of watching colorful visitors make themselves at home.
Don't forget to check out the product links in the description to explore these birdhouses further. Happy birdhouse hunting, and may your backyard become a haven for birds and a constant source of wonder for you and your guests.