Picture yourself on a sun-kissed beach, waves crashing in the distance, and you, the epitome of beachside chic. The secret to achieving that effortlessly stylish look lies in mastering the art of tying a sarong.
Don't worry, it's easier than it seems! In this guide, we'll dive into the world of sarong tying techniques, exploring various styles and offering recommendations to help you make a fashion statement wherever your summer adventures take you.
Draping Techniques: Unleash Your Creativity
Links may be commissioned.
Sarongs go by many names. Pareos, lava-lava, mundu, reddi, and lungas are all names for sarongs in various parts of the world. Gone are the days of mundane sarong styles. Today, it's all about embracing your creativity and exploring the boundless possibilities. With easy-to-follow instructions and a touch of your imagination, you can effortlessly transform a simple piece of fabric into a statement piece.
Style Recommendation: The Classic Wrap: Start with a rectangular sarong and wrap it around your waist, securing it with a knot. For an elegant touch, let one end hang loose, creating a stylish asymmetrical look. This classic wrap works wonders as a beach cover-up or as a wrap skirt, providing comfort and versatility.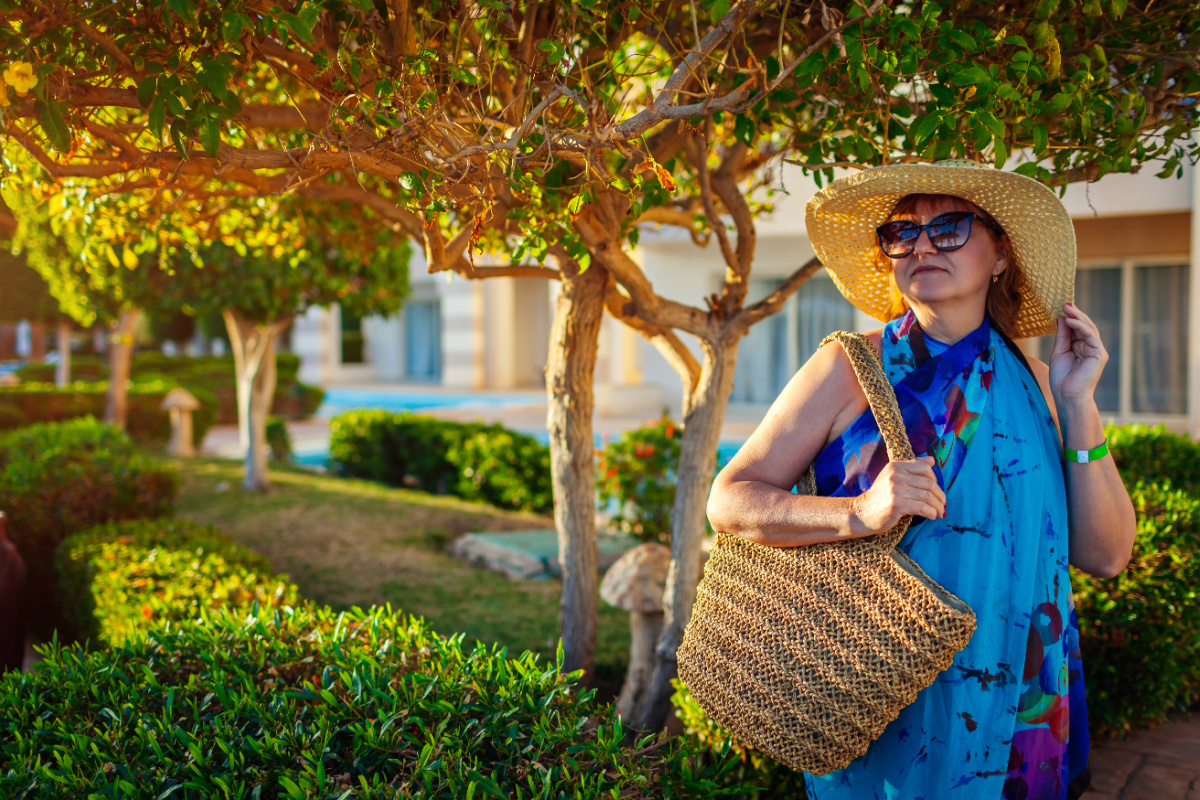 Style Recommendation: The Halter Dress: Fold your sarong diagonally to create a triangle shape. Wrap the long edges around your back and tie them in a knot at the neck. This quick and easy technique will transform your sarong into a chic halter dress, perfect for beachside lounging or an evening stroll along the shore.
Quick and Trendy Knotting Ideas
Feeling adventurous? Dive into the world of sarong tying techniques, where quick and trendy draping methods reign supreme. Discover the hidden potential of your sarong with a myriad of knotting ideas that will leave everyone around you in awe.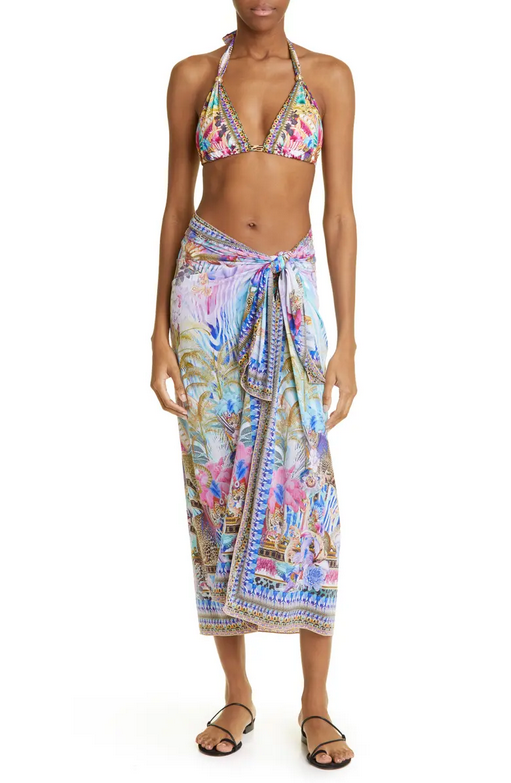 Style Recommendation: The Side-Swept Skirt: Hold your sarong horizontally and wrap it around your waist, securing it with a knot on one side. Take the loose end and bring it around to the front, tucking it into the waistband. This style creates an elegant, side-swept skirt that effortlessly combines comfort and sophistication. This style is perfect for a uniquely patterned pareo.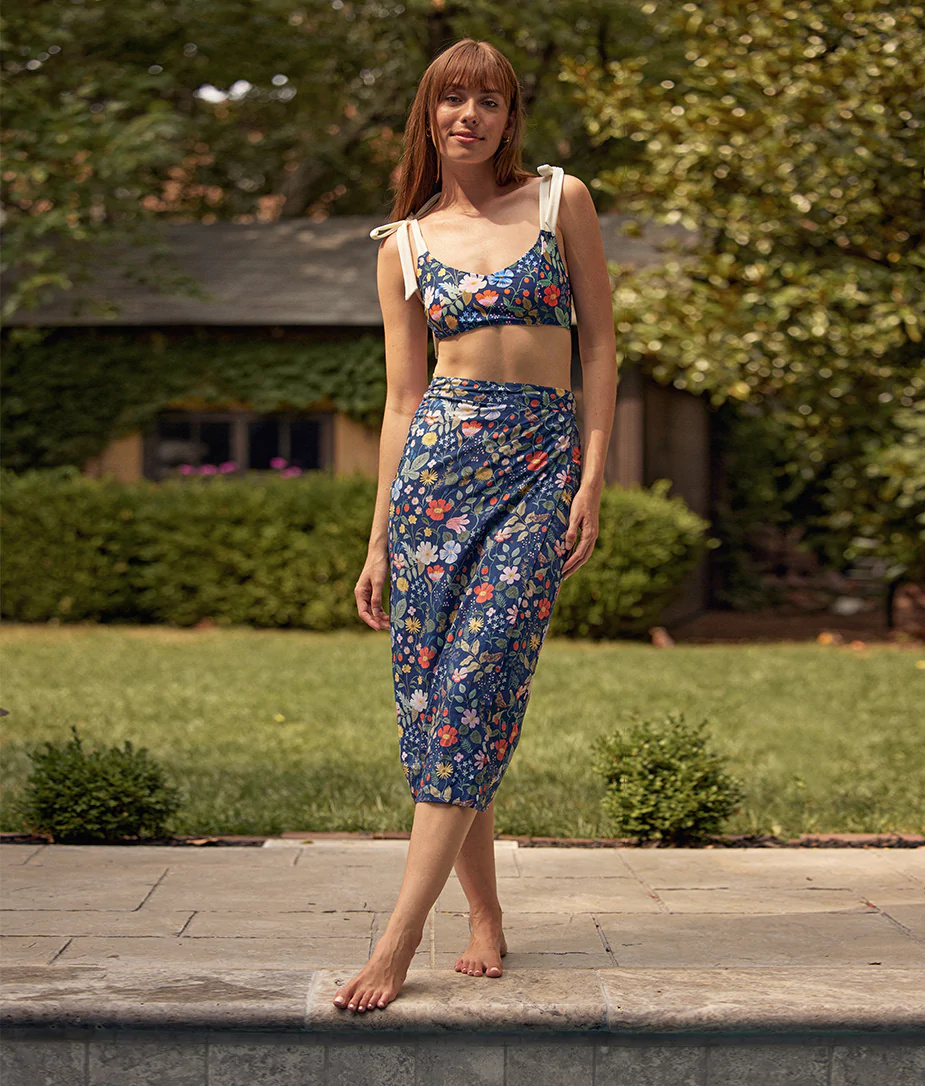 Style Recommendation: The Boho Wrap: Start with the classic wrap style and secure it with a knot. Then, take one end and gather the fabric, twisting it to create a rope-like effect. Wrap it around your waist, incorporating it into the knot. This bohemian-inspired wrap adds a touch of whimsy to your beach ensemble. This style also works beautifully on a non traditional sarong print.
One of the ways to make sure it's tied tight is to use a sarong tie. This is generally an accessory that has two holes that the ends of your sarong slide through, You then tie the ends and it gives a solid base.
This video is a fantastic how-to for different ways to wear a sarong.
Vibrant Prints and Affordable Options
As you embark on your sarong-tying journey, you'll find yourself drawn to the vibrant world of beach fashion. Imagine scrolling through online stores, captivated by colorful printed sarongs, each whispering tales of exotic destinations and carefree days under the sun. And hey, style doesn't have to come at a steep price. Affordable options abound, ensuring that you can indulge in your fashion cravings without breaking the bank.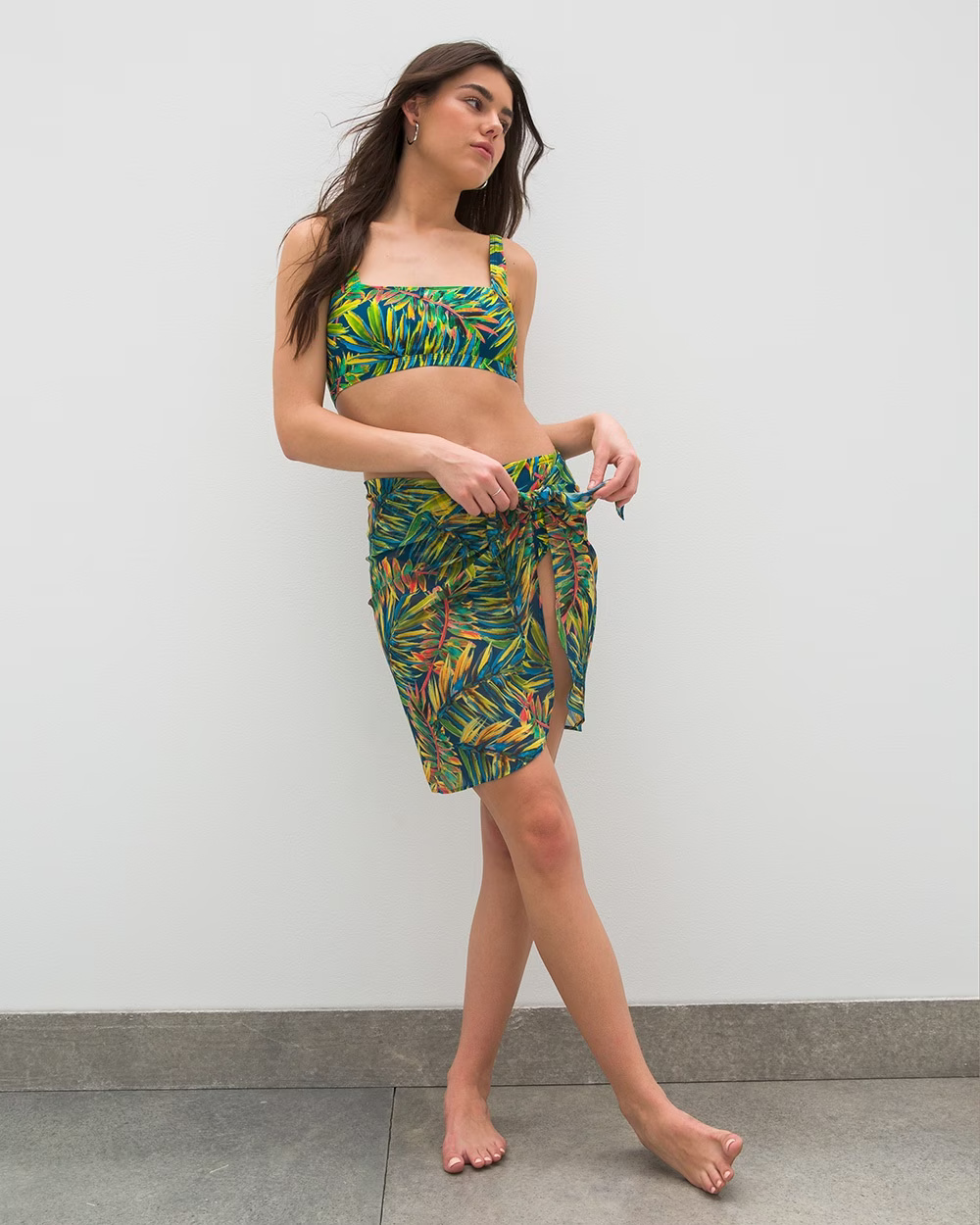 Style Recommendation: Tropical Paradise: Opt for sarongs adorned with lush tropical prints, featuring vibrant flowers and lush foliage. These vibrant patterns exude a sense of wanderlust and bring a touch of paradise to your beach attire. Pair them with a solid-colored bikini or swimsuit for a stunning contrast.
Style Recommendation: Nautical Chic: Channel the essence of coastal charm with sarongs featuring nautical motifs such as stripes, anchors, and sailboats. These timeless prints evoke a sense of seaside elegance and pair perfectly with a white or navy blue bikini. Complete the look with a wide-brimmed straw hat and oversized sunglasses for a touch of sophistication.
Discovering Unique Patterns
As you delve deeper into the realm of sarongs, you'll encounter a treasure trove of popular brands vying for your attention. Each brand brings its own unique flair, offering an array of patterns and designs that cater to your individual taste. Let's take a closer look at a couple of noteworthy brands and their distinctive offerings:
Paradise Prints: Known for their stunning tropical-inspired prints, sarongs and pareos can take you on a visual journey to exotic destinations. They feature bold colors, intricate floral patterns, and lush foliage, instantly transporting you to a tropical paradise. From vibrant hibiscus blooms to serene palm fronds, their designs capture the essence of beachside bliss.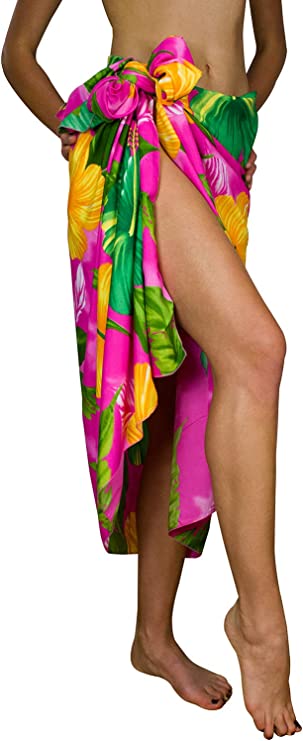 Style Recommendation: Paradise Garden: Choose a sarong adorned with a lush garden of vibrant flowers and tropical plants. Wrap it in the classic style to showcase the intricate patterns or experiment with different draping techniques to highlight specific elements of the design. Pair it with a solid-colored bikini or a simple white linen top for a look that effortlessly blends sophistication and island charm.
Coastal Chic: Embodying the essence of coastal living, why not try a different take on the beachy aesthetic? There's a range of sarongs that celebrate the beauty of the sea. These designs can feature nautical motifs, soft pastel hues, delicate seashell patterns, and even gingham, evoking a sense of tranquil beachside elegance. With Coastal Chic sarongs, you can effortlessly channel the serenity of the ocean wherever you go.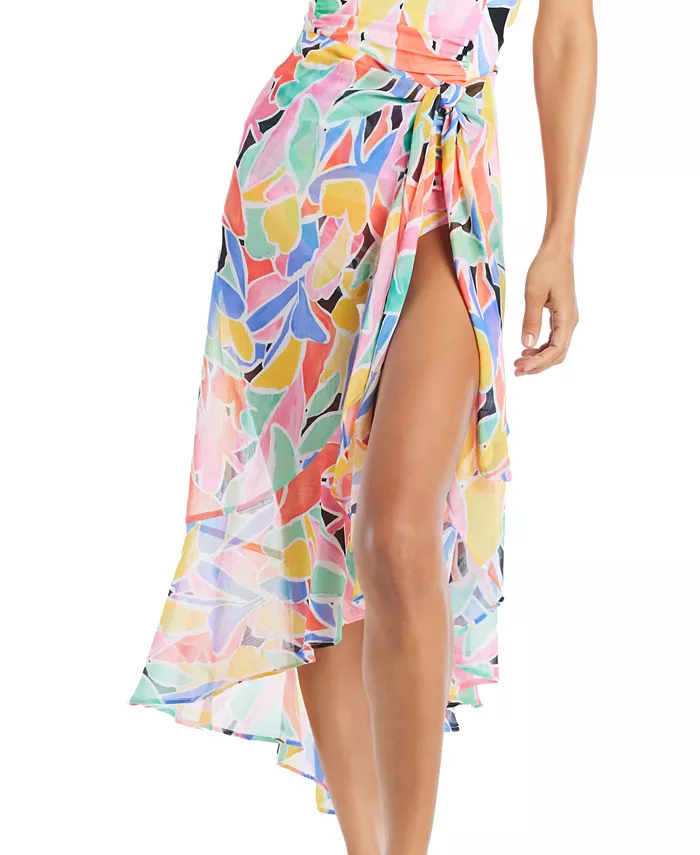 Style Recommendation: Seashell Serenade: Opt for a sarong adorned with intricate seashell patterns in soft pastel tones. This delicate design lends a touch of femininity to your beach ensemble. Wrap it in a halter dress style for a graceful and ethereal look, perfect for seaside cocktails or romantic sunset walks. If you can't find a pastel seashells pareo, look for a sarong that gives those kind of pastel beach vibes.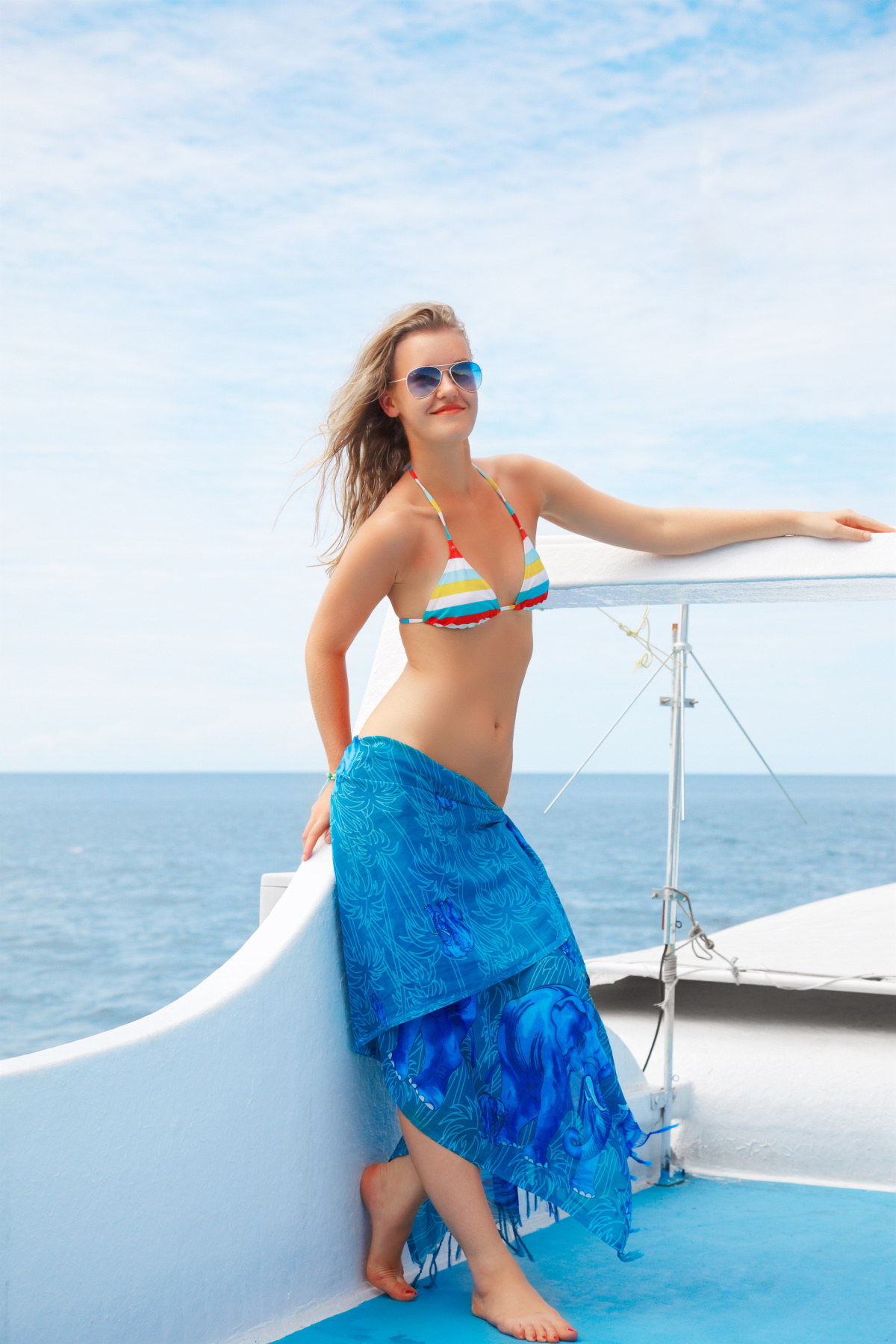 Wrap It Up and Make a Splash
So, my fashion-savvy friend, tie the knot and make a splash on that sandy runway. Embrace the sarong as your artistic canvas, and let the beach be your stage. Unleash your inner fashionista and let the world witness the magic that happens when creativity meets the beauty of a sarong.
Whether you opt for classic wraps or venture into trendy draping techniques, the possibilities are endless. Experiment with different styles, patterns, and prints to find the perfect combination that reflects your unique personality and style. Remember, a sarong is not merely a piece of fabric—it's a fashion statement, an embodiment of carefree elegance, and a symbol of your adventurous spirit.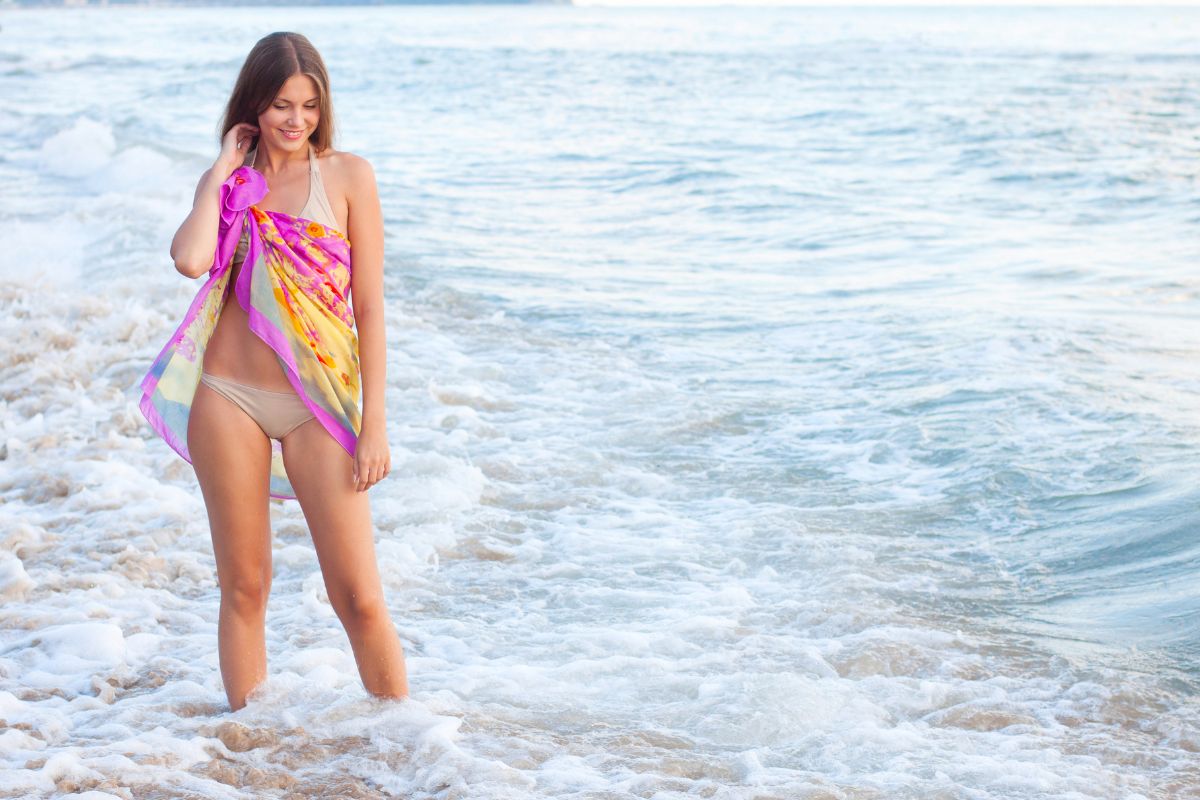 Next time you pack your beach bag, don't forget to include a sarong. Let it be your versatile companion, transforming your beach attire into a showcase of creativity and style. With the right sarong and a little imagination, you'll turn heads and become a trendsetter wherever your summer adventures take you.
Embrace the art of tying a sarong, and let your inner stylist shine. Unleash your creativity, explore vibrant prints, and discover the unique patterns that speak to your soul. The beach is calling, and it's time to make a stylish splash!