Sarongs go by many names. Pareos, lava-lava, mundu, reddi, and lungas are all names for sarongs in various parts of the world.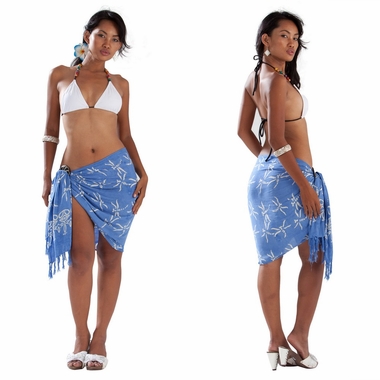 I'm sure you're familiar with sarongs and pareos. During the summer, sarongs are one of my go to pieces. That's mostly because I am a water baby and I love to be at the pool, the lake or the beach. And when you're at the beach, you need a good cover-up for traipsing in and out of the stores or going into a restaurant. Believe it or not, storekeepers aren't always the happiest when you're wandering around in just a swimsuit and flip flops.
How do you incorporate these great, colorful pieces into your everyday closet, though?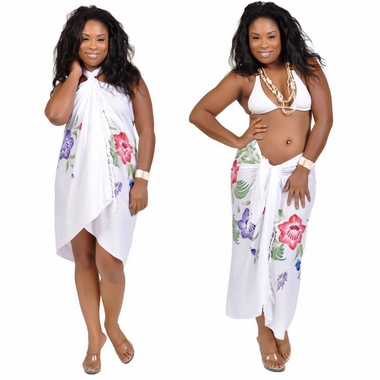 Until the last couple of years, I had always kept sarongs just for beach wear or a cover-up. I don't know why, but it suddenly dawned on me one day that I could wear a sarong as a wrap skirt in my everyday life. It was like an epiphany or something.
One of the things I love about sarongs is the patterns and the fabrics. They're usually hand dyed or hand printed, at least. I also like the fact that they're usually rayon or cotton. Unfortunately, that can lead to slippage.
The one caveat of wearing a sarong as a wrap skirt is that you want to make sure it's fastened really well. Unless you want a wardrobe malfunction. Personally, that's not really my scene, but hey! To each their own. I mean. if your bathing suit cover-up falls off, no one really cares. You just re-do it and keep going. If your skirt fell off at work, that could be really embarrassing.
One of the ways to make sure it's tied tight is to use a sarong tie. This is generally an accessory that has two holes that the ends of your sarong slide through, You then tie the ends and it gives a solid base.
This video is a fantastic how-to for different ways to wear a sarong.
Sarongs and pareos come in all kinds of colors, styles, sizes, and patterns. There is literally something for everyone, no matter your style.