I think I've said this before, but Boho Chic is one of my favorite styles. One of the things that I love about it is that it's almost like anything goes. This Boho Chic outfit is perfect for summer, and is totally on trend.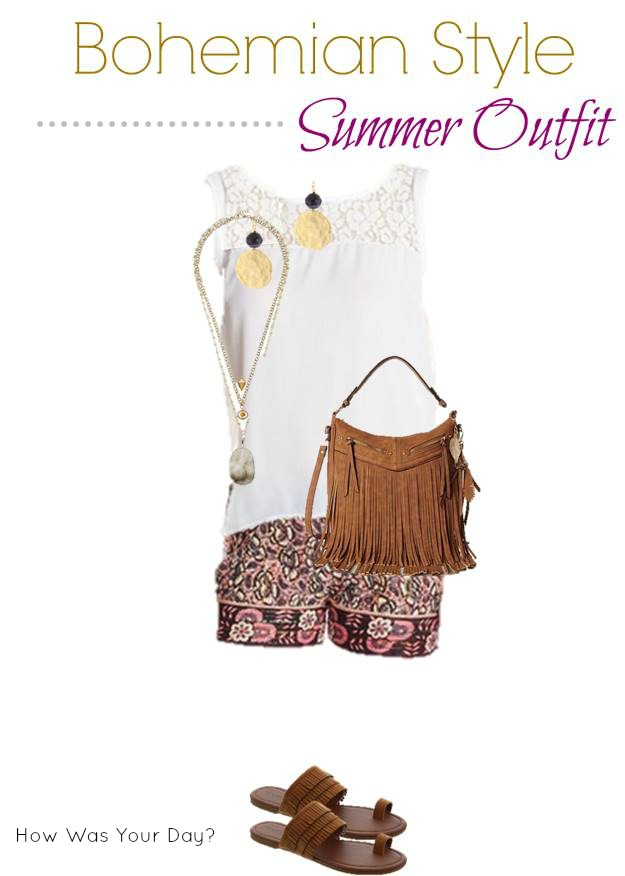 Fringe is huge again this year, and lace is still in style. I also love the multi-layered necklace that's really one piece. Let's face it – we can try to layer jewelry, but a lot of times, it just misses the mark. And shorts! I don't know about you, but I love some cute shorts, and so often a Boho look has either denim cutoffs or a long, flowy skirt. These batik style shorts are oh so bohemian!
This may contain affiliate links. They help support our glitter & cupcake habit, at no cost to you!
Lace Front Sleeveless Blouse ($18) // Printed Shorts ($30) // Fringe Bag ($60) // Layered Drusy Necklace ($45) // Agate & Gold Drop Earrings ($42) // Sandals ($30)
What do you think of this Boho Chic outfit?  Yay or Nay?
For more summer style ideas, visit a few of my favorite blogs: