Happy Fall Y'all! It's hard to believe that autumn is already upon us. One easy and affordable way to celebrate is with this fun DIY Dollar Tree Wreath for fall.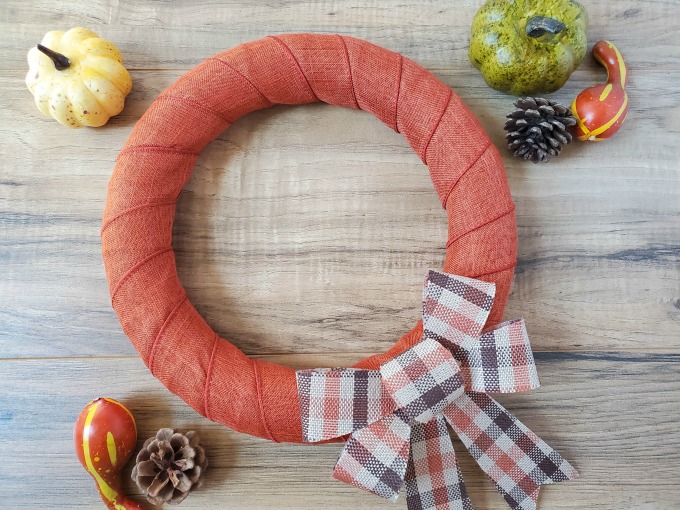 Yes, you read that right. All the supplies for this great DIY fall wreath came from Dollar Tree. And the total is under $5. FIVE BUCKS!!!
Links may be commissioned.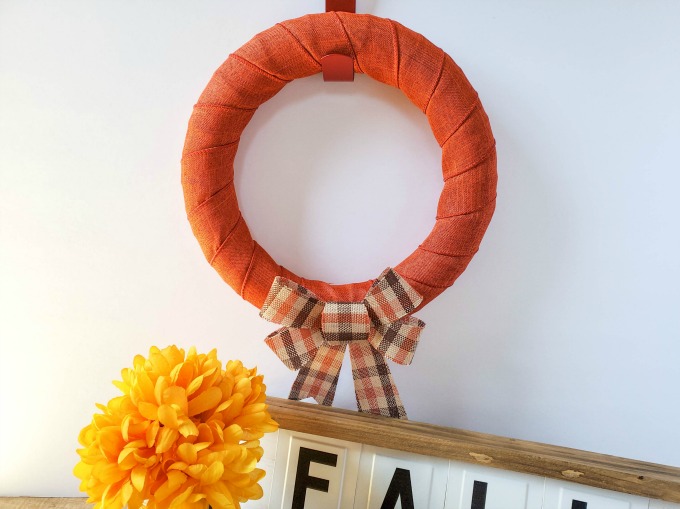 What better way is there to ring in Autumn than with some great new traditions. Bake some delicious Pumpkin Spice cookies. Decorate your mantel for the new season. Update your porch decorations. Make a new wreath for your front door, or one of your interior doors.
How to Make a DIY Dollar Tree Wreath for Fall
Not only is this DIY Dollar Tree fall wreath affordable, it's easy to make too. You can make your own autumn wreath in about half an hour. And it's going to look fantastic. One of the secrets to the whole project is using pre-made bows. While yes, you could make your own bow, if you're skilled at that kind of thing, a pre-made bow is $1 and it's already done. I call that a win.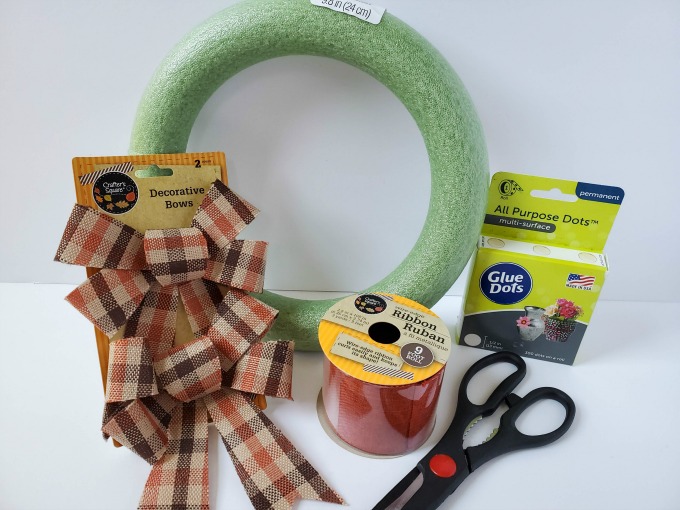 Supplies Needed
Again, these all came from Dollar Tree, except the Glue Dots.
Orange burlap ribbon. If you purchase from Dollar Tree, you might want two rolls, just to be sure you have enough.
Scissors
Directions
Apply glue dots to one end of the ribbon, and attach to wreath form. You can also use a pin for extra security.
2. Wrap your ribbon around the wreath form, overlapping slightly. Work your way all around the wreath form, making sure to work out any wrinkles or bubbles.
3. Once you get back to your starting point, overlap the ribbon in the back, cut your ribbon, and apply glue dots to secure in place.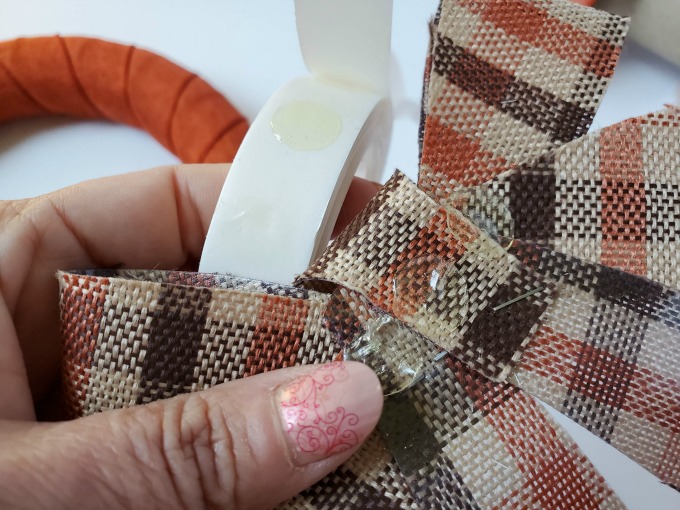 4. Flip wreath over to the front, apply glue dots to the bow and attach to the front of the ribbon that you ended on. The bow will cover the imperfection of the last wrap with ribbon
5. Before you glue the bow on, make sure that you've oriented the bow to hang down. We have ours located at the bottom of the wreath, but you could also do the top. Just position the bow correctly for the look you're going for.
Voila! Your new DIY Dollar Tree wreath is complete. Use a wreath hanger to hang it up. If you don't have one, there are a ton of other options to hang your wreath, as well. Add a length of twine, small rope, or even some pretty organza ribbon to hang it.
Isn't that easy to make? Even a novice, or someone that thinks they have no crafting skills can make this simple and easy DIY Dollar Tree wreath, It's also a great project to make with kids, as it's so affordable, and they'll have a great finished project to take home, or gift someone.