It's that great time of year where you're not quite sure what to do with your entryway. This Buffalo Plaid Farmhouse porch vignette to the rescue! Maybe the Halloween stuff needs to come down, but it may be a little too early for Christmas. And do you really want to put fall back up? Especially since the trees have mostly shed their leaves already.
Never fear! We have a solution. This Farmhouse Decor option is great for any time of year. But it's especially great for right now, and will carry you through Thanksgiving and the beginning of December. And honestly, it would be great for the winter too.
This entryway decor features Buffalo Plaid which is such a hot trend in both fashion and home decor right now. So you'll be right on trend, and the envy of the neighborhood.
Almost all of these items came from Amazon, and most have free prime shipping. Know what that means, right?? With free 2-day shipping, you could be redoing your entryway in time for the weekend. Links may be commissioned.
1 Fall Farmhouse Grapevine Wreath – How great is this wreath? This 24 inch wreath has faux lamb's ears, small white pumpkins, and lots of buffalo plaid. It's perfect for a front door.
2 Pair of Artificial Boxwood Topiary Trees – These are perfect to flank your front door with class and elegance. People will think you're all hoity toity when you put these faux topiary trees out. Little do they know they're so affordable!
3 Barnyard Wood Rustic Lantern – This gorgeous lantern is a statement piece that will also light your outdoor area. You can hang it with the rope handle or let it sit on a flat surface. It's slightly different than the one in the photo, but has a very similar feel. These lanterns are another option.
4 Classic Black Urn Planters – You'll need two of these planters. These are the perfect planters to pair with your topiary trees. It gives them a little more height, and finishes the look perfectly. So chic.
5 White Resin Pumpkin – Pumpkins and gourds are a sign of cooler weather. These white pumpkins are so elegant, and look fabulous in any kind of chic setting. This would also be great indoors for Thanksgiving.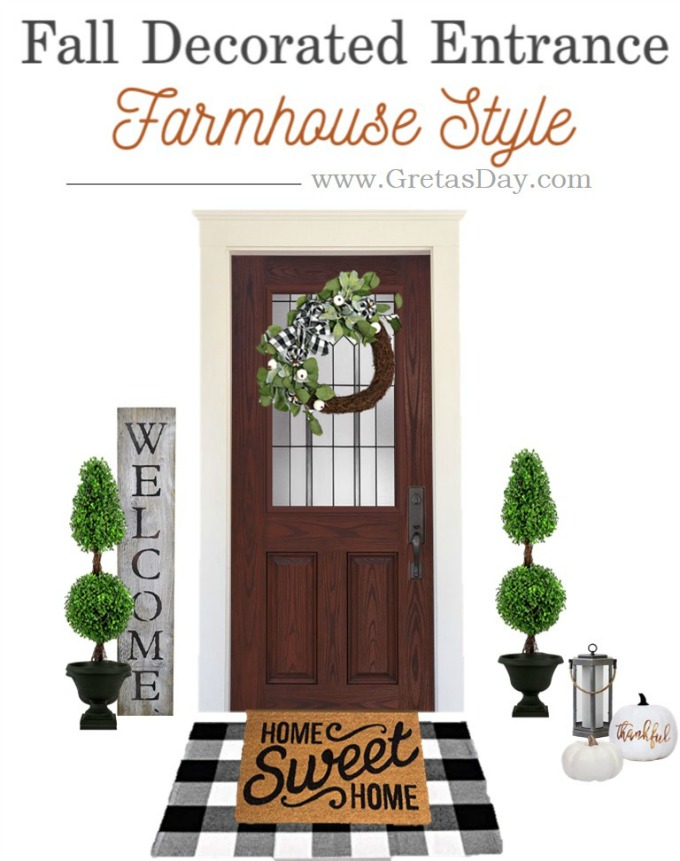 6 Thankful White Pumpkin – Showcase how you're feeling this season. These pumpkins have been showing up in all the high end decor stores around me, and this is an amazing price for one. The Thankful white pumpkin is also a great Thanksgiving centerpiece. The one in the photo is sold out, but this is a great option!
7 Buffalo Check Doormat/Rug – This is a fantastic rug at an amazing price. It is cotton, so you'll want to make sure it gets dried out if you're keeping it outdoors. You might also want a rug backing, as it doesn't have a no slip back. But, you might want a couple of these rugs for different areas in your home. Especially for less than $20.
8 Home Sweet Home Indoor/Outdoor Door Mat – With the ever changing weather, you definitely need to have a doormat. This one is perfect for all feet wiping needs, plus it's adorable.
9 Welcome Barnwood Reclaimed Sign – It's the perfect sign for greeting people, and an ideal finishing touch. These are handmade in the USA, too. At 5 ft tall, it's a definite statement piece. This is probably a piece that you'll keep up year round.
See how easy that is? There's not even a lot of elbow grease involved here. The heavy lifting of design and decor is already done.