Buffalo plaid is still having a moment.You can find pieces in everything from home decor to personal style to even ceramic tile. The best part is that buffalo plaid style fits with a myriad of styles and aesthetics.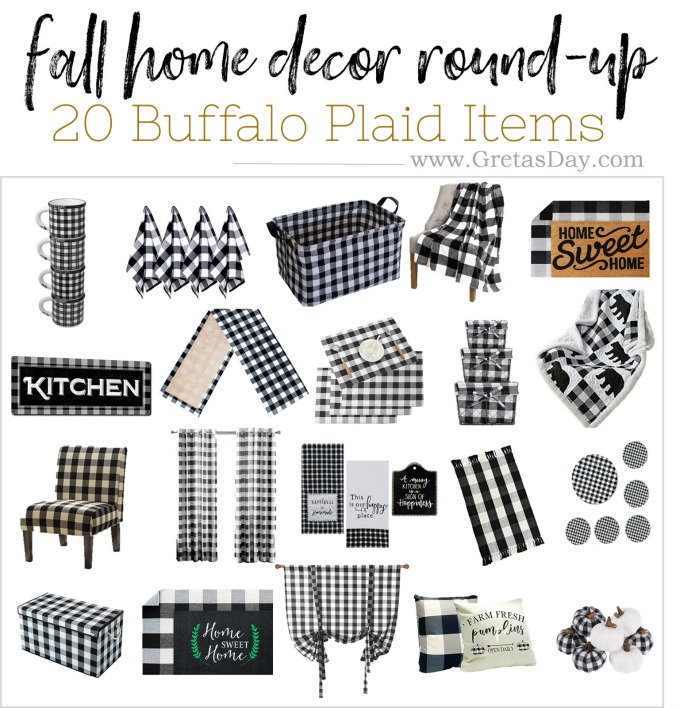 While we generally consider Buffalo Plaid Style to fit with rustic decor or Modern Farmhouse it truly can fit in anywhere, when well done. It's especially great on a front porch or entryway.
Buffalo Plaid Style Home Decor Finds
Links may be commissioned.
These buffalo plaid style home decor items are all available from Amazon, and most have free Prime shipping. That means you could update your home before the holidays, or when you find out people will be visiting.
1 Set of 4 Black & White Plaid Enamel-Look Coffee Mugs – Start the morning in style with these attractive, old school mugs. Their retro camping look and plaid print add some classic cool to your morning.
2 Aneco 4 Pack Check Plaid Dish Towels – These check plaid dish towels add a little personality to any kitchen with a classic design that adds a bold pop to any kitchen decor. This black and white color scheme is simple and goes with almost any style.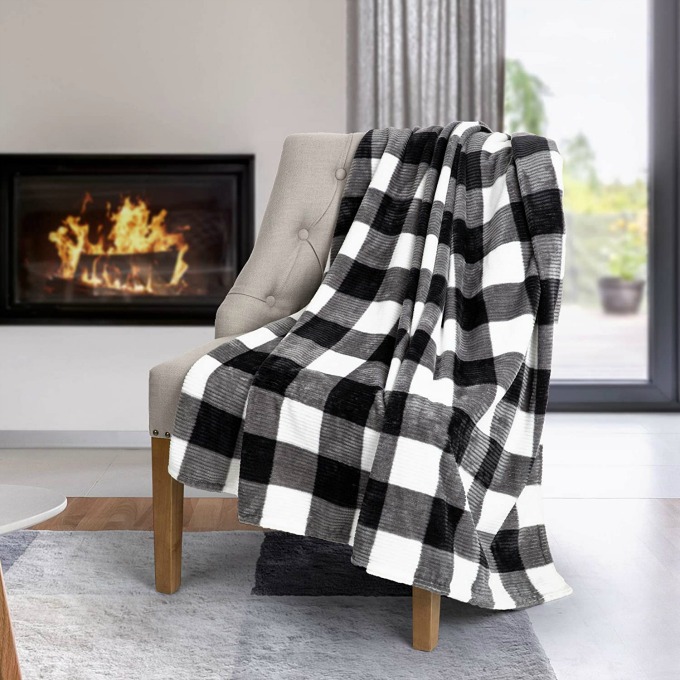 3 Safdie & Co. Flannel Printed Ribbed 50×60 White Plaid Ultra Soft Throw – Whether you use it to cuddle up for some Netflix or as a splash of bold, geometric design in a classic color to a room, this throw adds some Buffalo plaid style to any room.
4 KUNRO Rectangular Canvas Storage Bin Waterproof Toy Organizer – Stay organized and stylish with this black and white plaid piece. It's waterproof, so it's perfect for the kiddos and any messes they might create.
5 Sierra Concepts Pure Coco Coir Front Door Welcome Mat Outdoor Rug – A classic welcome mat that pairs perfectly with any home exterior, this beautiful Sierra Concepts welcome mat gives visitors a warm welcome with a modern style.
6 Kitchen, Buffalo Plaid 6 x 16 Inch Metal Sign – If rustic kitchens are your thing, you can beat the Buffalo plaid style that accents this metal "Kitchen" sign. It adds a bold touch with a great farmhouse vibe.
7 Senneny Christmas Table Runner Burlap & Cotton Black White Plaid – This classic reversible table runner is perfect for any decor. Take the plaid to the max with its all-plaid side or tone it down with the reverse side which features a burlap body and plaid edging.
8 Nobildonna 18″x13″ Plaid Checkered Placemats – These plaid placemats are classic, bold, and always a stylish choice. Pair them with light or neutral color schemes for a great look.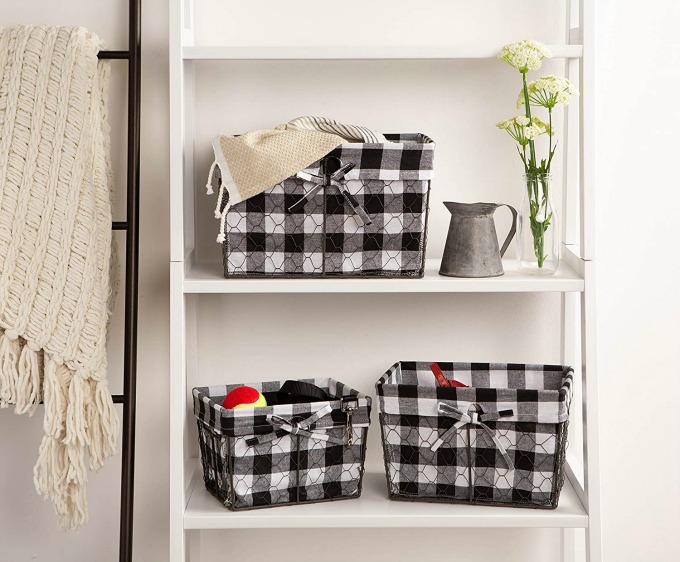 9 DII Vintage Chicken Wire Baskets for Storage Removable Fabric Liner – Stay organized and stylish with these chicken wire baskets. The removable fabric liner makes them easy to care for, and they add a vintage touch to any decor.
10 Virah Bella Buffalo Plaid Black Quilted Sherpa Throw Blanket – Plaid adds a nice geometric element, but what else is plaid famous for? That's right: warmth. This quilted sherpa throw has that great Buffalo plaid style we love, and it's welcomingly cozy on a cold day.
11 Christopher Knight Home Kendal Traditional Upholstered Accent Chair – Perfect for a bold accent in a modern/chic or traditional home or as a man cave piece, the classic color and design of this chair are perfect for many different looks.
12 DriftAway Buffalo Checker Pattern Lined Thermal Insulated Blackout Curtains – Get great sleep and a pop of plaid with these blackout curtains. They're lined to block out the sun, and their plaid look adds a vintage touch to any room.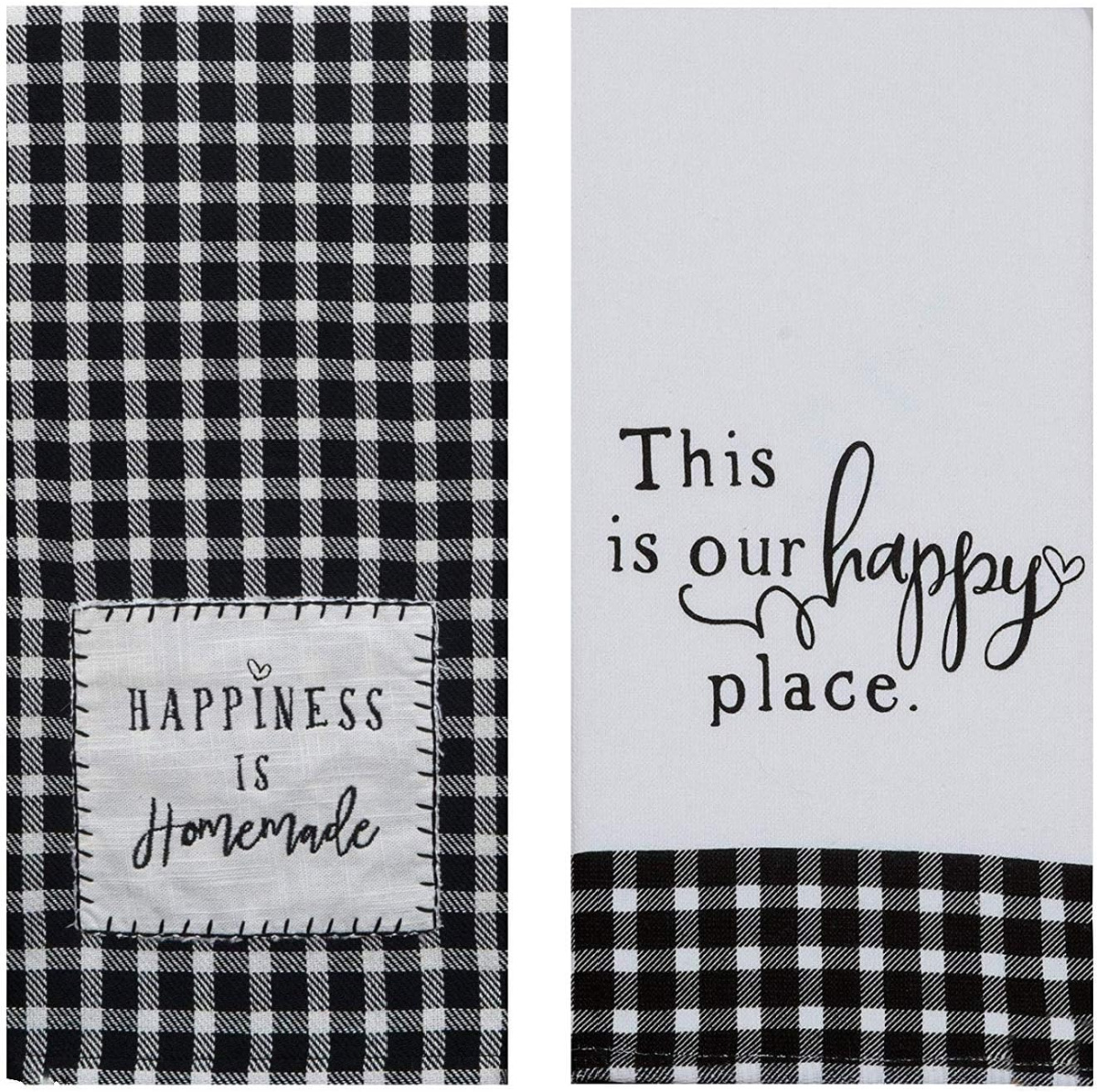 13 18TH STREET GIFTS Farmhouse Kitchen Towels Set – These kitchen towels have that great Buffalo plaid style we love, and they carry their weight in the kitchen. They're super absorbent, and they just look great.
14 Buffalo Check Rug Woven Farmhouse Kitchen Rug – Keep your modern or farmhouse kitchen design interesting with the classic look of this farmhouse kitchen rug. It's washable, so you can easily clean it after any spills, and the non-skid mat means that YOU won't spill.
15 Buffalo Plaid Round 13 Inch Charger Plates – Add some farmhouse flair to your table setting with these classic charger plates. They're a beautiful statement on any table.
16 Sweet Jojo X-Large 30-inch Toy Storage Chest – This toy chest adds a touch of classic chic to any child's room. The traditional Buffalo plaid style is beautiful and pairs well with a variety of home decor looks.
17 2 Piece Coco Coir Door Mat Combo Set – This welcome mat is perfect for any home. Its multi-layered design allows for a variety of looks. Use the plain plaid mat, the welcome mat, or both.
18 Hiasan Buffalo Check Tie Up Curtains for Windows – From farmhouse and country and even modern, these tie-up curtains add a bold punch to any home decor style.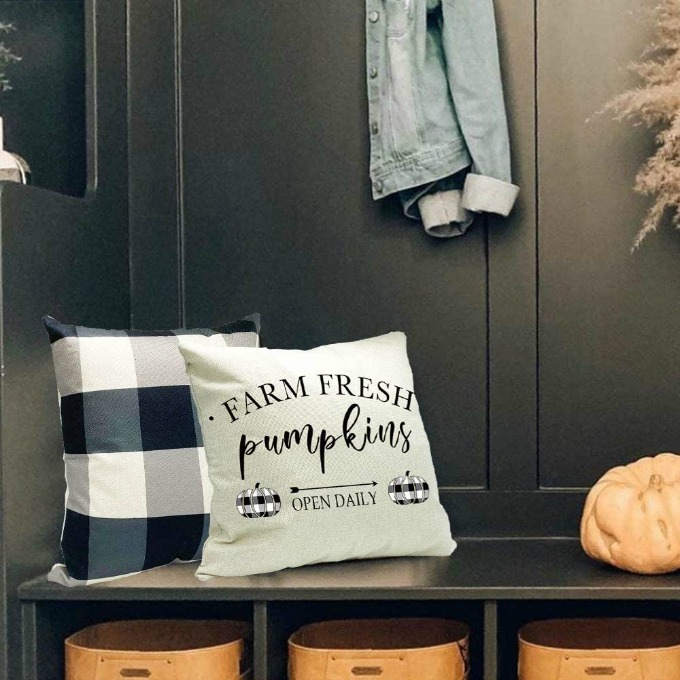 19 Fall Pillow Covers 18×18 Inch –Double Printed Buffalo Check – These double-sided pillows give you the choice of going full plaid or keeping it more low key with a side that has "Farm Fresh Pumpkins" and two plaid pumpkins printed on it. They're great for flexible layering looks.
20 Set of 12 Buffalo Check Black/White Pumpkins – Add some fall flair to your home decor with this set of decorative Buffalo plaid, black, and white pumpkins. They're perfect for making a bold Fall splash in your home.
Aren't these great Buffalo Plaid style finds? Are you ready to update your living space yet?