Fall is officially here this week. Can you believe it?!? We're celebrating with this great fall front door decor that will let everyone know you're in the spirit.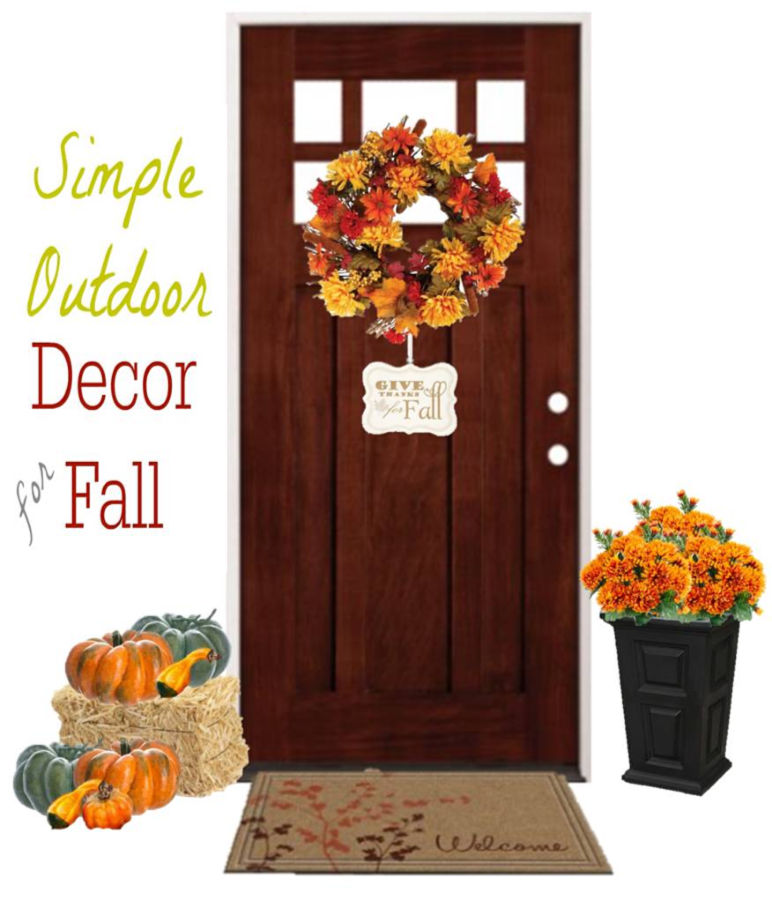 You can decorate the entry way to your home, even if you think you can't. It's so easy. Besides, your mantel isn't the only thing that could use that fall touch.
All of these items are available on Amazon, and most have prime shipping. You know what that means!  You could have your door decorated by the weekend. Awww yeah… Links may be commissioned. They help support our site at no additional cost to you.
Fabulous Fall Entry Way Door Decor
24 Inch Tall Black Planter – This comes as a set of two. If you have double doors, or a wide entry, that will look really grand with a planter on each side. If not, just use one planter, as we did in the photos.
Straw Bales – These are the perfect fall accent. You'll want the larger sized ones. Now, you can probably go down to your local garden center or farm supply and get a couple bales of hay or straw for $10-ish. And yes, almost everywhere has a farm or feed store. You just have to look for it.
Decorative Pumpkins – Pumpkins are essential to fall decor. These are realistic looking, and kind of fun. You'll want to pick up two or three of them.
Teal Pumpkins  – These add such a great touch of modernity to your fall decor display. Pick up two of 'em.
White Pumpkins – I also really like these white pumpkins, and they work with either the teal or the orange, for something different.
If you wanted to go a little more rustic-farmhouse, these white pumpkins and this set of two wood carved pumpkins are both great options.
Mum Bush – Mums are the quintessential flower for autumn. I really love the orange color, but the cream or the dark purple would be beautiful as well. You'll want to pick up 3-4 stems of these.  You'll probably want to grab some dry floral foam, too.
Give Thanks for Fall Hanging Plaque – It's a great reminder, and looks cute hanging below the wreath.
18 inch Mum Wreath – So pretty and gorgeous. And it just screams autumn. You'll reach for this one year after year.
Hello Fall Welcome Mat – It's different than the one shown, but so on point for the season. And if you leave it out a little past the season, or use it in summer, it's not that noticeable. *ahem*
See? You, too, can have a really gorgeous entryway with just a little work. Don't forget about decorating your mantle or a great fall printable, too.