Who doesn't love cookies? Not me, that's for sure. These Halloween Cookie Sandwiches feel so special and ready for any party you're attending, but aren't difficult to make.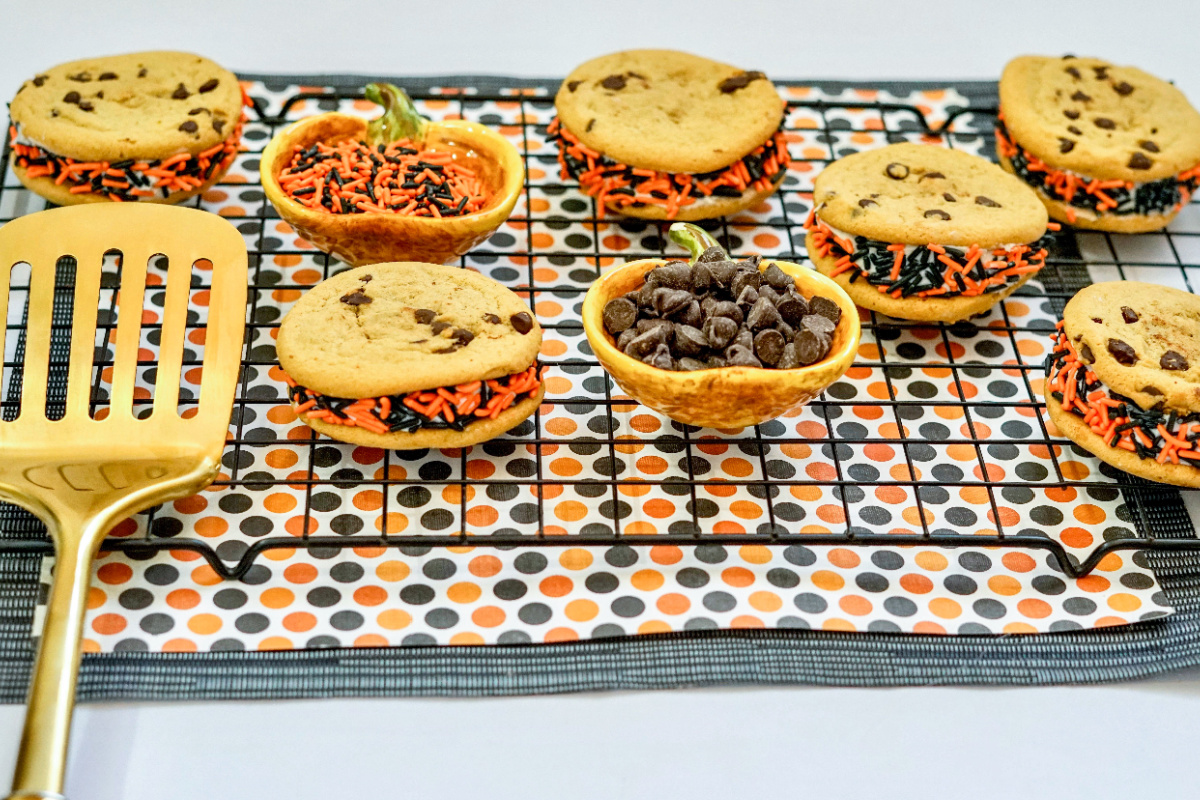 These start with an ooey gooey homemade chocolate chip cookie. Yes, these Halloween cookie sandwiches are made from scratch!
One thing you have to remember when making these Halloween treats is that you need two cookies for each sandwich. So, if you want 12 sandwiches, make at least 24 cookies. Because you have to test a cookie, you know. To make sure it's not poisoned or anything.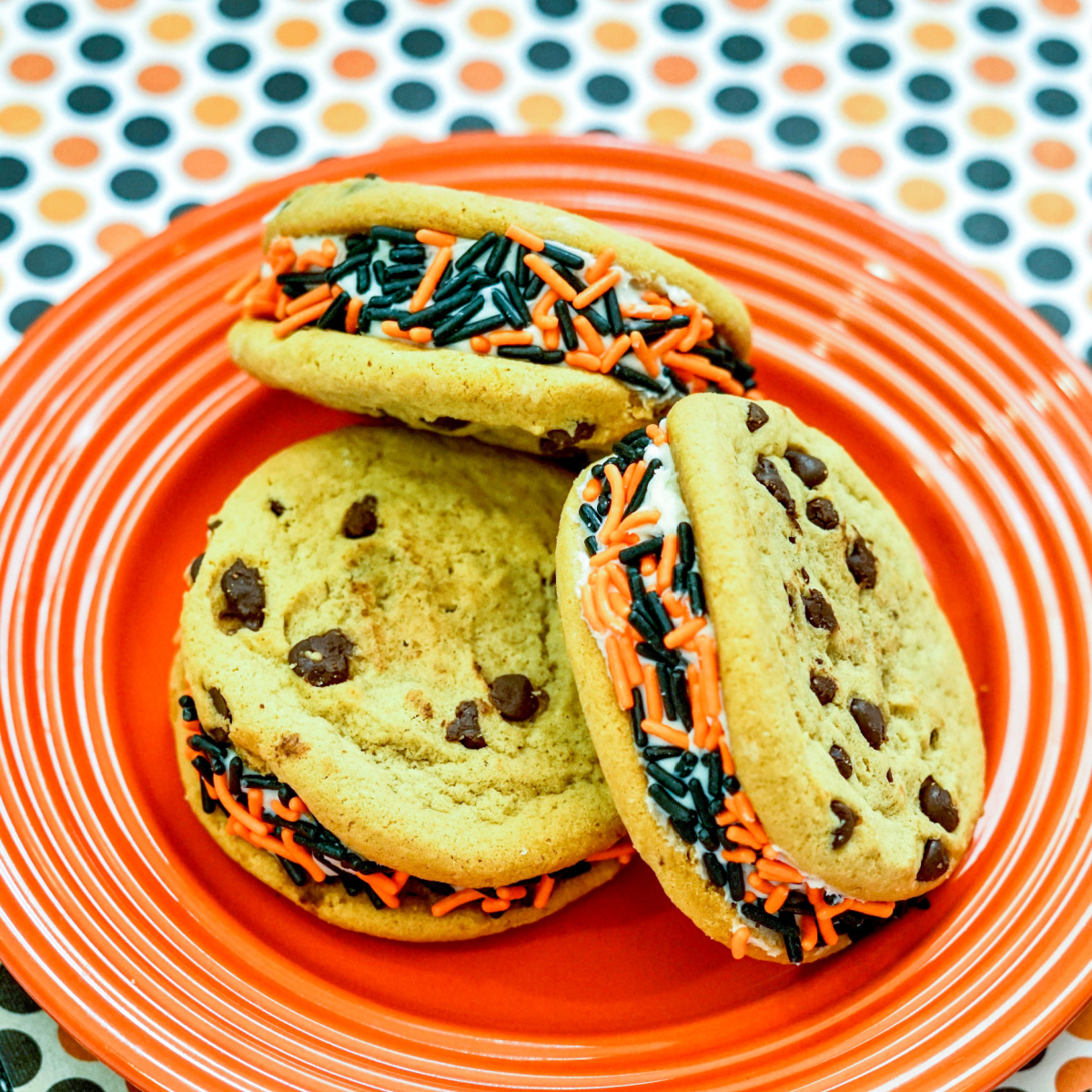 If you're making these Halloween Cookie Sandwiches for a crowd, you'll probably have to make the cookies in batches. But that's okay, too!
Halloween Cookie Sandwiches Recipe
Links may be commissioned.
There are a few tips and tricks that lead to making nearly flawless cookies. One is a small ice cream scoop. This helps keep your cookies a uniform size. You'll also want some parchment paper or a non stick silicone sheet. A couple good cookie sheets are also great tools to have.
Halloween Cookie Sandwiches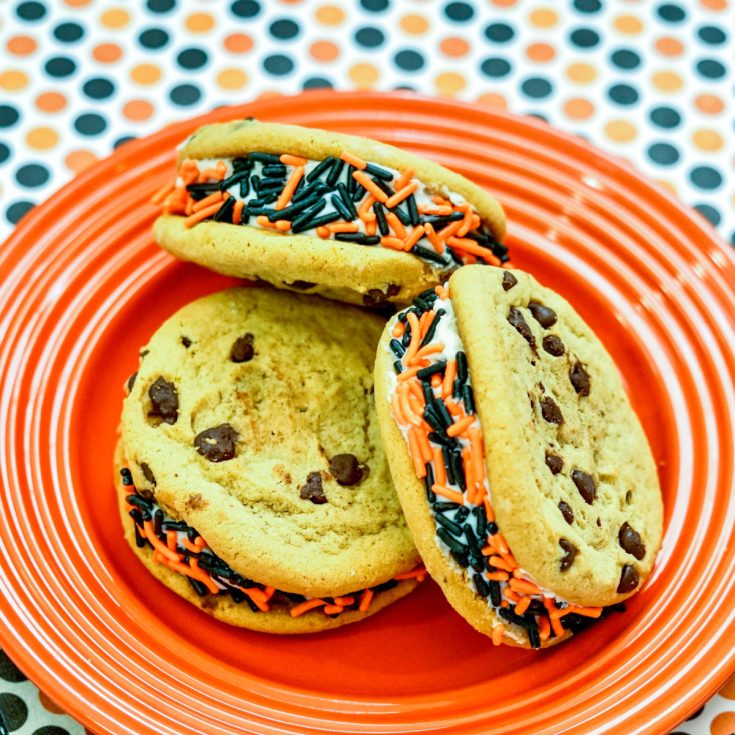 Ingredients
1 1/2 Cups All Purpose Flour
1/4 Cup Brown Sugar
1/2 Cup Butter (Room Temperature)
1/2 Cup Sugar
1 Egg
1/4 Cup Chocolate Chips
1/2 Teaspoon Baking Soda
1/2 Teaspoon Salt
1 Tbs Vanilla
Frosting
Sprinkles
Instructions
Preheat oven to 350 degrees.
In a mixing bowl, add flour, baking soda & salt. Set aside.
In another large mixing bowl, combine brown sugar, sugar & butter.
Add an egg and vanilla to the sugar butter mix and combine well.
Slowly add flour mixture to wet ingredients.
Stir in chocolate chips.
Make into tablespoon sized balls and place on a nonstick cookie sheet or a parchment paper lined pan. Use a spoon to slightly flatten.
Bake for 10-12 minutes.
Remove from oven. Place on cooling rack.
Once cookies have cooled, spread frosting on the inside of every other cookie.
Place a cookie on top to make a cookie sandwich.
Roll the cookies on their edge through the sprinkles. Add a few more sprinkles with a spoon or your fingers if they're not sticking well.
Serve & enjoy.
See how simple these Halloween cookie sandwiches are? So fun and festive, semi-homemade, and really fairly easy. Check out our Zombie Pudding, too!