Looking for a salad that not only tantalizes your taste buds but also adds a touch of sophistication to your summer meals?Look no further than our Wilted Spinach Salad with Hot Bacon Dressing.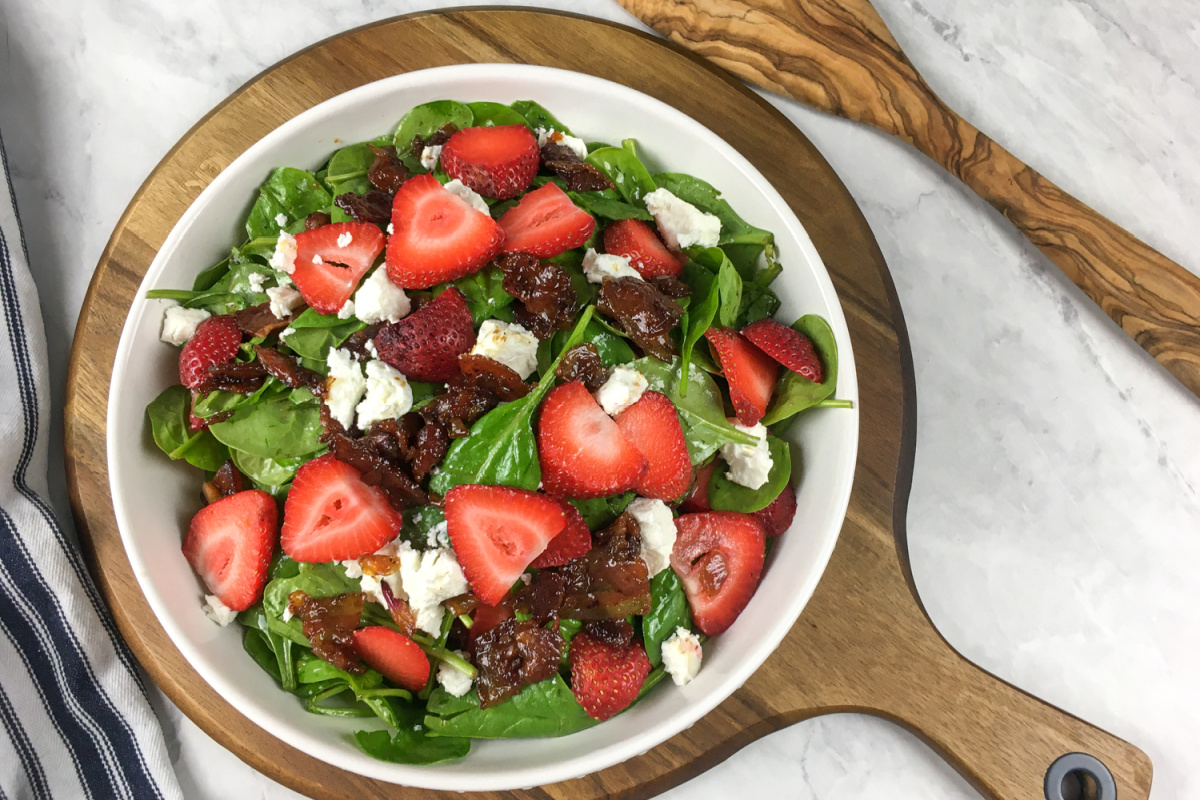 The Wilted Spinach Salad with Hot Bacon Dressing is a culinary masterpiece that brings together the vibrant freshness of baby spinach, the juicy sweetness of fresh strawberries, and the richness of goat cheese. To top it all off, a luscious Hot Bacon Dressing infuses the salad with a perfect blend of sweet and savory flavors.
Wilted Spinach Salad with Hot Bacon Dressing
Links may be commissioned.
Hot Bacon Dressing Ingredients:
6 slices thick-cut bacon, cut into 1" pieces
½ c. red onion, diced small
¼ c. red wine vinegar
2 t. honey, preferably local
½ t. Dijon mustard
¼ c. extra virgin olive oil
Sea salt and black pepper, to taste
Salad Ingredients:
4 c. baby spinach, rinsed and patted dry
8-10 large fresh strawberries, sliced
4 oz. goat cheese, crumbled
Sea salt and black pepper to taste
Instructions:
Start by adding the bacon to a large skillet over medium heat. Cook it, stirring frequently, until it becomes crispy, which should take around 10 minutes. Use a slotted spatula to transfer the cooked bacon to a plate lined with paper towels, and set it aside after blotting excess grease.
Drain all but one tablespoon of bacon grease from the skillet and return it to the heat. Add the diced red onion and cook, stirring occasionally, until it becomes soft and slightly caramelized, approximately 4-5 minutes.
Now, add the red wine vinegar, honey, and Dijon mustard to the skillet with the cooked onions. Season the mixture with salt and black pepper to taste. Stir everything together and cook it, stirring constantly, until the flavors meld and the dressing is heated through, which should take about 2 minutes.
Reduce the heat to low and stir the cooked bacon and extra virgin olive oil into the skillet until they combine into a deliciously savory dressing. Let the dressing simmer on low heat while you prepare the salad.
In a large mixing bowl, combine the baby spinach, sliced strawberries, and crumbled goat cheese.
Pour the hot bacon dressing over the salad ingredients in the mixing bowl and toss everything together gently to ensure the dressing coats the greens evenly.
Transfer the prepared Wilted Spinach Salad with Hot Bacon Dressing to a large serving platter or individual chilled plates.
Serve the salad immediately and savor the wonderful combination of flavors and textures with each mouthful.
Other Salad Goodness:
Tossed Asian Salad with Wasabi Vinaigrette: The combination of tender baby spinach and cole slaw mix, along with the bite from the wasabi dressing makes this salad something really different and unique.
Spinach Gorgonzola Salad with Raspberry Vinaigrette Dressing: Tart raspberries and sharp creamy Gorgonzola play nicely in this delicious salad that's perfect as a starter or as a meal.
Mexican Chopped Salad with Creamy Avocado Dressing: I love a good chopped salad, and to be honest, this is a great one. Tomatoes, peppers. beans, fresh grilled corn, and topped with a zesty Lime Avocado dressing. Add some grilled shrimp and a little cotija cheese for something really special.
Conclusion:
Indulge in the culinary wonder that is the Wilted Spinach Salad with Hot Bacon Dressing and treat yourself to an extraordinary blend of flavors. Whether you enjoy it as a stand-alone dish or pair it with grilled chicken, a refreshing mocktail, or even some mouthwatering garlic bread, this salad is sure to be the star of your summer feasts. Impress your guests, elevate your dining experience, and relish the magic of summer with this exquisite salad. Happy feasting!