If you're looking for a delightful and refreshing drink to beat the summer heat, look no further. I've got a fantastic recipe that combines the juicy sweetness of dark cherries with the invigorating essence of fresh mint – introducing the Dark Cherry Mint Fizz.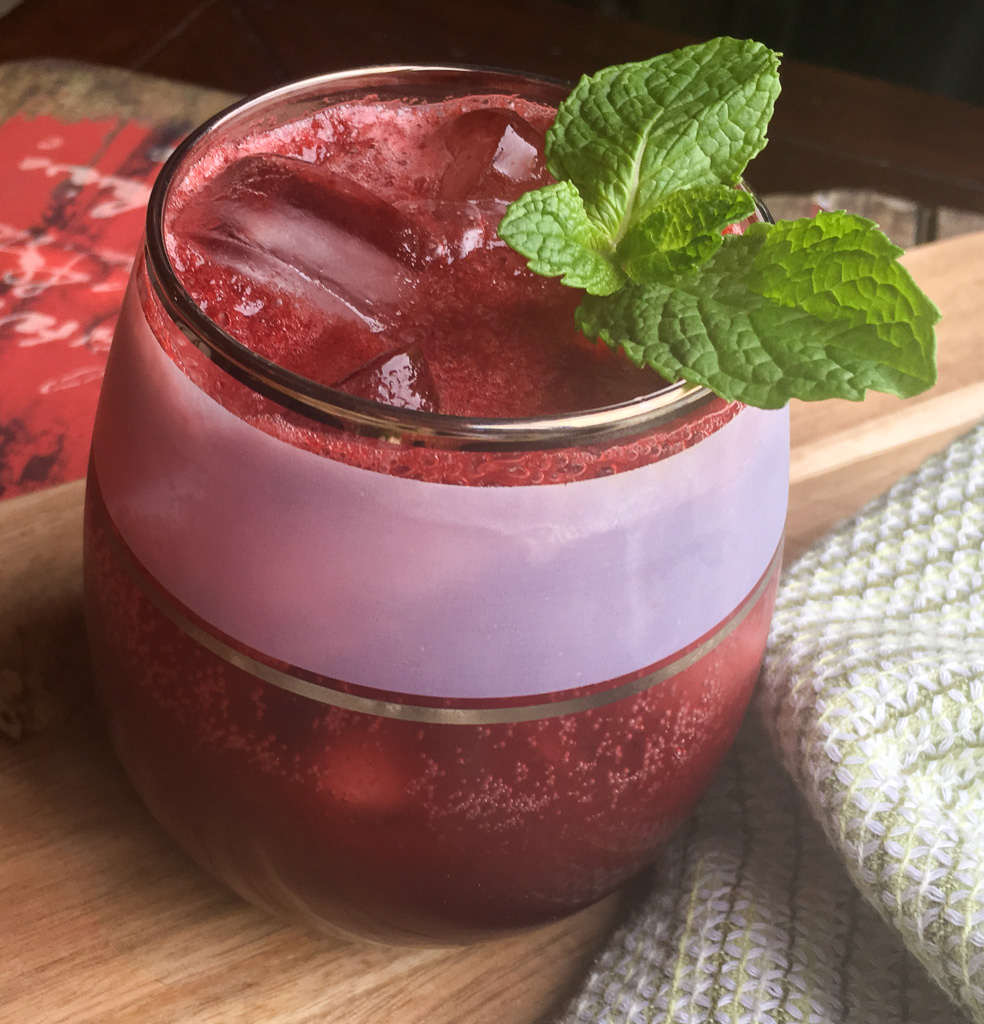 This fizzy concoction is not only mouthwatering but also super easy to make. So, let's grab our cocktail shakers and get mixing.
Links may be commissioned.
Just kidding, you won't even need a cocktail shaker to make this Cherry Mint Fizz.
What You'll Need to Make the Dark Cherry Mint Fizz:
2 cups dark cherries, pitted (you can use either fresh or frozen cherries, depending on what's available)
2 tablespoons honey (for that natural sweetness)
1 cup water (to help cook the cherries)
¼ cup fresh lime juice (for a zesty twist)
1 cup fresh mint leaves (make sure to wash and pat them dry before using)
2 cups club soda (for that effervescent kick)
4 ounces gin (optional but highly recommended for a boozy twist)
Let's Get Mixing
First, let's prep those cherries. Combine the dark cherries, honey, and water in a small saucepan over medium heat. Stir it frequently and let it cook for about 4-5 minutes until the cherries become juicy and release their luscious flavors.
Once the mixture is warmed through and slightly bubbly, remove it from the heat. Now, it's blending time! Transfer the cherry mixture to a blender or food processor and blend away until you get a smooth and tantalizing concoction. Pour this ruby-red goodness into a pitcher and let it cool down for about 10-15 minutes at room temperature.
While your cherry mixture cools, squeeze in that zesty touch! Add the fresh lime juice and torn mint leaves to the pitcher. Give it a good stir to combine all the flavors, and then pop the pitcher into the fridge to let the flavors mingle and chill out until you're ready to serve.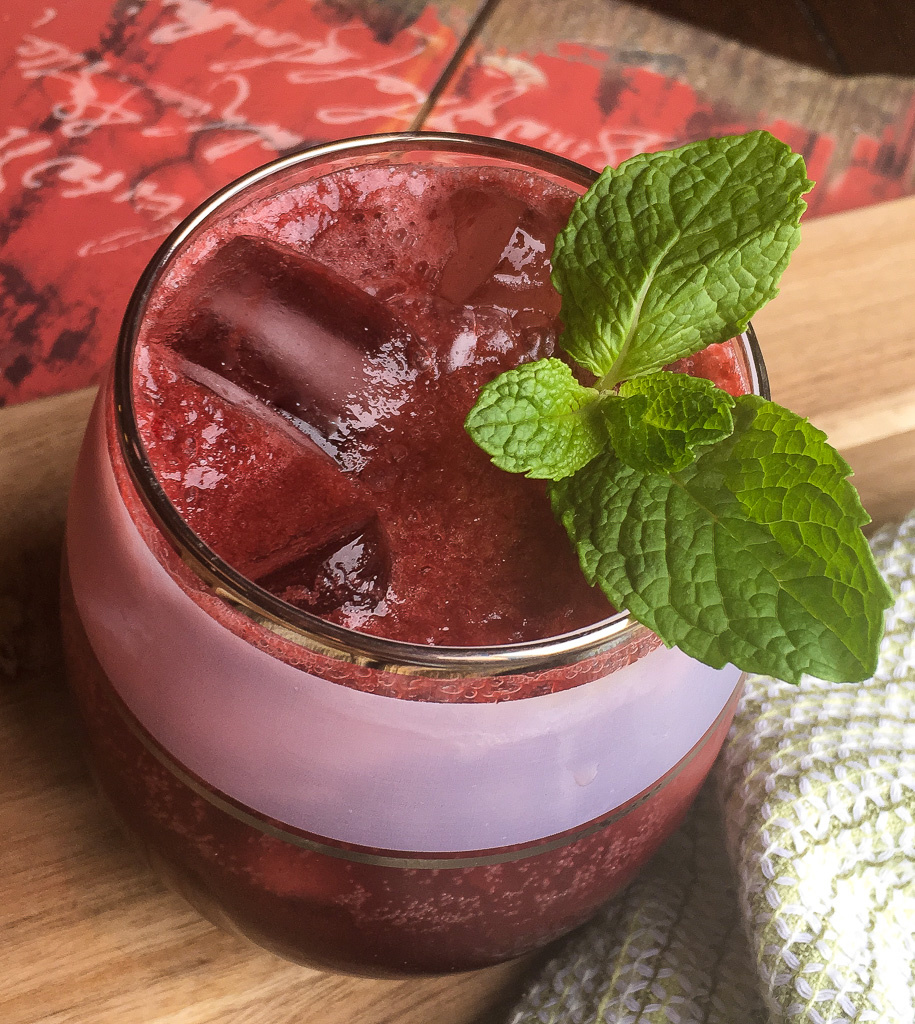 Making the Magic Happen: Assembling the Dark Cherry Mint Fizz
Now comes the fun part – the final assembly. Grab your fancy cocktail glasses and fill them with ice. For each glass, add ¼ cup of the prepared dark cherry mixture. Feeling a bit bubbly? Add ½ cup of club soda to each glass, filling it about halfway. If you're up for some boozy fun, toss in one ounce of gin (about 2 tablespoons) into each glass and mix it all together gently.
Voilà! You've just whipped up a marvelous Dark Cherry Mint Fizz. Sip and savor this refreshing delight, and let it transport you to summer paradise.
Items to Make This Recipe Easier
To make pitting cherries a breeze, invest in a cherry pitter. It'll save you time and effort, making the prep work a breeze.
Use a blender with a powerful motor for smooth blending. Alternatively, try an immersion blender for added convenience.
For a non-alcoholic version, skip the gin and still enjoy a delightful mocktail. The cherry-mint combo is delightful on its own.
Additional Tips & Tricks for a Cherry Mint Fizz
Garnish and Presentation: Elevate the presentation of your cocktail by garnishing each glass with a sprig of fresh mint and a couple of extra dark cherries. This adds a touch of elegance and makes the drink even more visually appealing.
Sweetness Level: Depending on the sweetness of your dark cherries and personal taste preferences, you can adjust the amount of honey in the recipe. If your cherries are already quite sweet, you might want to reduce the honey slightly, or you can add more honey if you prefer a sweeter drink.
Mocktail Option: Want to serve a non-alcoholic version? Simply omit the gin and enjoy a delightful mocktail that's perfect for guests of all ages. The vibrant flavors of the dark cherries and mint will still shine through without the alcohol.
Frozen Cherries: If fresh dark cherries are not in season or hard to find, frozen dark cherries work just as well for this recipe. You can thaw them slightly before using, or blend them directly if they're still frozen.
Ingredient Substitutions: Don't be afraid to get creative! You can substitute the dark cherries with other types of berries like blackberries or raspberries. Additionally, if you don't have fresh lime juice, you can use lemon juice instead for a slightly different citrus twist.
Preparing in Advance: You can make the dark cherry mixture ahead of time and store it in the refrigerator for up to a day. Just make sure to stir it well before serving to ensure the flavors are evenly distributed.
Sparkling Water Alternatives: While club soda is the traditional choice for the fizzy element, you can experiment with other sparkling water options like flavored sparkling water or even tonic water for a different taste profile.
Chill Your Glasses: For an extra touch of sophistication, chill your cocktail glasses in the freezer for a few minutes before serving. This ensures your Dark Cherry Mint Fizz stays cool and refreshing.
Now that you have all the tips and tricks, you're ready to impress your guests with this delightful Dark Cherry and Mint Fizz cocktail. It's the perfect drink to enjoy during a summer gathering, a backyard barbecue, or any celebration that calls for a taste of pure bliss. So, raise your glasses, toast to good times, and savor every sip of this delicious creation! Cheers!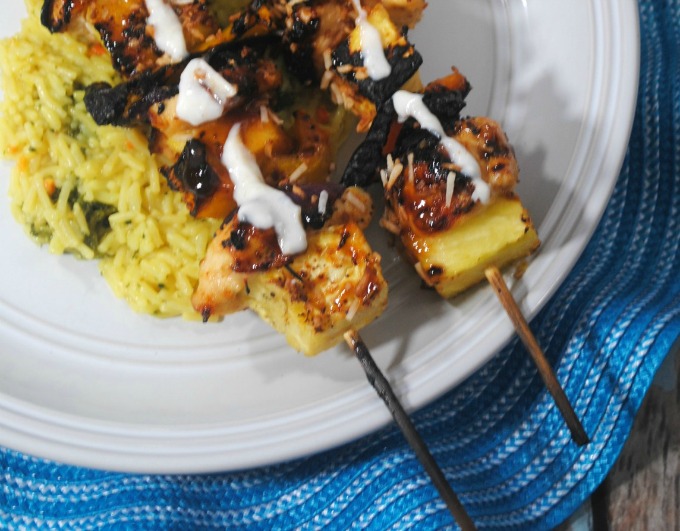 Companion Recipes: A Summery Feast
Watermelon Blackberry Salad: Toss together juicy watermelon cubes, fresh blackberries, crumbled bleu cheese, and a drizzle of lemon vinaigrette for a sweet and savory summer salad.
Grilled Pina Colada Chicken Skewers: Thread marinated chicken pieces and pineapple onto skewers, grill them to perfection, and serve rice pilaf or couscous for a delightful main course.
Cherry Mint Sorbet: Blend together dark cherries, mint leaves, a splash of lime juice, and a touch of honey. Freeze the mixture for a couple of hours, and you'll have a refreshing sorbet to enjoy on those hot afternoons.
There you have it – the perfect Dark Cherry Mint Fizz recipe, along with some scrumptious companion dishes to complement your cocktail adventure. Gather your friends, don those sunglasses, and get ready for a memorable summer soiree filled with laughter, good times, and fantastic flavors. Cheers!