I've always been a fan of kabobs and skewers. They're a great way to have a variety of foods that are all the same size, and go great together. These Pina Colada Grilled Chicken Kabobs are a great addition to your summer grilling menu.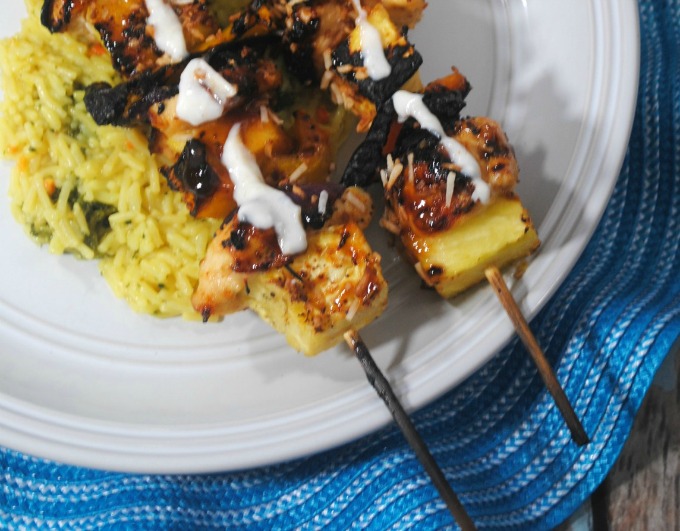 Kabobs are kind of a fun way to eat, if you think about it. Who doesn't want to have swords of food that you can do battle with, and then slide everything off and eat it? Or, if you're really careful, you can eat directly off the kabob skewer. Yeah…I'm not that lucky or careful, and am convinced that I'd end up stabbing myself.
How to Make Pina Colada Grilled Chicken Kabobs
Grilling is one of the quintessential summer activities. Usually, though, we're grilling something like BBQ Chicken. Making any kind of kabobs is fairly easy. You need a protein source, and some vegetables. Perhaps some fruit, depending on how wild you want to get. Cut everything into a similar size, and thread them on your kabob skewers. Generally, it's a pattern like protein, veggie, veggie, protein, veggie, veggie, protein, veggie.
This allows everything to cook at a similar rate, and makes for a better experience. Making these Pina Colada Grilled Chicken Kabobs is an easy to make meal that's even great for weeknights. Don't feel like firing up the outdoor grill? No problem! These can even be made on an indoor grill.
You will need a few things to make these Pina Colada Grilled Chicken Kabobs. The first is some skewers. You can get bamboo ones, like these. They work great, and you don't have to worry about cleaning them. Some people may prefer metal ones, and they're good too. But, you have to clean them after grilling. You'll need some Pina Colada mix. This can be picked up at any local grocery store or liquor store. Or you can order it online. You're also going to need a grill. This is a nice entry level outdoor grill, while this is a nicer one that even has a 10 year warranty, when you're ready to upgrade. Of course, you can make these on an indoor grill too, like this one.
30 Minute Pina Colada Grilled Chicken Kabobs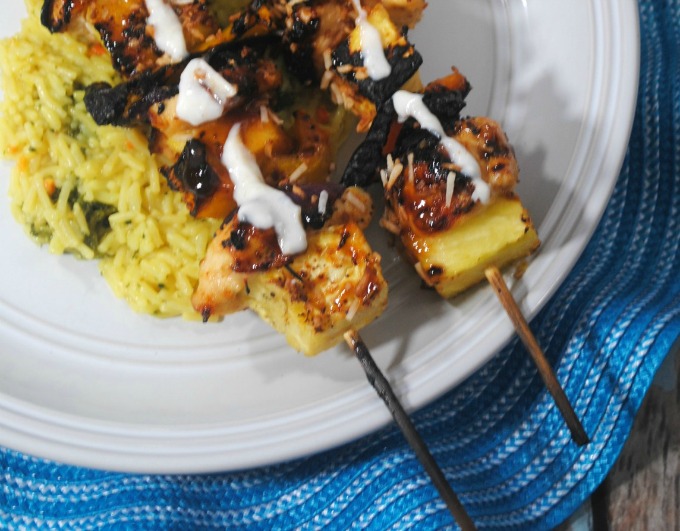 Prep Time 10 minutes

Cook Time 20 minutes

Total Time 30 minutes
Ingredients
4-5 boneless Chicken breast
1 whole Pineapple, or a 16 oz can of pineapple chunks
1 each Red, Yellow and Orange Pepper
2 Red Onions
8 Long Skewer sticks
1 Cup Pina Colada mix
3 TBSP Soy sauce
2 tsp Garlic powder
1 tsp Cumin
1 tsp Chili Powder
Salt and Pepper to taste
Toasted coconut for garnish
Instructions
Soak bamboo skewers in water for 30 min. to prevent burning
Heat the BBQ Grill to medium
Begin to cut Chicken into 1 inch chunks
Cut the pineapple into chunks
Cut the onions into chunks using the natural width of your onion as your guide
Cut the peppers and remove seeds. Cut both ends off and discard.
In a med. sized bowl add Pina Colada mix, seasonings and soy sauce whisk to blend
Begin to assemble skewer. Add pineapple first, then chicken, onion and peppers. Repeat process leaving a 1 1/2 inches on both ends.
Season with salt and pepper to taste.
Place skewers on the grill and add the Pina Colada sauce to each skewer while cooking. Rotate often while adding more sauce.
Cook 15-20 min. turning often.
Sprinkle toasted coconut on skewers once you pull them off the grill.
Serve over rice pilaf
Nutrition Information:
Yield:
4
Serving Size:
2
Amount Per Serving: Calories: 587Total Fat: 13gSaturated Fat: 8gTrans Fat: 0gUnsaturated Fat: 4gCholesterol: 128mgSodium: 933mgCarbohydrates: 57gFiber: 5gSugar: 46gProtein: 50g

Nutritional information is provided as a courtesy, and may not be accurate.

See how easy that was? You can have these Pina Colada Grilled Chicken Kabobs from ingredients to table in about 30 minutes. Tasty and quick to boot? Sign me up!