Hey there, fellow wanderlust enthusiast! Are you ready to embark on your next epic adventure? We know the feeling of excitement and anticipation that comes with planning a trip.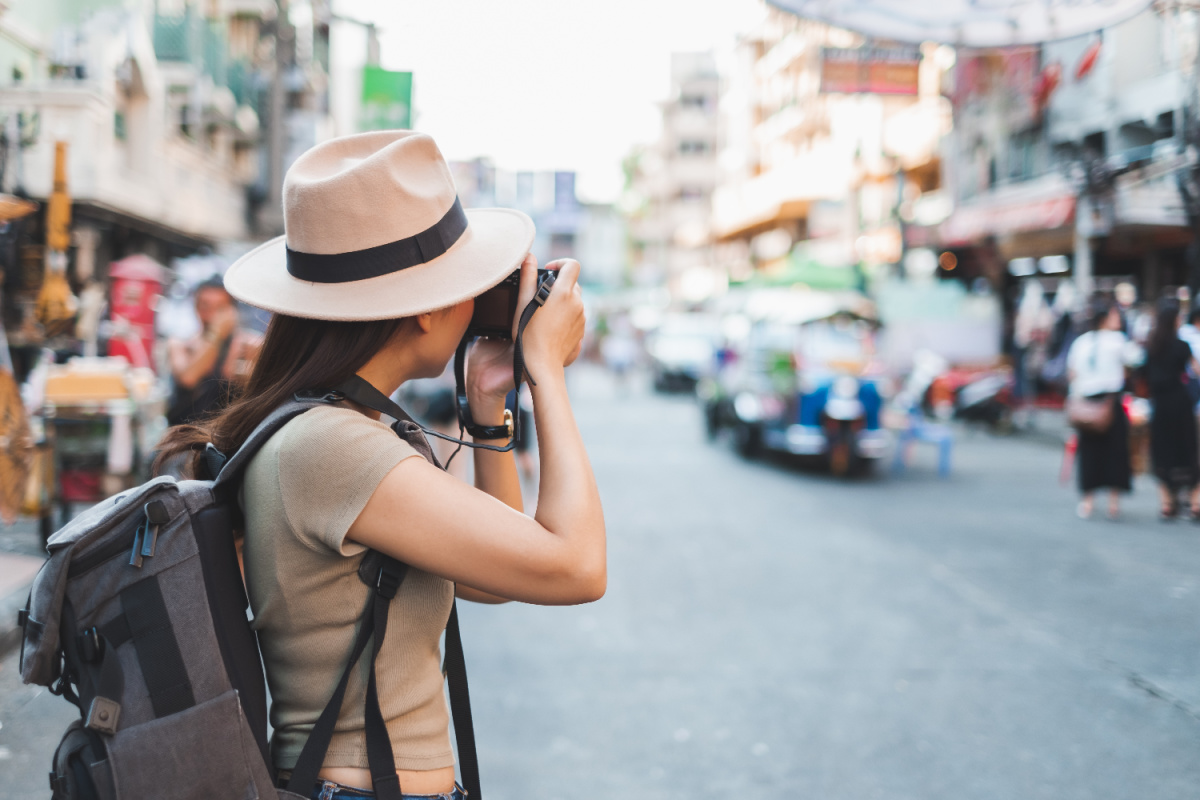 But here's the thing: to truly make the most of your travel experience, you need to be armed with the right gear and essentials. That's where travel must-haves come into play—the game-changing items that can take your journey from ordinary to extraordinary.
Links may be commissioned. Editorial samples may have been provided.
In this blog post, we're going to spill the beans on some seriously cool travel must-haves that have captured the hearts of globetrotters worldwide. We're talking about those nifty gadgets, practical accessories, and ingenious tools that can make your trip a breeze and have you Instagramming like a pro. Trust us, these are the essentials you don't want to leave home without.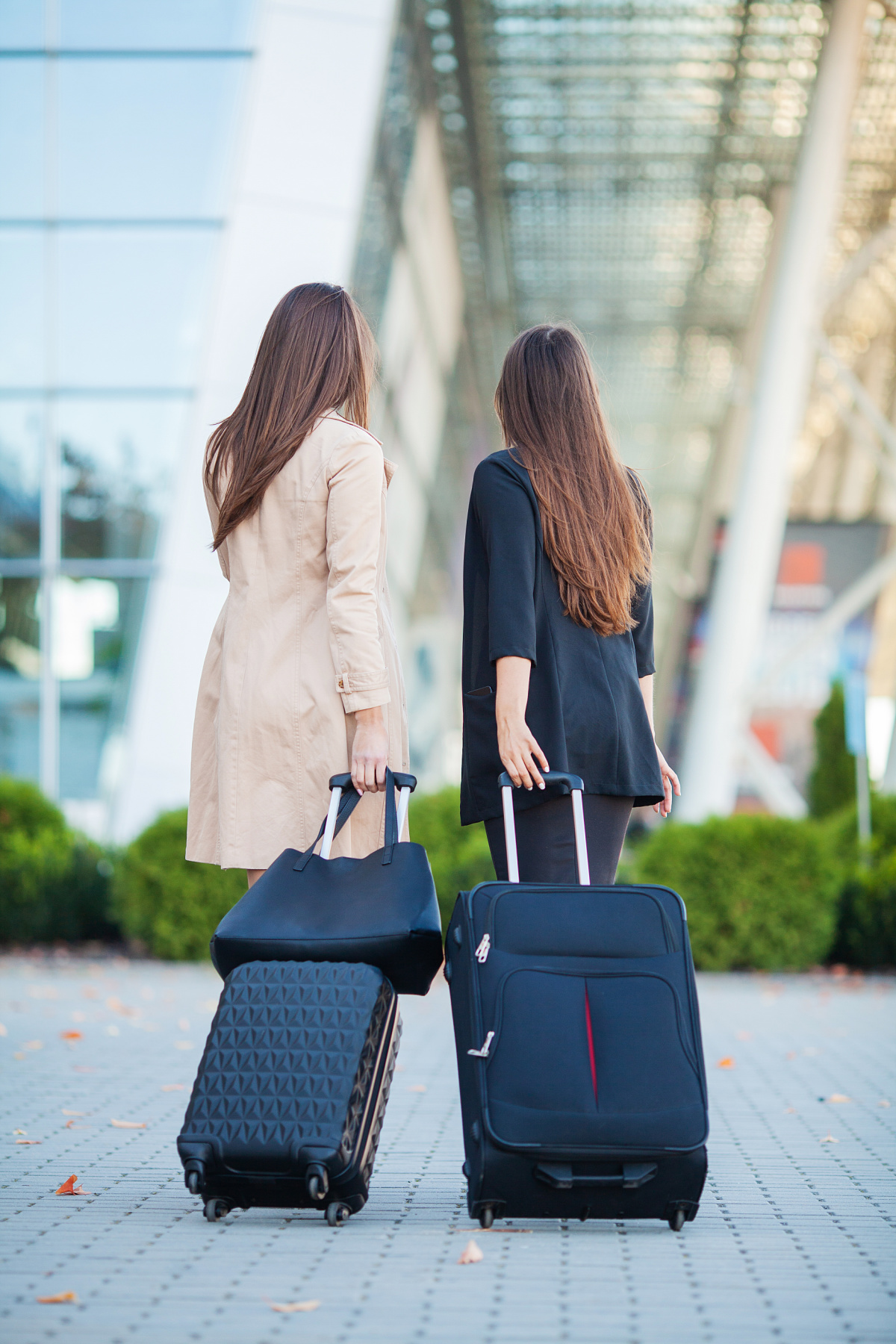 Now, whether you're a seasoned adventurer or a newbie explorer, this comprehensive guide is here to help you out. We'll dish out the latest and greatest in travel gear, accessories, and gadgets that will not only make your life easier but also make you the envy of every fellow traveler you encounter. Oh, and did we mention that incorporating these savvy products into your travel routine might just earn you the title of "Ultimate Travel Guru"?
Let's dive right into it. We're going to cover everything from packing solutions and entertainment devices to smart travel organizers. We'll equip you with the know-how to make informed purchasing decisions, so you can sail through airport security like a pro and capture breathtaking moments with ease.
Get ready to uncover the secrets of stress-free travel, unlock the power of innovative gadgets, and discover the hidden gems that can take your adventures to the next level. Whether you're craving a luxurious escape or an adrenaline-pumping expedition, we've got you covered with a handpicked selection of travel must-haves that cater to your unique travel style.
Great Travel Bags
From suitcases and carry ons to the bags that you'll be schlepping around on your journey, these are a few of our favorite travel options..

Ricardo Indio Luggage
If you have ever flown and had to check your bags, you are familiar with the drill. Disembark, trod down to Baggage Claim, and wait. There you are, checking every grey or black bag that comes down and hoping it is yours. With the Indio Luggage collection from Ricardo Luggage, you may still wait, but you'll be the envy of other travelers with the fashion colors and faceted finish the bags possess. The Indio series has polycarbonate hard sides, easy to roll wheels, and all the great features you would expect in better luggage. The carry-on even has a charging port for your electronics. The medium and large suitcases have plenty of dividers to keep stuff organized. The bags nest for compact storage. Available in easy-to-find colors like ruby, navy, and amber.
Ricardo Garment Bag
I have traveled a lot, and never even considered a garment bag for my luggage needs. This one from Ricardo has changed my mind. I always thought garment bags were long and awkward to carry, but this one, although perfect for your clothes on hangers, gently rolls into a more convenient shape for carrying. With its roomy interior and exterior pockets plus space for up to 10 hangers, there is plenty of room for shoes, accessories, or other belongings. The outside pocket is great for your travel itinerary, tickets, and passport.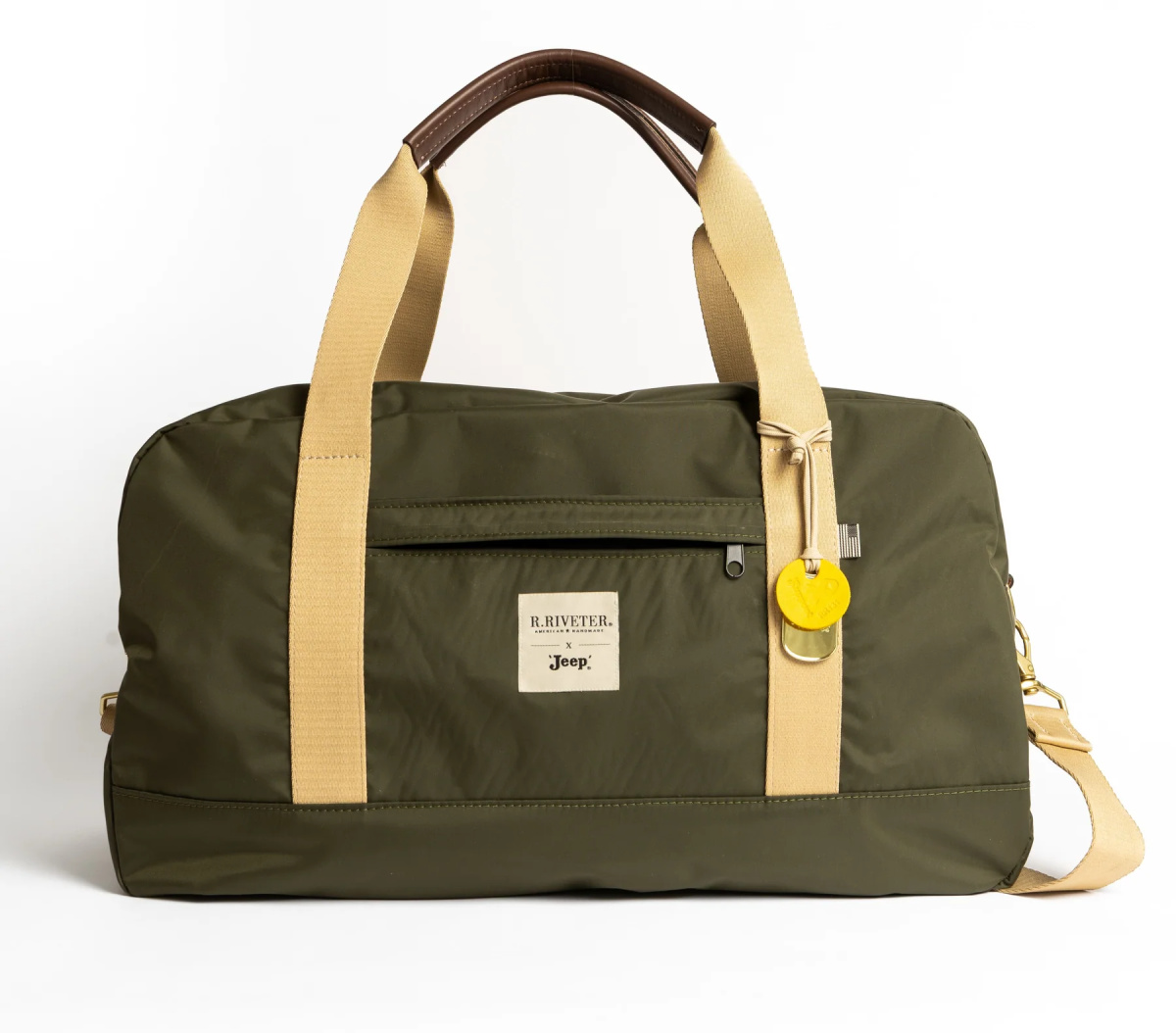 R. Riveter JEEP Nellie Weekender Tote Bag
R. Riveter's collaboration with Jeep has brought the 'go anywhere, do anything' attitude of Jeep to their Nellie Duffle Bag. Whether you are going to the gym or away for a weekend, this duffle will hold everything that you need. It's roomy inside with several pockets to hold smaller essentials. The Nellie also includes a small ID pouch and a sleeve to attach it to a rolling suitcase for those longer trips. With its heavy duty nylon bag and leather trim, this bag is built to last for years of use all the while maintaining its rugged good looks. Also available in black fatigue nylon, if that's more your style.
STM Goods Dux Backpack
This is THE BAG for the man that has to travel a lot. He can fit pretty much everything he needs into this backpack, like all his tech items, and they'll stay safe. Instead of a regular backpack, where the whole front drops down, the STM Dux backpack unzips from the side, and has a series of adjustable shelves. These can be rearranged to best fit his needs at the time. The backpack also includes the Easy Stash, which is basically a removeable dopp kit, for those items you need to keep handy. And to make sure your items don't get damaged, the FoamFortress™ 360 degree padding provides Military Spec protection. All this, and it's designed to be comfortable to carry, too.
Pro Traveler Secrets
These are the items that people who travel a lot swear by. Those little things that make your trip so much more enjoyable, and make it so you can fit all your clothes in a carry on bag.
Ricardo Packing Cubes
Packing cubes were another item I never used until recently. But then, I realized I could have some things pre-packed and ready to go. This set of packing cubes from Ricardo Luggage is nearly perfect with their mesh lids and variety of sizes. Use the small one for undies and socks; medium size for sleepwear, swimsuits or workout wear, and the large size for pants and shirts. Or use the larger size as a 'laundry cube to keep your clean clothes away from the laundry pile. When you get home, you can toss the emptied packing cubes into you washer and be ready for your next adventure.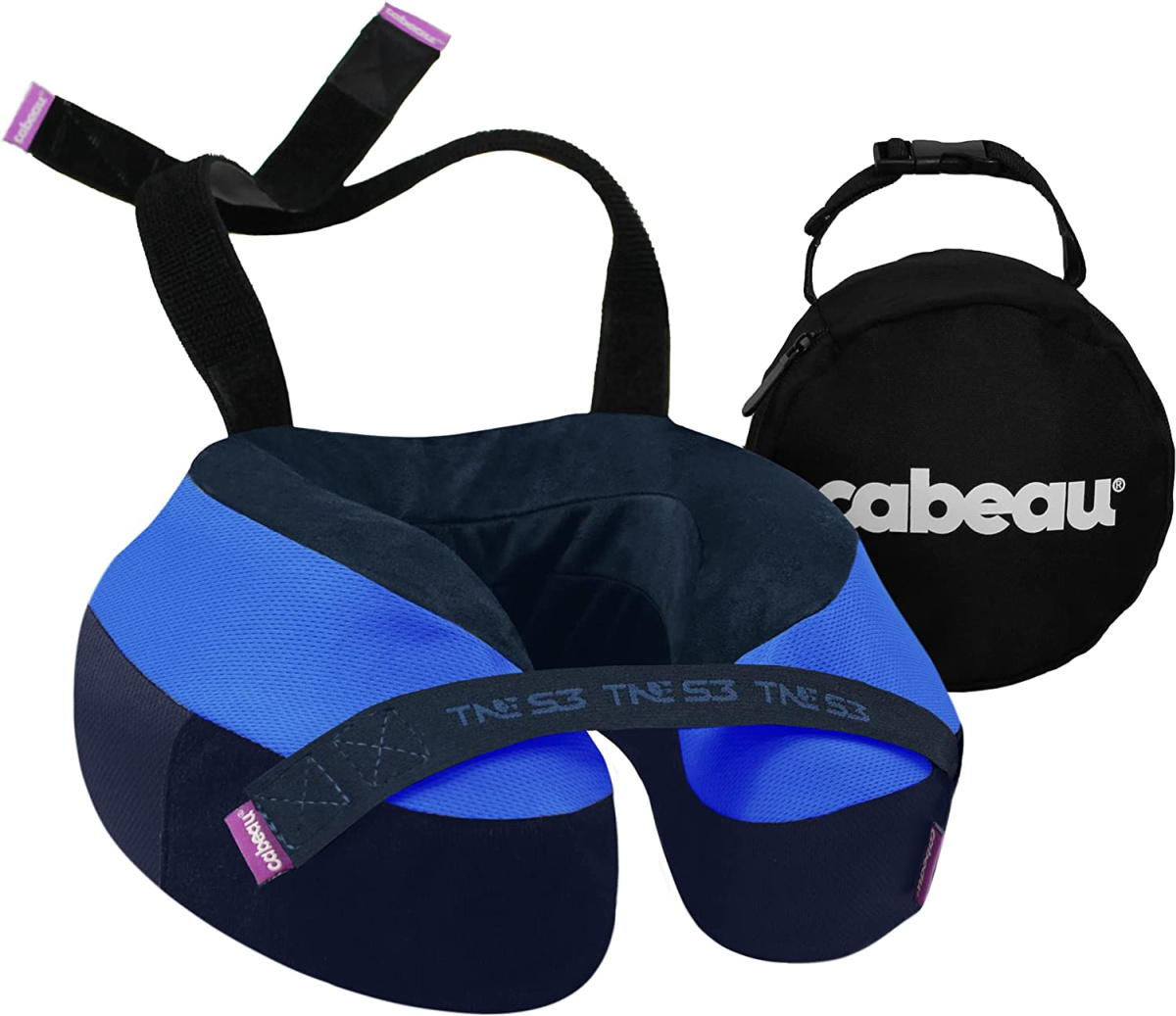 Cabeau Travel Pillow
When is a travel pillow not just a travel pillow? How about when it's the Cabeau TNE S3 Travel Neck Pillow Memory Foam Airplane Pillow, that's perfect for the office and gaming as well as travel. The pillow is made of memory foam and compresses to a quarter of it full size for storage in your bag. The pillow also has a chin strap which holds your head at the proper angle to avoid your head flopping to the side (the chin strap also keeps your mouth closed to minimize snoring). It also secures airplane or car seats and most chairs for stability. Also included are a pair of silicone earplugs to block out noise, to ensure your comfort and rest.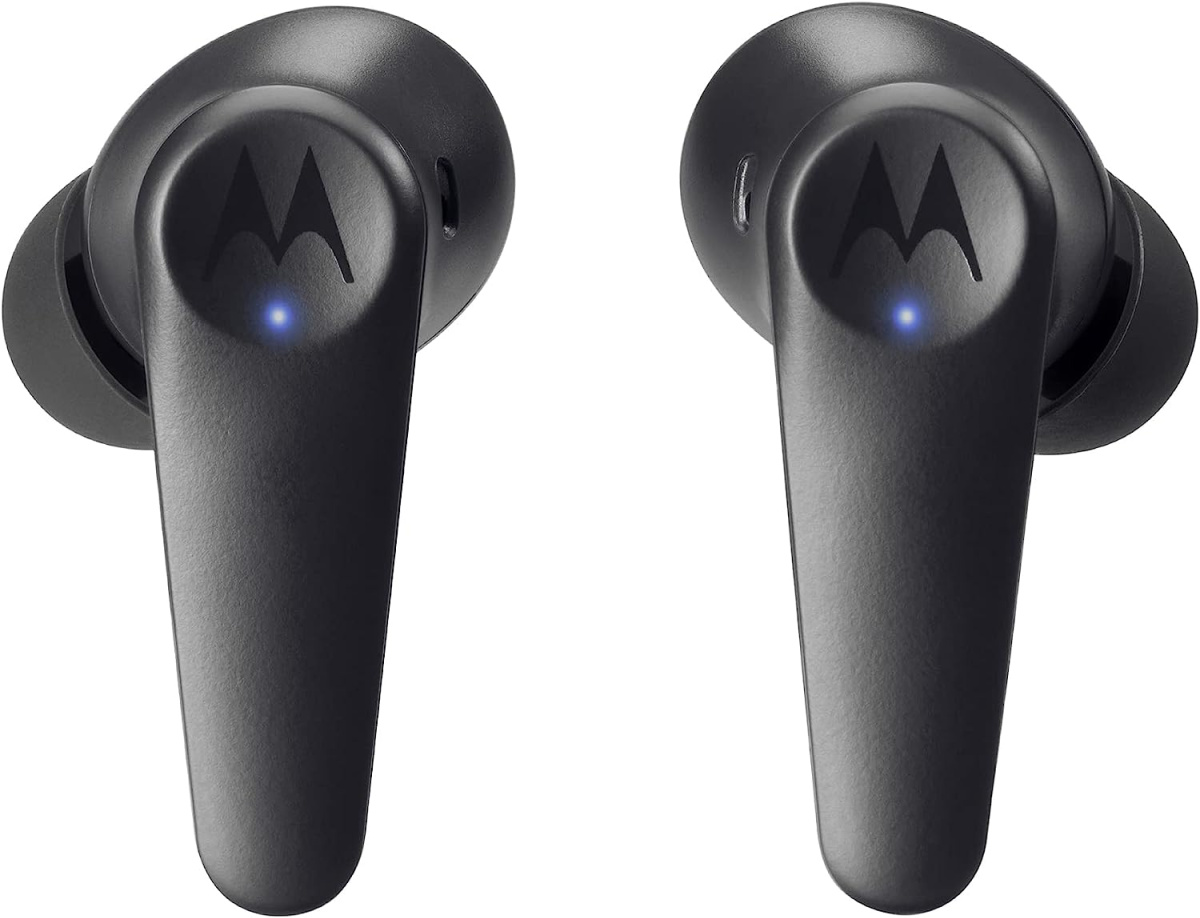 Motorola Moto Buds 600 Earbuds
Motorola has a cool little set of earbuds that are just made for traveling. Whether you're on a short-day trip or an extended excursion in some faraway destination, the Motorola Moto Buds 600 are perfect for your journey. They're perfect for listening to tunes or listening in on that can't miss meeting. Their noise cancelling capabilities are an added bonus. The Motorola Wireless Moto Buds 600 are your perfect accessory for summer, even if your destination is only to your back yard.
Nourished High Flyer Stack Vitamins
I get it; travel can really wear you down. The Nourished High Flyer Stack Vitamins are a great way to combat jet lag, travel fatigue, and general tiredness caused by the change and stresses brought on by travelling. The Stack Vitamins are gelatin based and 3D printed, and are vegan, allergen free, Halal, and Kosher. They are made from ingredients known to promote energy and prevent brain fog like ginger extract and Vitamin B12. Although they have a sweet flavor, they are also sugar free. The Nourished High Flyer Stack Vitamins are extra insurance the promotes cognitive well being while combatting the energy draining effects of travel.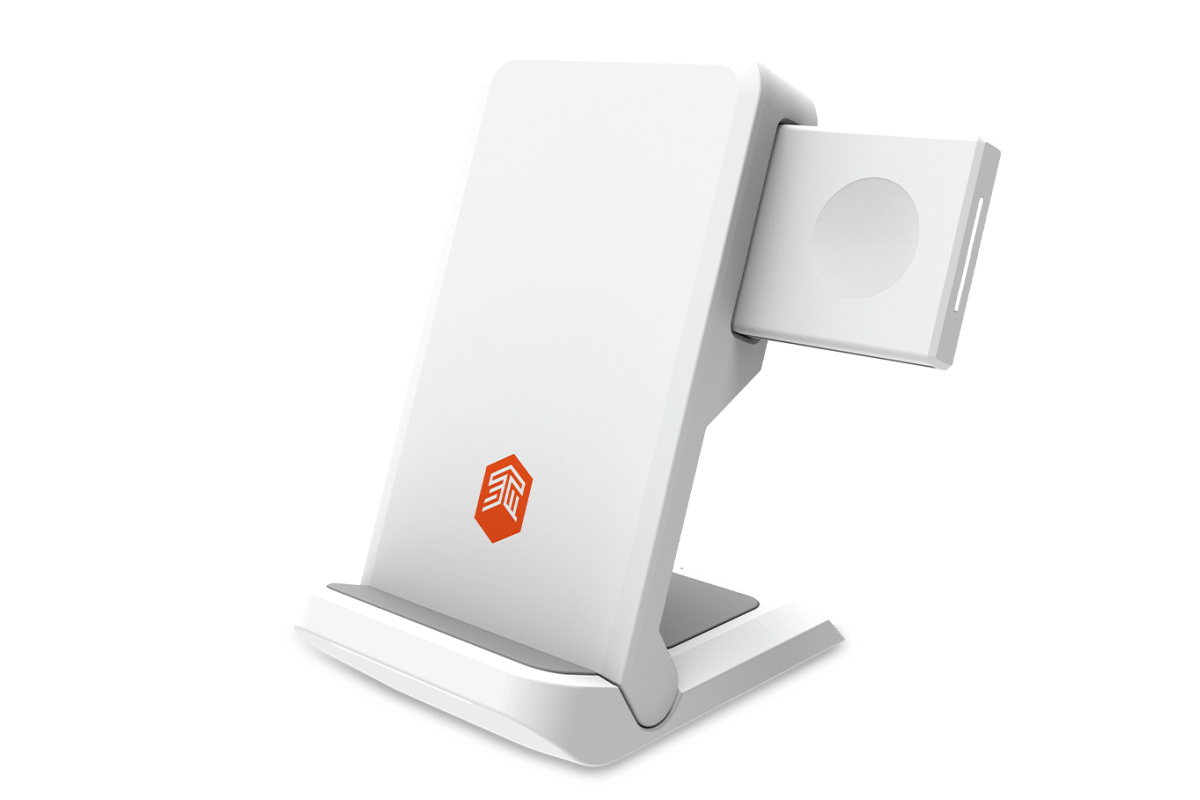 STM Goods Chargetree Go

Here's a nifty little gadget for someone who can never find their charger. The STM (Smarter Than Most) Chargetree Go is what they need to keep all of their Apple products charged and ready to go. You can simultaneously charge an iPhone, Airpods and Apple watch on this compact charger. When paired with the additional Power Adapter plug, you're all set to listen to music or text to thank you for the awesome suggestion.
Bath & Body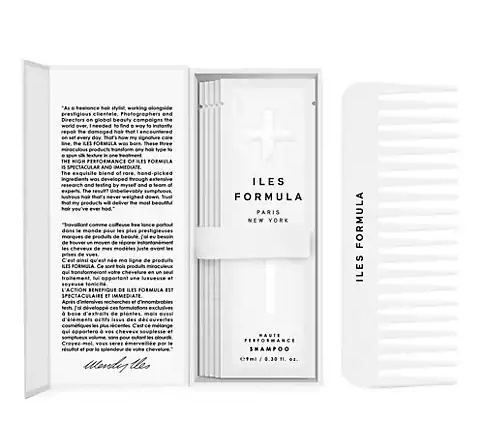 Iles Formula Discovery + Travel Kit
Taking your own haircare products when you travel can be cumbersome at best. The tiny bottles aren't enough, and the large bottles are way too much. Plus the leakage. YIKES! Now you don't have to be without your favorite hair products with the Iles Formula Discovery & Travel Kit. Loaded with individual packets of shampoo and conditioner that are actually enough to use. You'll also find a finishing serum to seal your hair and a wide tooth comb, all in a convenient and compact box that travels so perfectly.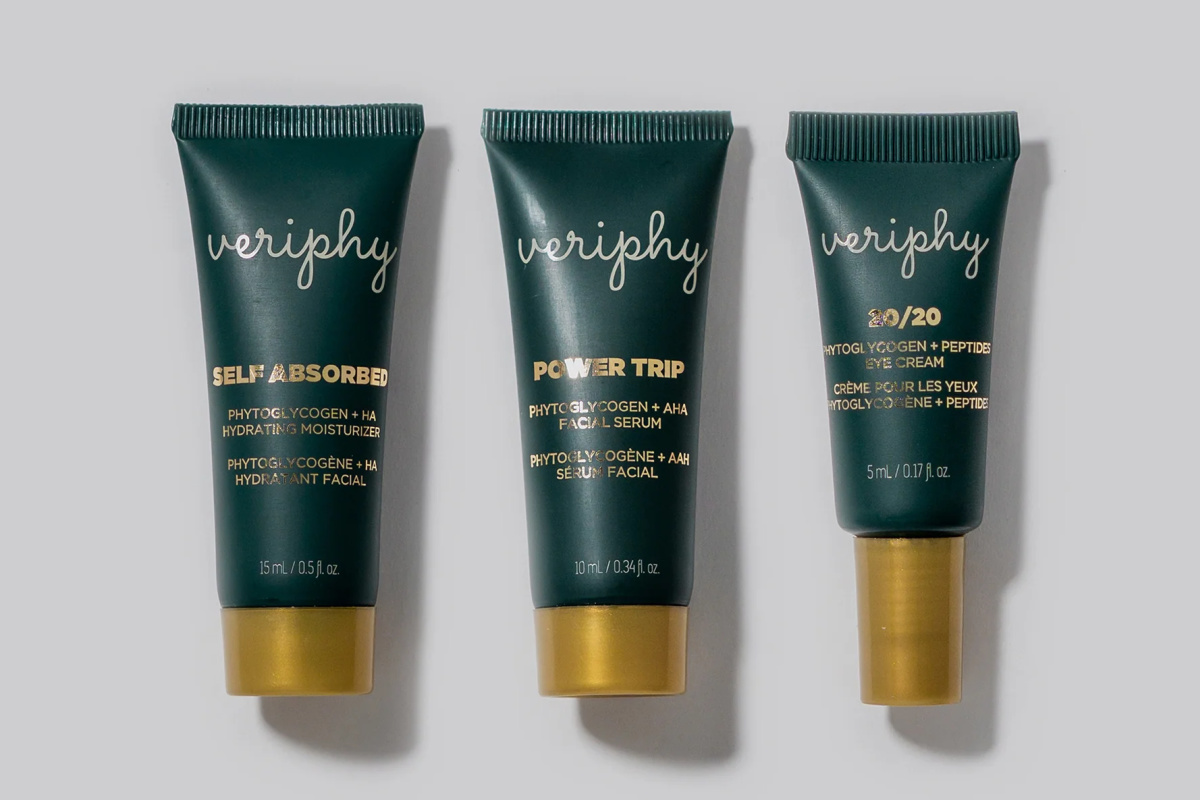 Veriphy Triple Threat Discovery Kit
When you tuck the Veriphy Triple Threat Discovery Kit into your suitcase, you have a skin care regimen that is perfect to combat the various elements that your face is not accustomed to. The three-part system contains the product stars of Veriphy's line. First up is Self-Absorbed Facial Moisturizer that combats fine lines and wrinkles, as well as it hydrates without feeling greasy. Second is their Power Trip Facial Serum that exfoliates dead skin cells and soothes the skin that has been exposed to pollution and stress. Last, the set has the great 20/20 Eye Cream that helps with elasticity, firmness and hydration in the delicate skin around the eyes. All products are clean, vegan, and cruelty free.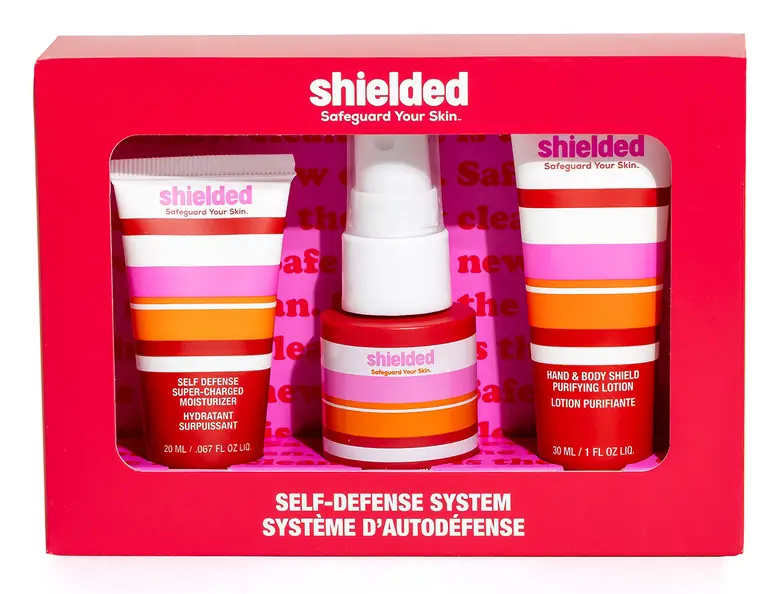 Shielded Self Defense System
Now that we have your face covered, here's a travel-sized set for the rest of your skin. The Shielded Self Defense System is a three piece set designed to refresh and replenish your skin. Starting with the Face the Day Purifying Mist, spray your body whenever you need a little pick-me-up refresher throughout the day. Second, use the Shielded Hand and Body Shield Purifying Lotion to moisturize with good for your skin emollients for soft radiant skin. Finally, the Self Defense Super Charged Moisturizer is a non-greasy water-based moisturizer designed specifically for the other body areas, like arms and legs, that might need a little extra moisture. Pop this set in your day bag to feel and look good all day long. This set is fantastic for those times that your flight gets cancelled or delayed.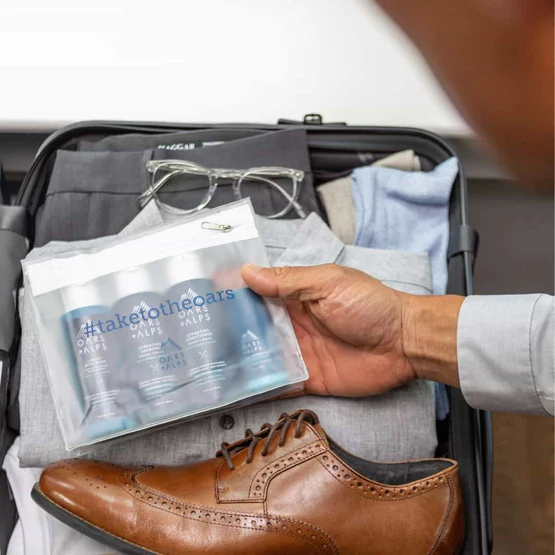 Oars and Alps Men's Skin Care Travel Set
Oars and Alps skincare had a goal in mind when they started – to provide natural products that were good for your skin, and at an affordable price point. They achieved that and more with their men's line of TSA approved packaging for the Travel Kit. He can drop this set into his suitcase, gym bag, or even his desk drawer at the office. The Travel Kit contains shampoo, conditioner, body wash, and deodorant for whatever life throws his way.
R. Riveter Large Blue Dopp Kit
What better way to start the summer travel season than by giving your favorite guy a new travel bag? The R. Riveter Large Dopp Kit is a nice blend of style and function. It will keep his toiletries organized and leaves a little room for extras. Perfect for tucking into a larger suitcase for travel, or for him to take with him to the gym or the office, wherever that office may be. Personally, I think the Navy-blue nylon with touches of red and leather trim looks really sharp. As a bonus, all R. Riveter items are made in the USA.
Now that we've unveiled the ultimate collection of travel must-have, we'll make sure you're prepared to explore the world with confidence, comfort, and a dash of wanderlust magic. Let's dive in and transform your travels from good to unforgettable!
These must-have travel essentials will revolutionize the way you explore the world. Get ready to travel smarter, pack lighter, and make every adventure an epic one. Adventure awaits, my friend!