I'm a sucker for a great lemon-y dessert, like these fantastic lemon cupcakes that are made from scratch. I'm pretty sure I've mentioned this a time or two, but lemon is one of my absolute favorite flavors ever.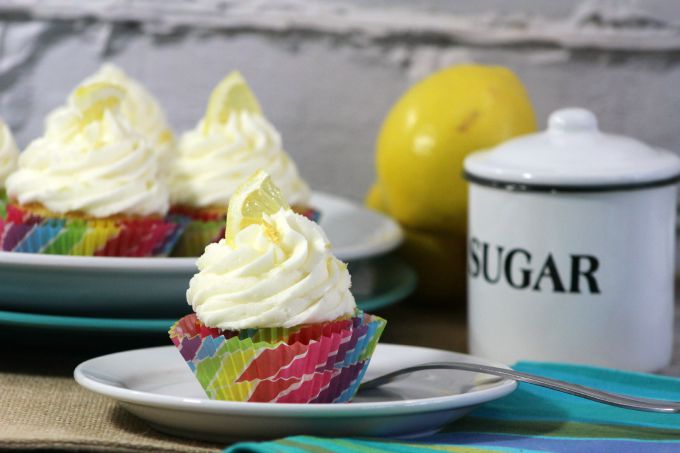 While a lot of people are like "oh, yeah, I like lemon." I like LEMON. You know the kind that punches you in the face, makes your face scrunch up, and is unapologetic about it? Yeah, that's my speed. Lemon curd and cupcakes are fighting to be my main boo, so why not combine them into something really fantastic. A delicious lemon cupcake recipe that's made from scratch.
Not looking for punch you in the face lemon? Don't worry! I know that most people aren't looking for that so sour it almost hurts flavor. This lemon cupcakes recipe is much more mainstream in their lemon flavor, and are sure to please everyone. They start with a made from scratch lemon cake and the lemon curd cupcakes rare finished with a homemade buttercream frosting.
Lemon Cupcake Recipe from Scratch
There are a few products that make making these Lemon Curd Cupcakes easier.  These stainless steel measuring spoons are pretty fantastic.  I have a set of these in my own kitchen. A fantastic stand mixer, like this Kitchenaid helps get the job done quickly. Pair it with this paddle blade to get the sides of the bowl. If a stand mixer is a little out of the budget, this hand mixer is pretty legit.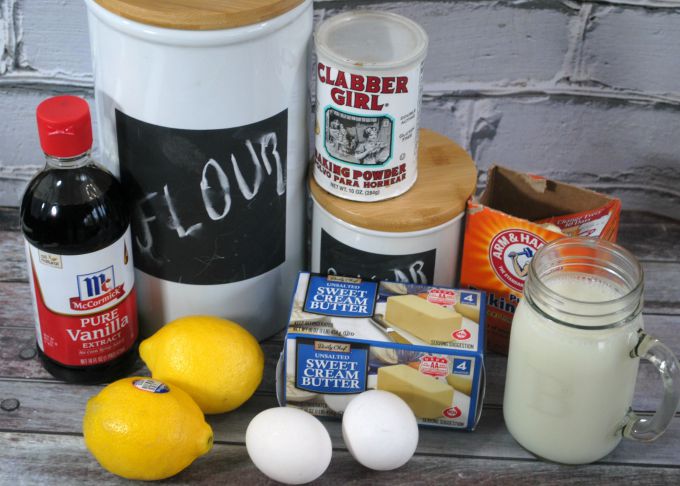 Greta
Yields 18
Lemon Curd Cupcakes
A scratch made lemon cake is paired with a homemade buttercream icing that really packs a punch of lemon. These cupcakes are lemony enough for your lemon lovers. but sweet enough for everyone else.
20 minPrep Time
30 minCook Time
50 minTotal Time
Ingredients
Lemon Cake Ingredients:
2 1/2 C all-purpose flour
2 tsp baking powder
1/2 tsp baking soda
1/4 tsp salt
1 C unsalted butter (room temp)
1 1/2 C sugar
2 eggs (room temp)
2 egg yolks (room temp)
2 tsp vanilla extract
1 tsp grated lemon zest
1/4 C fresh lemon juice
1/2 C whole milk
Frosting:
2 C powdered sugar
1 C unsalted sweet cream butter
1/2 C fresh squeezed lemon juice
2 tsp lemon extract
2 TBSP heavy whipping cream
1/2 C Powdered Sugar
Instructions
Preheat oven to 350 degrees.
Whisk all dry ingredients together in a bowl.
Whip the butter on med. speed until light and fluffy.
Add the sugar to the butter and mix until smooth.
Add the eggs one at a time to the butter until mixed well.
Add the yolks one at a time to the butter until mixed well.
Beat in the vanilla extract and lemon zest until fully mixed.
Begin slowly adding the lemon juice on low speed and mix.
Add the dry ingredients and milk.
Begin with the dry ingredients and alternate with the milk into the butter mixture then increase the speed to medium.
Make sure everything is incorporated well. Don't forget to scrape the sides.
Fill cupcake liners 3/4 full.
Bake for 18 minutes at 350 degrees.
Allow to cool to room temp before frosting.

For the Frosting:

Add the powdered sugar to the softened butter.
Mix until the combination forms small pebbles.
Add whipping cream.
Add both the fresh lemon juice and lemon extract.
Continue to mix until the frosting forms peaks.
Add 1/2 C powdered sugar if peaks haven't formed.
Continue to mix until stiff peaks form.
Fill your pastry bag or a prepared zip lock bag with frosting.
Frost the cupcakes.
Garnish with small lemon slices and freshly grated lemon zest.
7.8.1.2
54
https://www.gretasday.com/these-lemon-curd-cupcakes-are-sure-to-be-a-major-hit/
Will you be serving these Lemon Cupcakes at a future gathering?