Make this lemon almond flourless cake recipe, and be the star of any get together.  It's perfect for Spring and Summer, and is gluten free, too.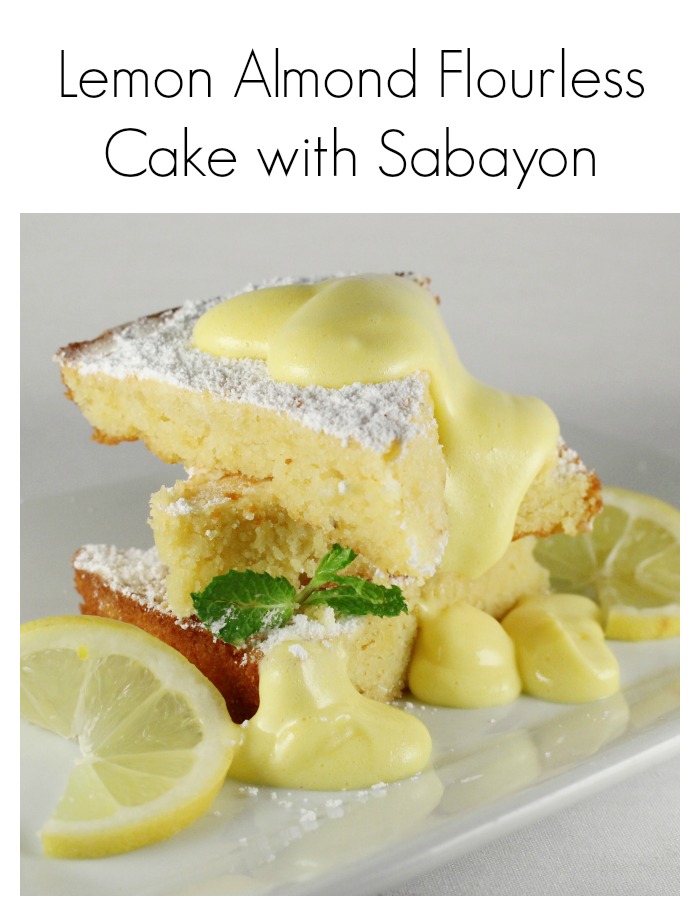 Lemon is one of  my absolute favorite flavors.  This love probably hearkens back to my childhood, when we would pick lemons off the trees and eat them with salt.  I love lemon so much that when a treat has a mild lemon flavor, I'm almost disappointed.  This Lemon Almond Flourless Cake recipe packs a punch, and definitely won't disappoint!
We're bringing a new perspective to your Passover meals.  We'll be sharing several recipes that have modern twists to traditional Passover dishes.  These recipes are great for all times of year, too – not just the holy holidays.
Our non-traditional Passover recipes include the following:
Matzo Stuffed Cornish Game Hens
Fig and Port Wine Blintzes
Lemon Almond Cake
Chocolate Hazelnut Rugelach
Lemon Almond Flourless Cake Recipe
Yields 8
Gluten Free Lemon Almond Flourless Cake Recipe
A delicious Lemon Almond cake with a delightful Sabayon that happens to be flourless and is gluten free. This is perfect for all Spring and Summer gatherings.
10 minPrep Time
40 minCook Time
50 minTotal Time
Ingredients
2 lemons
4 ounces margarine
4 ounces sugar
2 eggs
2 cups almond flour
1/2 teaspoon baking powder
Instructions
Pre-heat oven to 350 degrees F.
Combine almond flour and baking powder.
Zest the lemons and reserve the juice from one.
Cream the margarine, lemon zest, sugar in the mixer until light and fluffy. Then mix in the eggs one at a time.
Fold in the margarine mixture with the almond flour mixture and the juice of the one reserved lemon.
Spread cake batter into a parchment lined and greased cake pan. Bake for about 40 minutes, or until golden brown and cake is springy.
Let cake cool completely before serving.
7.6.7
33
https://www.gretasday.com/gluten-free-lemon-almond-flourless-cake-recipe/
 Sabayon Recipe
Sabayon, also called Zabaglione or Zabaione, is a delightful dessert sauce that's like a light custard that has wine or liquor in it.  It's fairly easy to make, too.  It just requires constant attention.  Our Sabayon is made with a delicious white wine.
Ingredients:
4 ounces egg yolks (about 6)
8 ounces sugar (roughly 1 1/8 cups)
8 ounces Baron Herzog Chenin Blanc wine
Directions:
In a stainless steel bowl combine egg yolks, sugar, and wine over a hot water bath on medium heat. Whisk continually until thick and smooth. Sabayon should thick and full of volume.
Serve sabayon over cake and garnish with favorite fruit.  I particularly like raspberries with lemon and almond.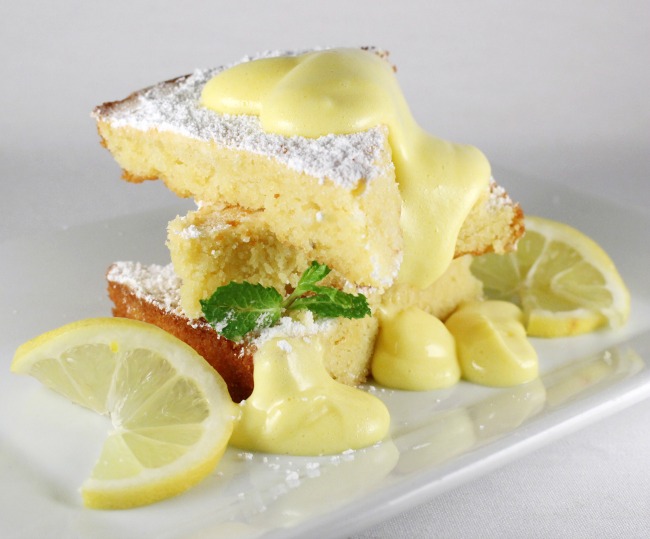 This Lemon Almond Flourless Cake recipe is gluten free, too!  Will you be adding this to your repertoire?